The Benjamin Moore 2021 Color of the Year is Aegean Teal (2136-40). It's all about a natural, soothing calm. This color, a gorgeous deep teal (blue green) refines and adds sophistication to the areas of our homes we're in the most. Think: bedrooms, kitchens, living rooms.
In fact, Andrea Magno, director of color marketing and development at Benjamin Moore told Architectural Digest that they were talking about the kitchen a lot when they were developing their 2021 color of the year way back in December 2019.
This blue green hue is relaxing. It's also the perfect backdrop to your days at home, giving richness to the walls and whatever else you choose to use Aegean Teal on. Aside from walls, here are 10 more ways to use the Benjamin Moore 2021 Color of the Year and invite those soothing, island vibes into your home!
Aegean Teal On Walls
Naturally, this color is great on walls. Hello, it's made by Benjamin Moore, a giant in the paint world! Aegean Teal works beautifully in rooms where you'd like to bring in more tranquility, like bedrooms and bathrooms, and, conveniently, it looks great alongside gold furnishings that I recommend you use in bathrooms to be on-trend in 2021!
You may also enjoy: The 5 Best Master Bedroom Paint Colors [Ultimate Paint Color Guide]
Along with painting your walls, use Aegean Teal on your trim as well. Yes, this blue green shade looks so crisp with white trim, but painting your trim and walls the same color will give your room a seamless look. It'll also make your room feel even more serene. Your eye won't have a marked "ending" spot like it does when your walls are one color and your trim is another, so it flows around the room gently.
You may also enjoy: 8 Reasons to Paint Your Wall and Trim the Same Color
Aegean Teal Bathroom Ideas
I talked a lot about tile in the 2021 Bathroom Design Trends post, so of course, I'd suggest you bring Aegean Teal into your bathroom tile! It would look stunning as the tile in your shower. Because this blue has some depth to it, it would really stand out on patterned tile. Combine this color with marble, gold, and natural elements for the most tranquil bathroom around.
You may also enjoy: 2021 Bathroom Design Trends: Colors, Tile, Flooring & More

Another place you can use the 2021 Color of the Year in your bathroom is on your cabinets. Colored cabinets add so much interest to any space, especially a small space because that color can really pack a punch. If you don't want to renovate your entire bathroom, paint your vanity and update a few furnishings to give your room a 2021 facelift.
You may also enjoy: 8 Gold Hardware Ideas for Kitchens and Baths
An overlooked yet easy way to add Aegean Teal into your bathroom is with your soft items. I'm a sucker for a crisp, white towel, but I may be on the hunt for new ones after seeing how rich and luxe the 2021 Color of the Year is! Use this blue green shade for towels, curtains, rugs, even your robe!
You may also enjoy: 13 Bathrooms Designs to Inspire You
Aegean Teal Kitchen Inspiration
Like I mentioned at the beginning of this post, Aegean Teal was made for kitchens. This rich hue would be stunning on your backsplash. Look for painted tiles using this color to make a fun and funky statement. You could also create a unique pattern using solid tiles in Aegean Teal for a modern twist on a classic.
You may also enjoy: The Ultimate Guide to Using Black Tile in Your Kitchen
When using colored cabinets in a kitchen, I like to mix and match uppers and lowers for a modern feel. Using this 2021 Color of the Year on your kitchen cabinets would be a fun way to incorporate a naturally soothing hue into your favorite room in the house. Anchor your space by using the richer Aegean Teal on the lowers, then paint crisp white on the uppers for a fun take on the classic blue and white.
You may also enjoy: 11 Cabinet Paint Color Ideas that Aren't White!
I'm obsessed with terrazzo tile because of its versatility. You can have just about any color combination you want. Terrazzo counters made with teal flecks would look great atop your Aegean Teal cabinets (or almost any color cabinet, to be honest).
You may also enjoy: Why We Are Obsessed with Terrazzo Tile Right Now (And You Should Be, Too!)
Colored appliances are so much fun and add a pop of something special to your kitchen to make it feel fresh without redoing the whole thing. Look for Aegean Teal to show up in mixers, toasters, and other small appliances. If you love this color and want to go all-in, update your range, dishwasher, and refrigerator!
You may also enjoy: Be Daring and Try These Colorful Kitchen Appliances
Aegean Teal Floors
Let's not forget that rugs are a great way to add some trendiness to your room without committing too much. Area rugs with the 2021 Color of the Year would look great in your bedroom, living room, or entryway to add a soothing note to your space.
You may also enjoy: How to Choose a Rug: The Ultimate Guide
Ningbo Lanlico Furniture Co., Ltd.
Feeling like committing a bit more? Paint your floors! Painted floors are a fun way to add personality to your room (and when done well, they're usually pretty durable, too). Pick a boho pattern and use Aegean Teal with yellow, orange, and green or go with a classic look combining the 2021 Color of the Year with white, black, and gray.
You may also enjoy: Tread Lightly: Painted Floors
Benjamin Moore's 2021 Color Palette
Benjamin Moore Aegean Teal would look fantastic with these other Benjamin Moore Colors: Atrium White, Muslin, Foggy Morning, Beacon Hill Damask, Potters Clay, Amazon Soil, Kingsport Gray, and Silhouette.
It would also coordinate with these tones that you may not have considered at first: Gray Cashmere, Rosy Peach, and Chestertown Buff.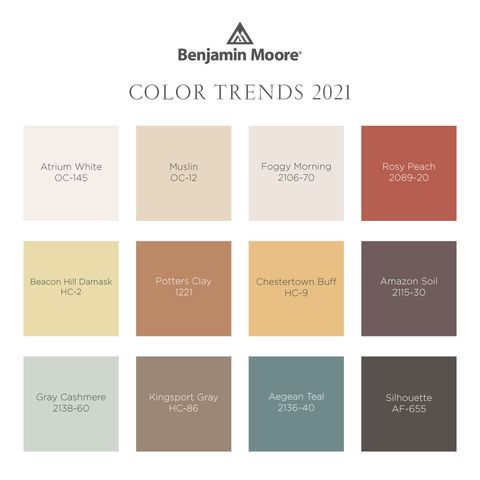 No matter how you use Aegean Teal in your home, the Benjamin Moore 2021 Color of the Year is sure to bring relaxation and calmness to you — and that's something we could all use more of! While this isn't a very dark shade, it does have depth and richness that can easily up the drama and glamour in your home when paired with gold accents and monochromatic decor. Or, you can design as Benjamin Moore intended with lots of soothing, relaxing elements.
How are you going to use Aegean Teal in your home?