At the end of a long day, your master bedroom should be your sanctuary. A peaceful, private retreat where you can relax, unwind and catch those Zzzs. If you're thinking of updating your master bedroom paint colors, the choices may seem endless.
How do you know which colors will work in your master bedroom so that it not only looks beautiful, but it also makes your room an inviting and calming oasis? This guide will help you select the best master bedroom paint colors so you can retreat in style!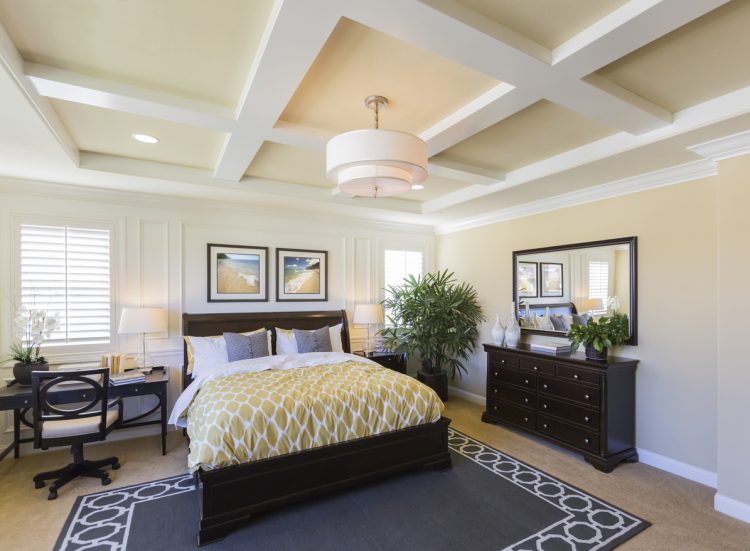 My Favorite Master Bedroom Paint Colors
Here is a list of paint colors that I use frequently for my decorating clients. If you're looking for some tried and true, classic paint colors, give these options a try:
1. Glimmer by Sherwin Williams
Glimmer is a refreshing minty shade and is the perfect choice for a Master Bedroom. This cool, crisp color is understated and provides a sense of calm and serenity. Try it with cool browns and greens for accent colors. White works well with it too.
2. Soft Chamois by Benjamin Moore
Soft Chamois is part of Benjamin Moore's off-white color collection. It's soft beige color provides a calming backdrop for your master bedroom and promotes a cozy, comfy feeling. This timeless color looks great with whites and grays.
3. Agreeable Gray by Sherwin Williams
Agreeable Gray is Sherwin William's best seller! This sophisticated color oozes warmth and gives your bedroom a rich ambiance. A combination of warm gray and beige make it so versatile that it will go with almost any color.
4. Iceberg by Benjamin Moore
Benjamin Moore's Iceberg is my go to blue for Master Bedrooms. Its sets the tone for a peaceful, soothing space. Add rich jewel tones for a dramatic contrast or keep it soft with whites and pastels.
Bedroom Colors & Moods
Before painting any room in your home, you'll want to consider the environment you're trying to create. Different colors have different meanings and feelings, which can create a psychological effect. Lighter shades make your bedroom feel more spacious while dark shades make it feel slightly smaller and warmer.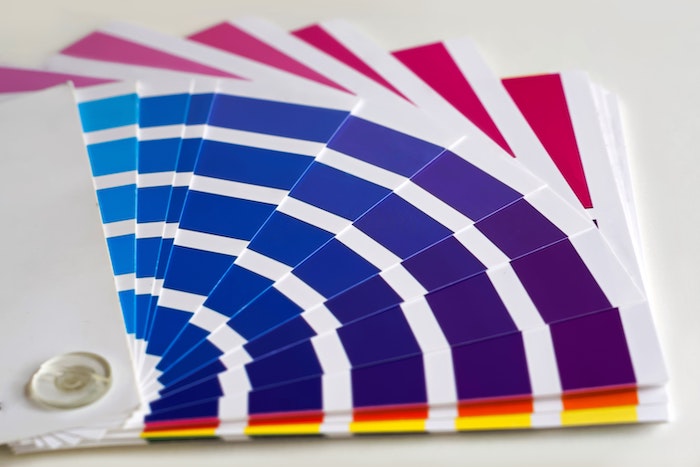 Red, for example, can be associated with negative emotions such as aggression or anger. It's a color I recommend avoiding in the bedroom as it can make you feel restless and uneasy. Blue and green are casual, more relaxing colors.
The key is to choose the best bedroom color scheme that will encourage the feelings and mood you want to create!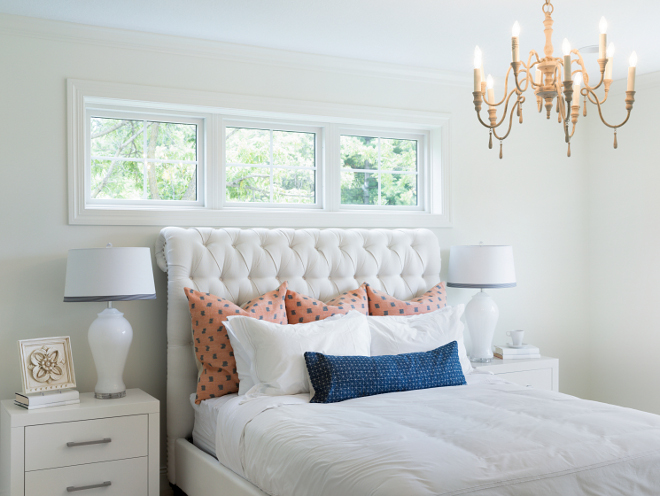 So what colors are best? Most people prefer soft, neutral shades, but if you want color, choose it from the fabrics in your room. For neutral color choices use the whites & beiges in the fabrics.
It doesn't have to match perfectly, but it should compliment the flow and style of your master bedroom. For a tranquil space, try soft colors in muted palettes.
If you're interested in colors beyond white, grey and beige, you can give blue, green and even yellow a try.
A light blue is a versatile choice that works well with almost any furniture and décor, yet it exudes a feeling of complete relaxation.
Even a subtle sunny yellow can work in the bedroom as it encourages feelings of happiness to fight off doldrums and depression.
Remember to consider how much natural light there is in your room because it will affect the way your paint color looks. Read How Light Affects Your Paint Colors on this blog to learn more.
The goal of your master bedroom paint color is to find something that will invoke feelings of relaxation and total calm so you can easily drift off to sleep.

Use code GUESTPREP to get 20% off everything at Serena & Lily Friends & Family Event
Best Master Bedroom Paint Colors for Walls
When you're looking for the best color for bedroom walls, think about the theme of the room. If you have modern bedroom furniture, tones of gray are an excellent choice and serve as a neutral.
Gray works wonderfully with almost decor style from contemporary furnishings to a farmhouse look. This shade Silver Strand by Sherwin Williams is one of the most popular master bedroom colors, and it comes in an array of varying tones from deep and dark to light and airy.
If you prefer something a bit more understated, try a paint color in a warm neutral like Swiss Coffee by Benjamin Moore. This color palette can range from off-white to beige, and it's perfect for creating a blank canvas for your bedroom décor.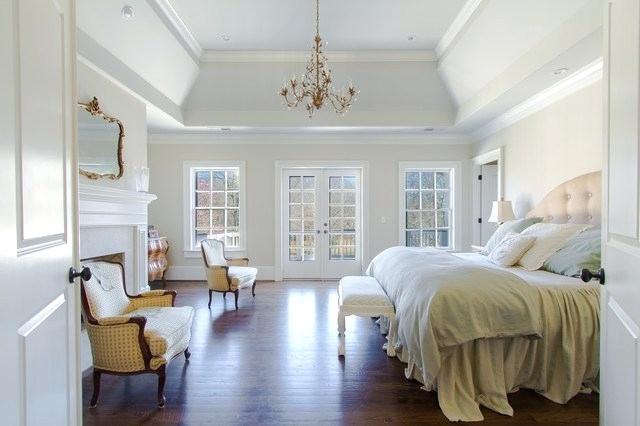 Neutral tones keep the bedroom fresh and simple, and they allow you to work around the color to craft a personalized sleeping space. Neutrals are a safe choice because they easily coordinate with other colors.
You may also like: The Best Paint Colors for Dark Bedrooms
Paint Color Combo
If you really want to make your master bedroom your own, consider painting one wall a different color than the others. Or add some wallpaper into your decor. This is a great way to create visual interest to the space, without making your room look or feel too busy.
You may also like: How to Decorate with Wallpaper
Your bedroom isn't confined to one single color scheme. If you want to give it a bolder touch, bring in some color with accessories and your bedding. The accents you choose will really help to spruce things up, and they're much easier to change than paint color!

Are you thinking of painting your master bedroom? What are some of the colors you're considering trying?

Photo credits: Pottery Barn, australianewzealandcric.co, Leslie Wood Interiors, Sherwin Williams, Jac Interiors, House Beautiful, Benjamin Moore, Serena & Lily, Interiors by Color, juliebanner.com