Along with what color to paint their walls, clients often ask me if the trim needs to be painted white or if it can match the wall color. I feel like we're used to seeing a crisp white trim, but it isn't a hard-and-fast rule, just something we see time and again that we think is a "rule."
Here are 8 examples to use as inspiration to prove that you can paint the walls and trim in your home the same color. You'll end up with an elegant result that looks fantastic in any size room and with any type of decor you select.
Southern Living
Matching White Walls and Trim
Since trim is classically painted white, a perfect option for matching your trim to your wall color is when you paint your walls white. In fact, painting your trim any other color when you have white walls may make you feel like you're living inside of an outline and be quite jarring.
Painting the walls, trim, and ceiling all white allow the other pieces in your room to take center stage. You're giving your room a clean backdrop so your furniture, artwork, and statement pieces can really pop.
You may also enjoy: 7 "Rules" For Statement Pieces in Your Home Decor
Pinterest
Hiding Ornate Trim
If you have ornate trim but would like a more modern, clean look in your room, painting the walls and trim the same color will help the trim recede. Painting walls and trim the same color will help the eye flow around the room so you won't pick up on the style of the trim as easily as if it stood out from the wall color.
Making Something Stand Out
Just like you can use paint to trick your eye into having everything blend together, you can also use it to highlight a particular element of your room. If you'd like to make something stand out, paint the rest of the room and leave that spot out to highlight it in a different color.
Perhaps you have beams on your ceiling, crown molding, or a unique wall niche that you want to take center stage. Paint everything else the same so it fades away while you shine a spotlight on your room's unique architecture.
You may also enjoy: The Ultimate Guide to Decorating Wall Niches
The Zoe Report
Opening a Small Room
If you have a small room, painting the walls and trim the same color will actually make it feel larger. Your eye won't have a marked "ending" spot like it does when your walls are one color and your trim is another. Take it to the next level and paint your ceiling the same color as well. If the color is light enough or the accents in the room are bright enough, it won't feel like you're in a cave at all.
You may also enjoy: The 5 Best Master Bedroom Paint Colors

The Home Depot
Making Cabinets Feel Built In
Painting your walls, trim, and built-in shelving all the same color will give your room an even color palette so you can select which elements you want to stand out. Like making your ornate trim recede, the same will happen with your shelves. Painting them the same color as the walls and trim will let the structure of the built-ins fall away so you just see what's on them.
Decorpad
Masking Wood Paneling
Wood paneling can be a modern touch in your room when handled well. Adding a coat of paint to your wood paneling is an easy way to update the paneling so it doesn't make your room feel dated or unfashionable. By painting the trim the same color, the wood paneling will be less noticeable.
You may also enjoy: Transform Wood Paneling in Your Living Room Into a Beautiful Space
Decorator's Best – WordPress
Going for Drama
You may want to match your wall and trim color when you want a dramatic, over the top look. Think the opposite of all-white everything. Deep emerald, plum, merlot… A monochromatic room in jewel tones (or any rich color) is a statement and I am here for it! If you want color inspiration, this post is written with cabinetry in mind, but it has a host of striking hues you may want to try to give your room depth and drama.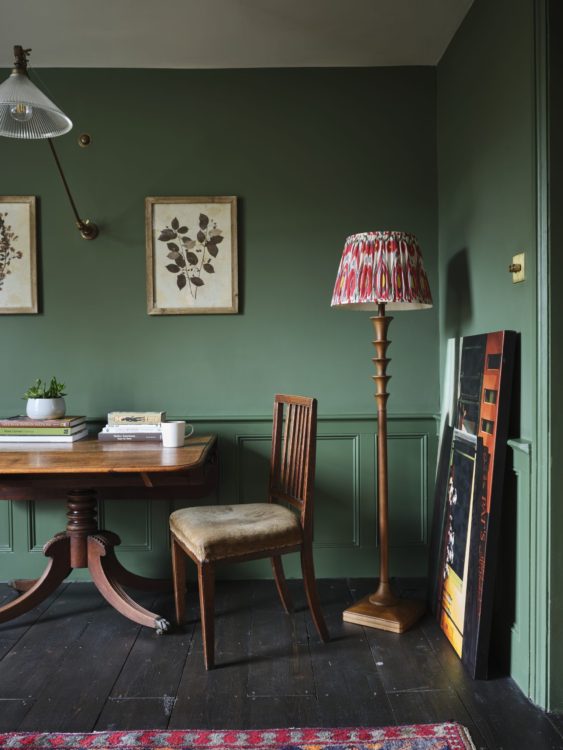 Livingetc
Keeping The Design Cohesive
Some designs just look better when the walls and trim are painted the same color. That way you aren't breaking up the visual lines of your room; it keeps everything cohesive and seamless. It's an elegant look and brings the attention to the whole of the room so you can experience the design, not the separate elements that make it up.
You may also enjoy: 5 Reasons to Have Black Interior Doors in Your Home

Apartment Therapy
Using matching wall and trim paint can be such an elegant, unique way to give your room a fresh feel. With just a coat of paint, you can hide or highlight just about anything in your space. And if you don't like it, you can always paint it!