One of my favorite challenges with my clients is what to do about wall niches. These cutout areas can be big or small, and are sometimes grouped together. If used effectively, they can be a wonderful addition to a room or entryway, but they present some challenges as well.
Though I find a lot of new construction homes with wall niches, they aren't a new design element. Your wall niche connects your home to cultures all over the world! They were used both inside and outside in ancient Rome. Spanish-style adobe homes often use wall niches for highlighting important art or family artifacts.
You'll often find wall niches around fireplaces, either next to them or as an added feature on a mantel. You may have a niche on a large wall in a room with high ceilings, which can unfortunately make your wall niche feel like a placeholder instead of an intentional design choice.
If you find yourself at a loss for what to do with your wall niche, I'm here to help! Below you'll find my top ideas for taking your wall niche from overlooked to an integral part of your room.
Make Wall Niches Stand Out
You were born to stand out, baby! Don't let your wall niche fade into the background. Help it stand out with these elements that really make a difference.
Paint, tile, and moulding
A small change can go a long way to make a wall niche the focal point in a room. By using a contrasting color of paint or adding a tile backdrop, you can easily elevate your niche into something more special and intentional. You can make a subtle change by painting (or tiling) the niche a darker tone of the color already on the walls or make a bold choice by selecting a contrasting shade to make the wall niche pop.
You can also set your niche apart by taking a tip from the history books and installing some moulding. "Historical" doesn't mean stodgy or buttoned up, though! Scallops and caps can be modern if used in the right way. Decorative moulding around the niche not only highlights the niche itself, but makes it a more intentional and purposeful part of your room's design.
Add in a statement piece
Draw your guests' eyes to your wall niche by displaying a statement piece there. A niche itself can make a statement, and displaying a carefully-chosen item can up the statement factor even more. Just make sure the two elements complement each other.
You may also enjoy: 7 "Rules for Statement Pieces in Your Home Decor
Highlight the space with art
Sometimes, a wall niche is up so high that it doesn't make sense to be used as a display area for smaller items. But you can make the niche work double duty by using it to hang a piece of art! I tell my clients that a wall niche can serve as the frame for your art, making it a structural and decorative element in the room.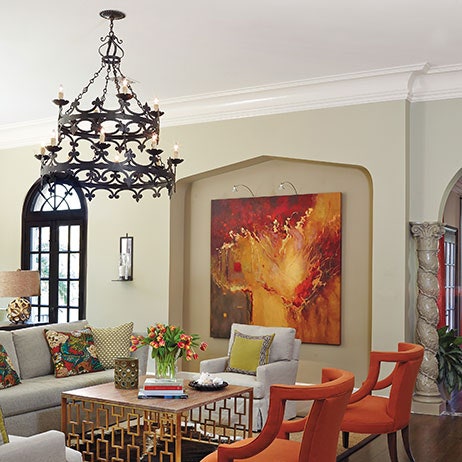 Turn Your Wall Niche Into a Functional Area
When you have a wall niche that reaches the floor, a piece of furniture may be just what the space needs.
If you have an older home with a small niche, consider putting a small table or even a little bench there. I think this space is just asking to become an entryway or landing area for your home!
A larger wall niche is the perfect space for a bar or a desk, depending on the room it's in. This can help the niche look purposeful while highlighting a well-designed piece of furniture. And depending on height, you can add glass shelves to make sure the niche is still the star.
Is your wall niche near a fireplace? It's the perfect place to store logs. This serves two functions: it uses the wall niche effectively, and adds a decorative twist to your functional firewood.
You may also enjoy: How to Create a Chic, Elegant Home Office
Add a Decorative Sculptural Element
Depending on the placement of your wall niche, it may make sense to "turn it" from a niche to a window. No, I'm not suggesting you take on a major construction project. But some sculptural elements can mimic the feel of a window while adding elegance to a room.
Consider adding a beautiful, faux wrought iron design in your wall niche. This can pay homage to a window design without looking like a "fake window." Attractive carved panels can do the same thing. If you are able, adding lights in these wall niches can make them seem more like a window and bring light into the space.
You may also enjoy: 10 Sustainable Interior Design Materials for an Eco-Friendly Home

Fake Built Ins
If you think about some of the more charming elements of older homes, one thing inevitably comes to mind: built-ins. You can upgrade your wall niche to beautiful built-ins by adding shelves and other purposeful storage. By painting everything the same color, you can effectively recreate a built-in without a huge undertaking.
Use this time to think about what would be the best for your family and let your imagination run wild! These fake built-ins can turn into a faux mudroom, or, if you've got some scholars in the family, a cute reading nook with bookshelves above. Built-ins are more than shelves, so really dream big to make this space the most effective it can be.
You may also enjoy: How to Style your Home with Accessories
Fill in the Wall Niche with Furniture
If you are able, an excellent way to mix function and design with your wall niche is to add a piece of furniture. The size of your niche may change the course you take, but no matter what, great furniture can elevate your niche into something more.
You have the choice to make the furniture inside the niche stand out, or blend in with its surroundings. A large niche might be a beautiful way to frame a wingback chair. Or maybe you can find (or custom build) a dresser that tucks perfectly into your niche. It will look like the niche was made for that piece of furniture, not an afterthought or potentially random design element in the room.