We're approaching one of the most exciting times of the year. Not the holidays (though those are great) – I'm talking about engagement season! At least for me, it seems that most young couples I know get engaged in the fall and winter.
If you're in that same boat, that means you'll soon be planning or helping to plan a bridal shower. It's every bride's wish to feel like a queen on her wedding day, so I say you throw her a tea party fit for the royal family. If it's good enough for the Queen of England, it's certainly good enough for a bride-to-be!
The great thing about a bridal shower like this is that you can adapt a tea party to almost any theme! I've gathered a few ideas below.
Sugar and Charm
Shower Themes and Venues
First thing's first – you have to select a theme! The theme will set the tone of the day and help you make the rest of your decisions about the tea party bridal shower.
Feel Like a Princess with High Tea
Make your bride feel like the princess she is with a high tea theme. Think elegance, floral, and pastels here.
As you search for a high tea bridal shower venue, keep the word "sophisticated" in mind. A good starting point would be a hotel or other historic building. Be on the lookout for chandeliers, lots of natural light, and that classic Victorian touch.
Once you have your high tea party venue secured, it's time to talk decorations. Make sure you have linens for your tables. Under no circumstances would high tea be served on a bare table! A crisp white tablecloth paired with a vase of tea roses sets the perfect tablescape. And for a high tea party worthy of a princess, you simply must use delicate, floral china.
Continue the floral motif throughout the rest of the room. As much as you are able, add pastel accents and delicate patterns throughout the space. Display your food on delicate cake stands or tiered serving trays.
You may also enjoy: Top Tips for Creating a Romantic Table Setting
Biltmore Hotel
Elegant Country-Inspired Bridal Tea Party
If your locale allows, taking things outside for a country-inspired tea party can be just the thing! For a bride who loves the outdoors, serving a tea party bridal shower at a wooded or bucolic venue can connect her interests to the party.
For a country-inspired tea party, think country chic! Accent your rustic wooden table with elegant, farmhouse-inspired fabrics and patterns. This takes the casual comfort of a backyard and elevates it into something special. Florals are also a great accent here (it is a tea party, after all) but instead of something delicate like a high tea, search for patterns with slightly larger flowers and a bold, yet soft color palette.
Let the outdoor setting guide the rest of your décor. Touches of natural wood on tables, signs, and even as place cards can tie the whole affair together. For centerpieces, create arrangements with magnolias, peonies, and other lush flowers, surrounded by greenery (if it's summertime, hydrangeas are also a great choice).
You may also enjoy: Summer Weddings: From Farm-to Table to Farm-Fresh Style
HWTM.com
Set Sail with a Nautical Tea Party
Get swept away with a nautical tea party! If you're interested in celebrating your bride on the high seas, you absolutely must find a venue incorporating all things nautical. If you're able to find a location that overlooks a lake or other body of water, book it! If you're a bit more land-locked, look for a fountain or water feature inside a local restaurant known for its seafood or one whose color scheme will match yours.
Speaking of color scheme, navy blue and white is a classic combo for a nautical tea! As neutrals, these two colors will really complement the wedding colors, so be sure to mix those in to make the bridal shower tea party personal.
As you select your flatware for a nautical themed bridal shower, consider stripes! Stripes are an updated, more modern take on a nautical theme. You can mix and match with wide and thin stripes and pair them with solids as well.
It's the little touches that make all of the difference at a well-done party and a nautical theme really lends itself to these small details. One tablescape idea is to use ropes and knots (the bride is tying the knot, after all) twisting their way around the table, accompanied by lighthouses, anchors, or even ships. If the weather is cooler, you can incorporate some cable-knit elements to mimic the look of a fisherman's sweater.
You may also enjoy: Stunning Inspiration and Ideas for Your Bridal Shower Brunch
Bridal Tea Party Invitations
After putting in the hard work to select and carry out a theme, you need the bride's friends and family there to celebrate. To make sure everyone she loves is there, start by asking her who she would like to attend.
As a general rule, do not invite guests to attend the shower if they aren't invited to the wedding. After the bride makes her guest list, ask her (or the wedding host) for the master wedding guest list to make sure you have the correct names and addresses for everyone invited to the bridal shower tea party. You should send invitations eight weeks before the shower takes place to give guests plenty of time to RSVP.
The invitation should reflect the theme of the party, to give guests a taste of what's to come. Be sure to match the event's colors as well as the overall scheme – think delicate florals for a high tea affair, gingham for a country-inspired tea, and knots and stripes for a nautical shower. In addition to the basic date, time, and location, give guests some guidance about dress code and any registry information for the couple as well. The Knot has a great roundup of inspiration as well as a full run-through of etiquette when inviting!
Tea Party Shower Menu Ideas
Regardless of what theme you choose, you'll need to serve your guests a meal. Traditional tea party menus include finger sandwiches, scones, and other small fare. This isn't the time to serve chicken breasts and baked potatoes. A tea party bridal shower is elegant and your food should be the same.
Like I said before, little details make all the difference. The more you can tie your food in to your theme, the better. A high tea party for the queen would most certainly include petit fours and so should yours! For a nautical themed bridal shower, crab cakes or even a light crab bisque would be delightful. In this case, sweat the small stuff! Leave it to Bon Appetit to have elegant picnic menu ideas and Food & Wine to create a tea party menu fit for royalty!
Once you've selected your food, you'll need drinks to match. First and foremost, select your tea! You should have two or three options for your guests, including a decaffeinated or herbal tea.
Most bridal showers these days also include some light cocktails, especially for the friends of the bride (or the bride herself, if she's a bit nervous)! A mimosa bar is a classic choice for any of the themes we've mentioned above, but you should let your creativity run wild. To cater to all guests, why not serve two lemonades – one spiked, and one non-alcoholic? That way, everyone gets to join in on the fun.
You may also enjoy: Elegant Tea Party Ideas
Ohhappyday.com
Let Hadley Court do the Party Planning for You!
No worries! Snag one of Hadley Court's party planning guides where all you have to do is follow the directions! With photos, menus and sources you'll be on your way to hosting an elegant ladies luncheon or an outdoor soiree'. Just $5.00 each.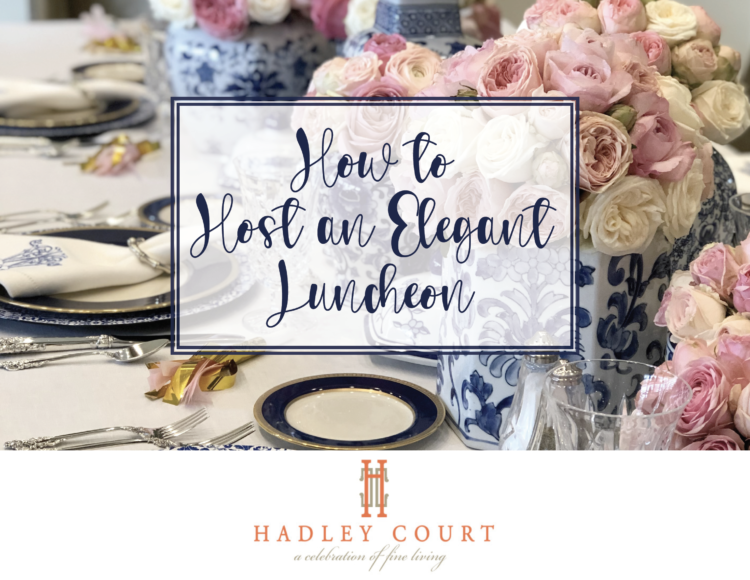 Click here to purchase Ladies Luncheon Party Planner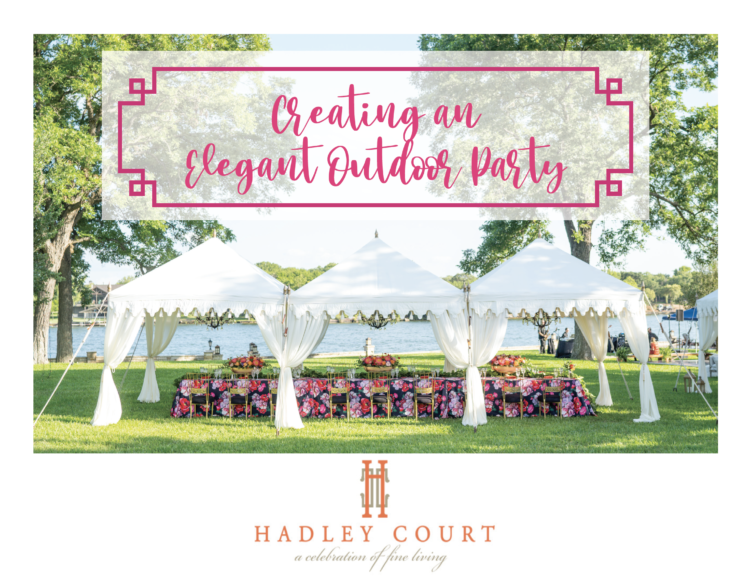 Click here to purchase Elegant Outdoor Party Party