Wood paneling can age a room, but you can pull a Tim Gunn and make it work. If you had wood paneling in your living room from the 70s and haven't updated it, your room may feel dull, dark, and dated. And you may have less-than-stellar impressions on wood paneling. I'm here to tell you that it can be chic and elegant! As with most things, it's how you approach it that counts.
Whether you paint it or embrace the natural look, you can transform the wood paneling in your room into something modern. And if you're interested in embracing the planks and adding paneling to your room, gather inspiration with these wood paneling ideas.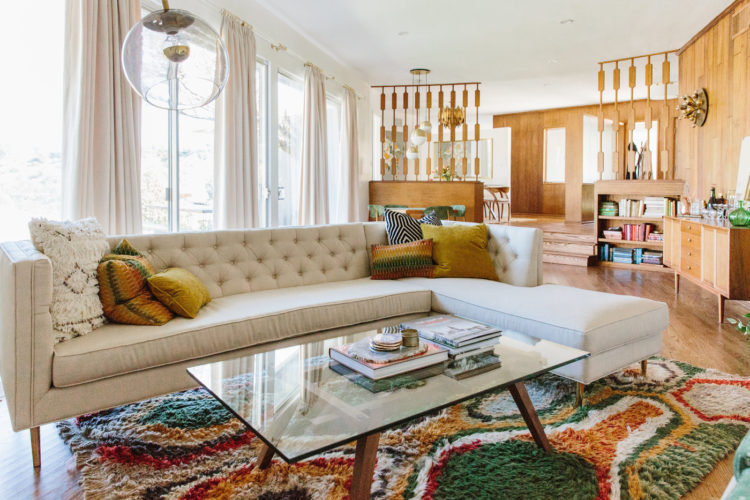 Lonny
Play with Quantity and Visibility
A little wood paneling goes a long way. Play with the amount of paneling you show in your room. Either hang it in strategic places, like over your fireplace, or tear out all but an accent of it so you can keep a focal point of paneling.
You could also add built-ins to minimize the amount of wood paneling showing, thus making a "less is more" moment! When you do this, your paneling will look like an intentional addition to your room and not like an all-over wall covering.
homedit
Paint Living Room Wood Paneling
Paint covers a multitude of sins, including dated wood paneling in your living room! Cover the entire surface or colorblock your paint to create a faux wainscoting.
If you do cover your paneling with one solid color of paint, play around with color and finish. Choosing a finish that naturally catches the light, like a high-gloss, will highlight the depth of the panels. Using paint that naturally catches shadows, like a mid-tone color, will also show you more variation in the texture. Or you could paint your panels a bright white in a flat or eggshell finish and trick your eye into not seeing the depth of the panels.
You may also enjoy: How Light Affects Your Paint Colors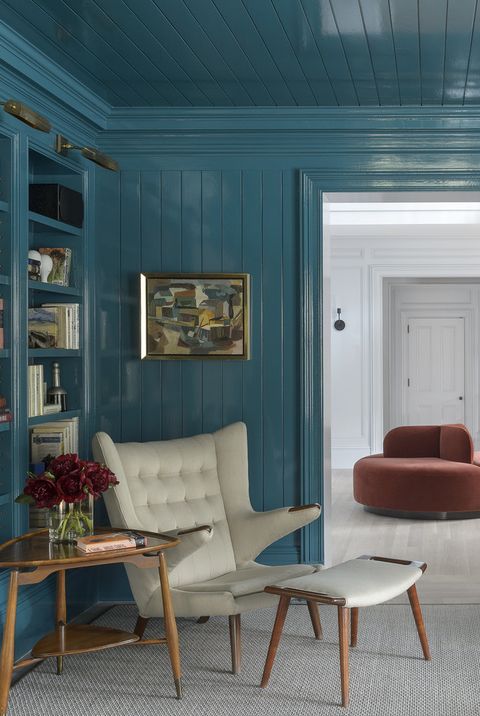 House Beautiful
Incorporate a Statement Piece with Wood Paneling
Embrace the statement that wood panels make and layer on even more for some drama! Add a bold piece of art to your wall, like a vibrant painting or mirror. After all, being understated is overrated.
You may also enjoy: 7 Big Artwork Design Ideas to Make Your Room Pop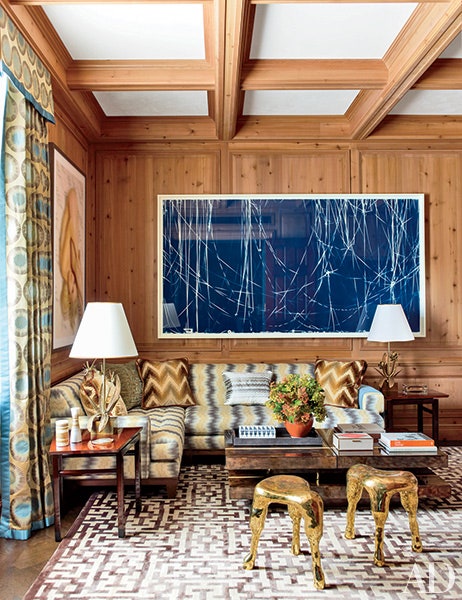 Embrace the Natural Feel of Wood Paneling
Who said wood paneling was a bad thing? Lean into the wood paneling in your living room and use it to enhance the design in your room! When paired with masculine elements such as leather, slate, and other natural pieces, you could design a moody space that's straight out of an episode of Mad Men.
Charish
Fake a Shiplap Moment
The shiplap trend made hanging panels in your living room stylish. Shiplap has been said to get its name from the boards that were commonly used to make ships. It's also been used in houses to make them water-tight, too. Thanks to Fixer Upper, shiplap has become part of the designing lexicon and is used to describe large wall panels hung horizontally. If you have wide wood panels, embrace their size and channel your inner Joanna Gaines! Add a light coat of white or gray paint to brighten your panels and mimic the appearance of shiplap.
You may also enjoy: 5 Ways to Capture California Style in Your Home

Whitewash your Wood Panels
Similar to faking shiplap, you could whitewash your panels. It'll allow you to keep the appealing wood texture of your panels without the dark color or shiny veneer that screams 70s which makes your room dull and dated. Go for a farmhouse look and play up the cottage angle or juxtapose it with boho decorations for a unique look.
Erika Brechtel
Make it Modern
If you don't want your wood paneling to feel like you're living in a log cabin, don't decorate like you're in a log cabin! Bring in modern accents, colors, and lines to make your living room feel fresh and new. Also, use geometric patterns to play off of the lines of paneling to make it look like an intentional part of the design.
You may also enjoy: 7 Ways to Breathe Life into Dull Spaces with Lively Floral Textiles
nonagon.style
Don't shy away from wood paneling! Whether you're looking to transform the wood paneling you already have in your living room or you want to incorporate paneling into a new design, use these ideas to inspire you to create a fresh twist on a 70s staple. When used intentionally, wood paneling can make a modern statement in your room!