When you don't like the paint color, you can always repaint it. That's a great philosophy if you want to get the color right the first time! Because of that, choosing cabinet paint colors is often fraught with anxiety and second guesses.
If you're looking for a bold cabinet paint color for your kitchen or bathroom, you want something timeless that you won't get sick of, but also something that will make a statement and excite you when you go into the room.
Instead of living for months with 50 different paint swatches all over your current kitchen, read this first! I've gathered 11 designer-approved cabinet paint color ideas that are elegant, everlasting, and aren't white. You'll love them the first time you paint, I promise.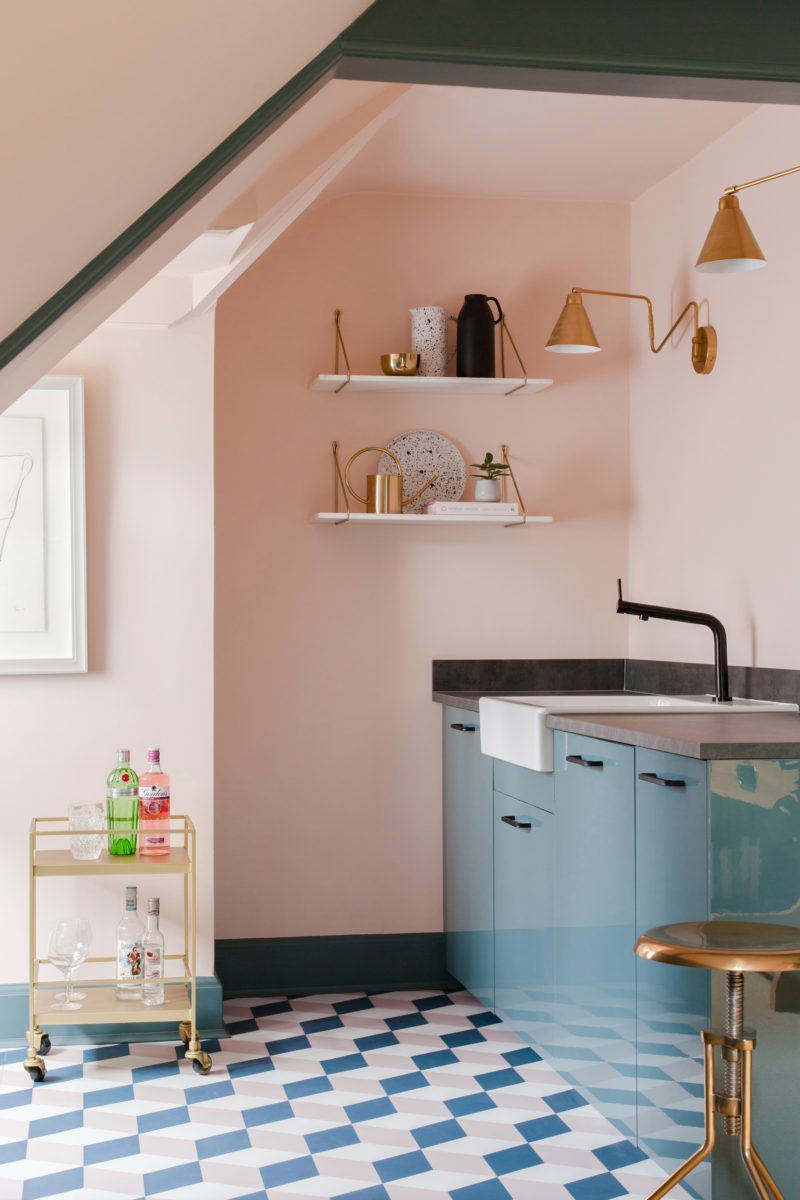 Yahoo News
Timeless Navy Blue
Of course, I had to start with a classic paint color! Deep navy blue works in any room, with just about any other color accents, and is ageless enough to evolve with your style. That means you won't have to repaint your cabinets every time you decide you want to switch up your color palette.
You may also enjoy: Why Hale Navy Just May Be the Perfect Blue Paint
Eggplant Paint Color Combos
Add depth and glamour to any place you have cabinets with a deep eggplant. This inky shade looks stunning with dark and light accents alike. It also looks fantastic when combined with other warm colors, like yellows and oranges. Dial up the drama even more and go for a high-gloss finish!
decoomo.com
Sunny Marigold Yellow
Use this shade in a room that needs warmth and depth. Marigold yellow is fresh for a bathroom when combined with whites and greens. You can also bring it into your kitchen cabinet paint color. Use it as an accent on just the uppers to draw your eye around the room or use it all over for a vibrant, golden statement.
You may also enjoy: Here Comes the Sun: How to Use Yellow in Your Home
My Domaine
Deep Gray-Green Hues
A deep, almost-neutral shade is the perfect hue for a kitchen. It's a bold yet neutral choice with just a hint of color. Because of that, it's durable enough so you won't get sick of it and want to repaint in a few years. This would be great as a monochromatic kitchen where you break up the shade with your counter top choice. It would also look good in a bathroom with brushed brass and sultry merlot accents.
Yahoo
Cobalt Cabinets
When you want a bold paint color for your cabinets that's still everlasting, look for a cobalt blue. This shade is vibrant and punches up any space you use it in. Cobalt blue cabinets are fresh in a kitchen or bathroom. You could err on the side of minimalism with just a drop of the color or add in as much as you can pack into the space. It looks great no matter the finish, though if you really want a bold look with this cabinet paint color, glossier is better!
Colorful Coral
Like orange, coral is cheery and encourages communication, so it's destined to be a perfect shade for kitchen cabinets. This paint color will make you feel like you're on vacation each time you step into your kitchen, especially if you pair it with other tropical colors like turquoise and buttery yellows.
You may also enjoy: Boost Your Mood: How to Use Orange in Your Home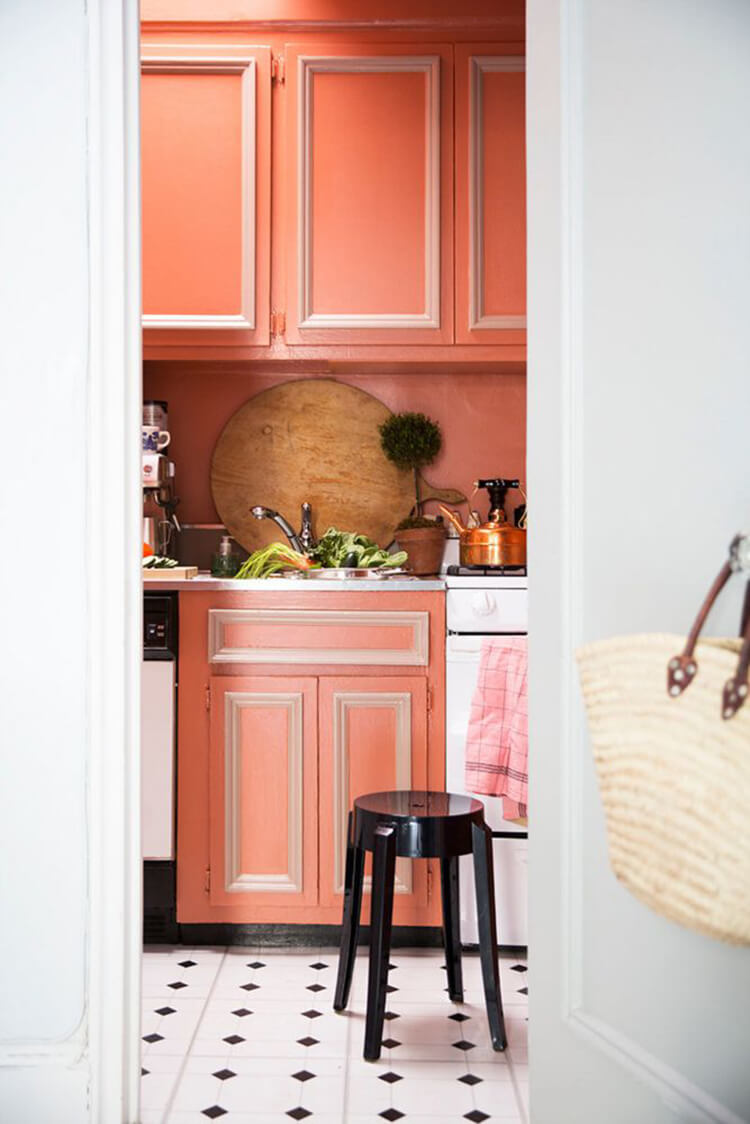 Pinterest
Classic Black Paint
Another classic color that's having a moment right now is black. It's chic and instantly adds drama to any room. Whether you go with a matte, satin, or high-gloss finish on your cabinets, black will look great no matter what. As you know, black pairs well with other colors, too. Use it as the color on the bottom cabinets and have something punchy on the uppers if you wish. Or go deep and moody and monochromatic.
You may also enjoy: Black is Back: The New 10 Year Trend
Forest Green Kitchen Cabinets
Greens are a naturally fresh color, which makes green the perfect base shade for your kitchen or bathroom cabinets. Forest green is deep enough to act as a neutral in your room or stand out on its own, similar to deep blues. Either way, this shade is perfect for your cabinet paint colors. Also, green looks good with just about any color you pair with it and forest green is no exception. Pair with gold and high-gloss black accents to bring the drama or with bright whites to freshen up your room.
Emily A. Clark
Shades of Ruby Red
A cabinet paint color that was made for a kitchen is a spicy crimson. After all, what else says "If you can't take the heat, stay out of the kitchen" like a fiery red! Crimson can stand alone and carry the room, or you can mix it with yellows, oranges, and even blues for a harmonious combination. This hue is bold enough to anchor any space, no matter the size. Use it in a small room to brighten a tight space or to warm up a larger room.
Better Homes & Gardens
Ocean Blue Colors
Like navy blue, a deep ocean blue is a perennial favorite color that brings so much dimension to a room. You can go with a classic look and pair it with white and gray or you can get really bold with your cabinet paint colors and mix this blue with green, orange, or yellow. Benjamin Moore's Blue Danube is the perfect ocean blue and one of their 2020 Color Trends.
You may also enjoy: Decorating with the 2020 Color of the Year: Classic Blue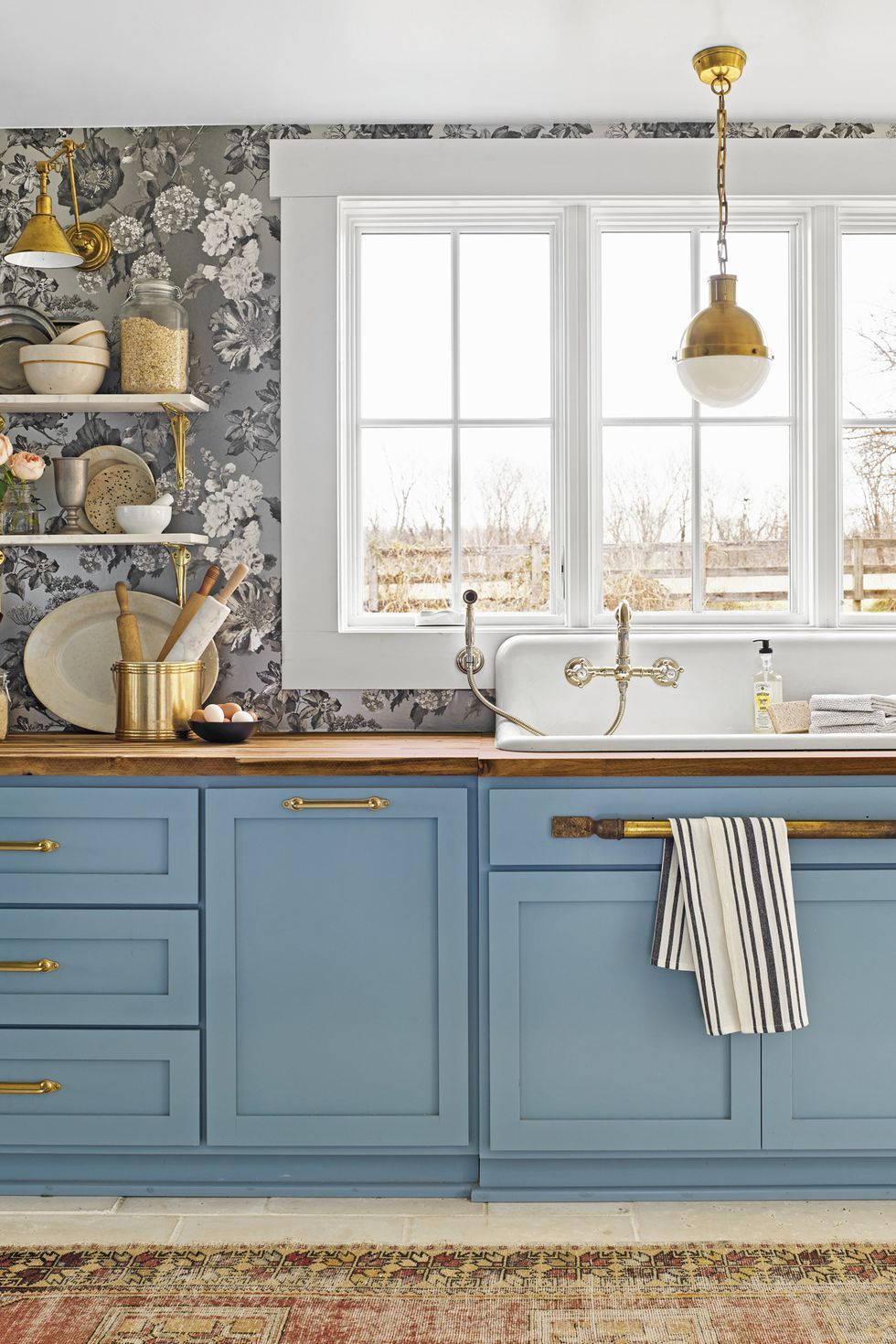 Country Living Magazine
Peacock Green Color Combo
When you want something that's a chameleon, look no further than peacock green. This deep mix of blue and green adds an elegant touch without feeling like it's overpowering the other elements in your room. You can play up the blues or the greens in your design with accents of either shade or let this stand alone and mix in other neturals. It also looks great with gold and silver alike. Like the perfect cocktail, it's a balanced mix of subtle and bold.
You may also enjoy: 7 Fabulous Ways to Use Green in Your Home Decor
Kemper Cabinets