I must admit that I am obsessed with black interior doors.  BLACK IS BACK and considered to be the new neutral. I know many of you have seen black trending as of late and black doors are no exception.  Interior black doors look good in any style home and with most paint and floor colors.
Black doors will elevate any space and make it a bit dressier.  There are 5 reasons why you should paint your interior doors black.

#1 Black Doors Add Instant Drama to Any Space
Can you imagine how different this entry would look without the black doors to add the visual excitement and drama that they do?
A white door is expected.  A black door is bold and classy.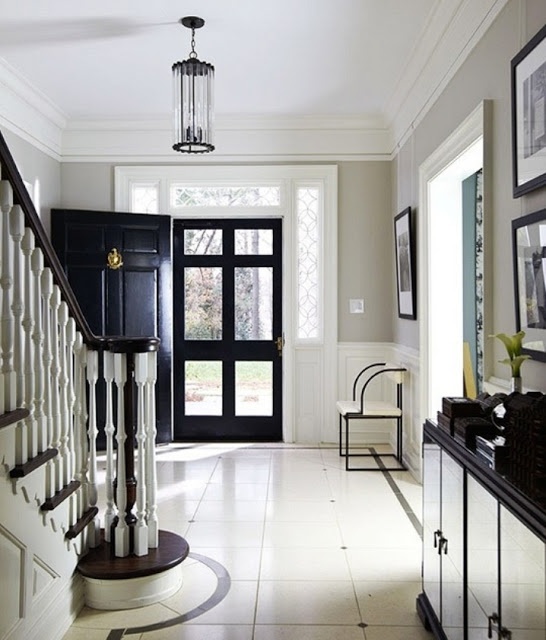 #2 Painting "Builder Grade" Doors Makes Them Look More Expensive
Talk about a quick fix!  Add "insta luxury" to any interior stock door with a can of black paint!  Easy, peasy!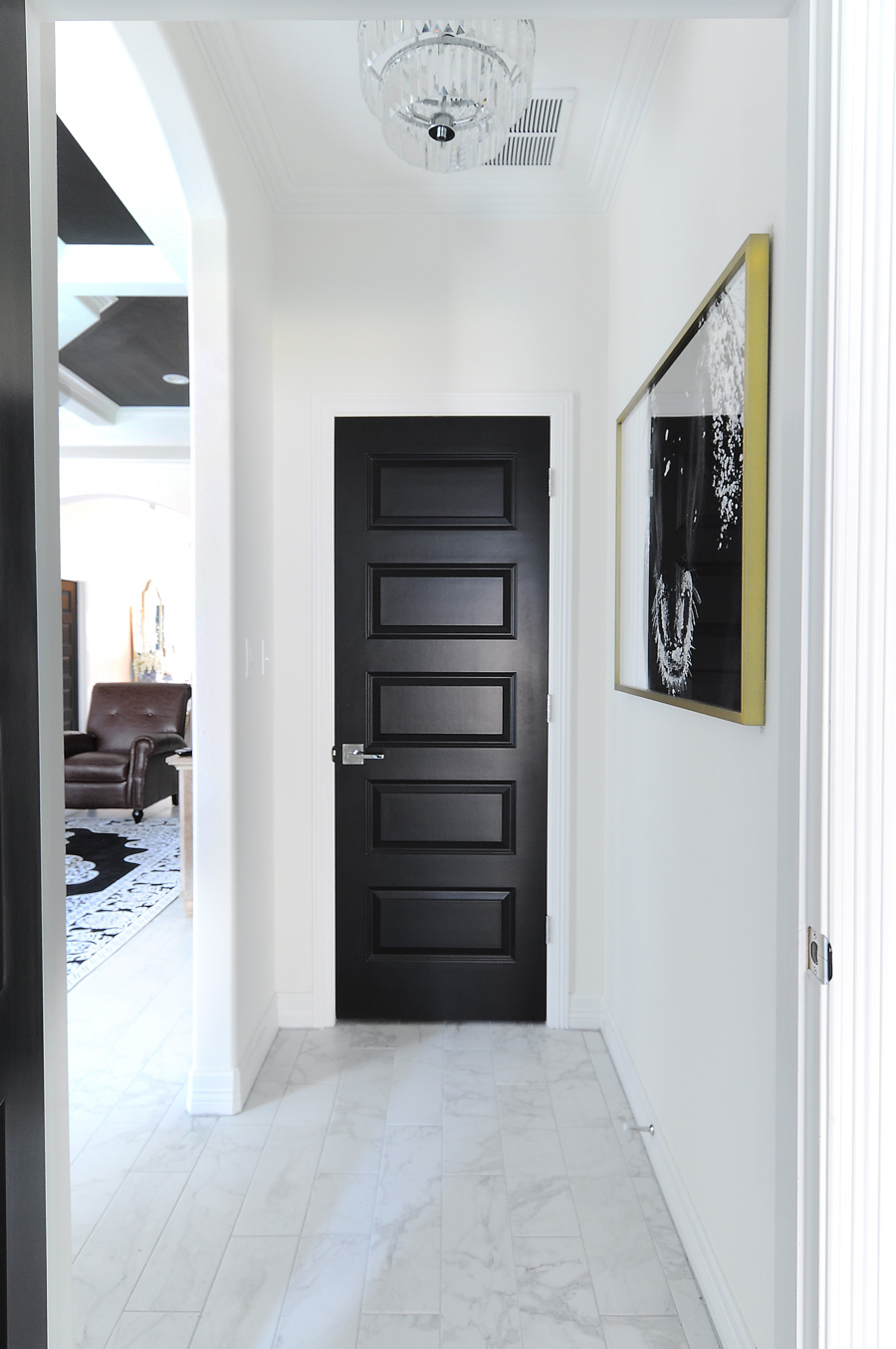 The black paint I use is Sherwin Williams Tricorn Black.  The semi-gloss has a reflective sheen that catches your eye!
Additionally, it's easy to clean and more stain resistant than a flat or eggshell finish.
You can paint the trim around the door black to match the door.
White Trim Dark Doors
Or keep the trim the same color as the trim on the baseboards and ceiling. The photo below shows how great a room can look with white trim and dark doors.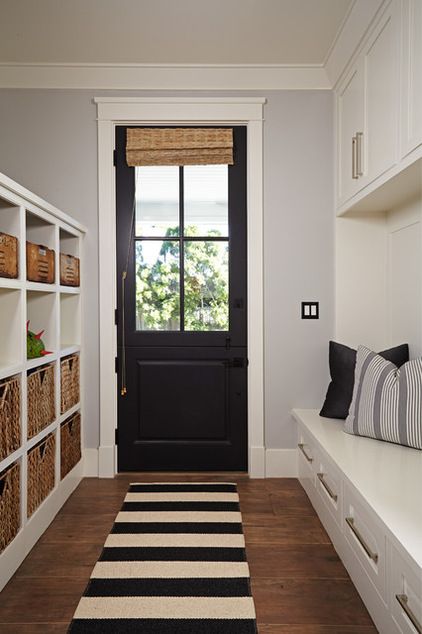 To create a stark contrast or accent in your room,  paint all the trim black.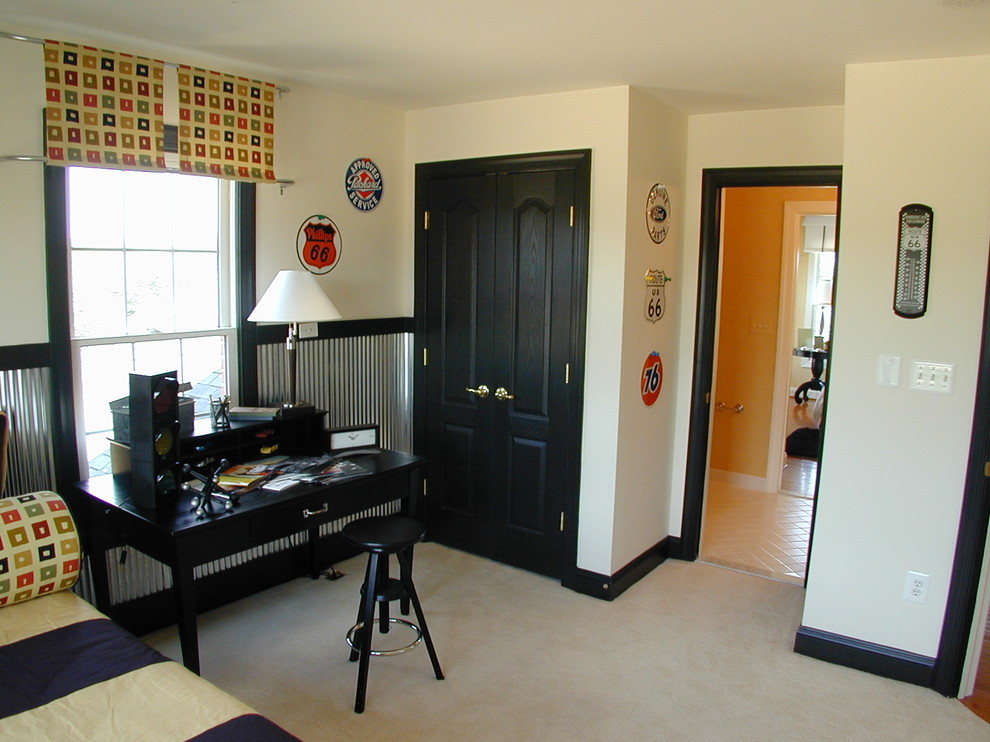 Just because one door is black doesn't mean they all have to match!

#3 Black Doors Add Balance to Other Black Décor in the Room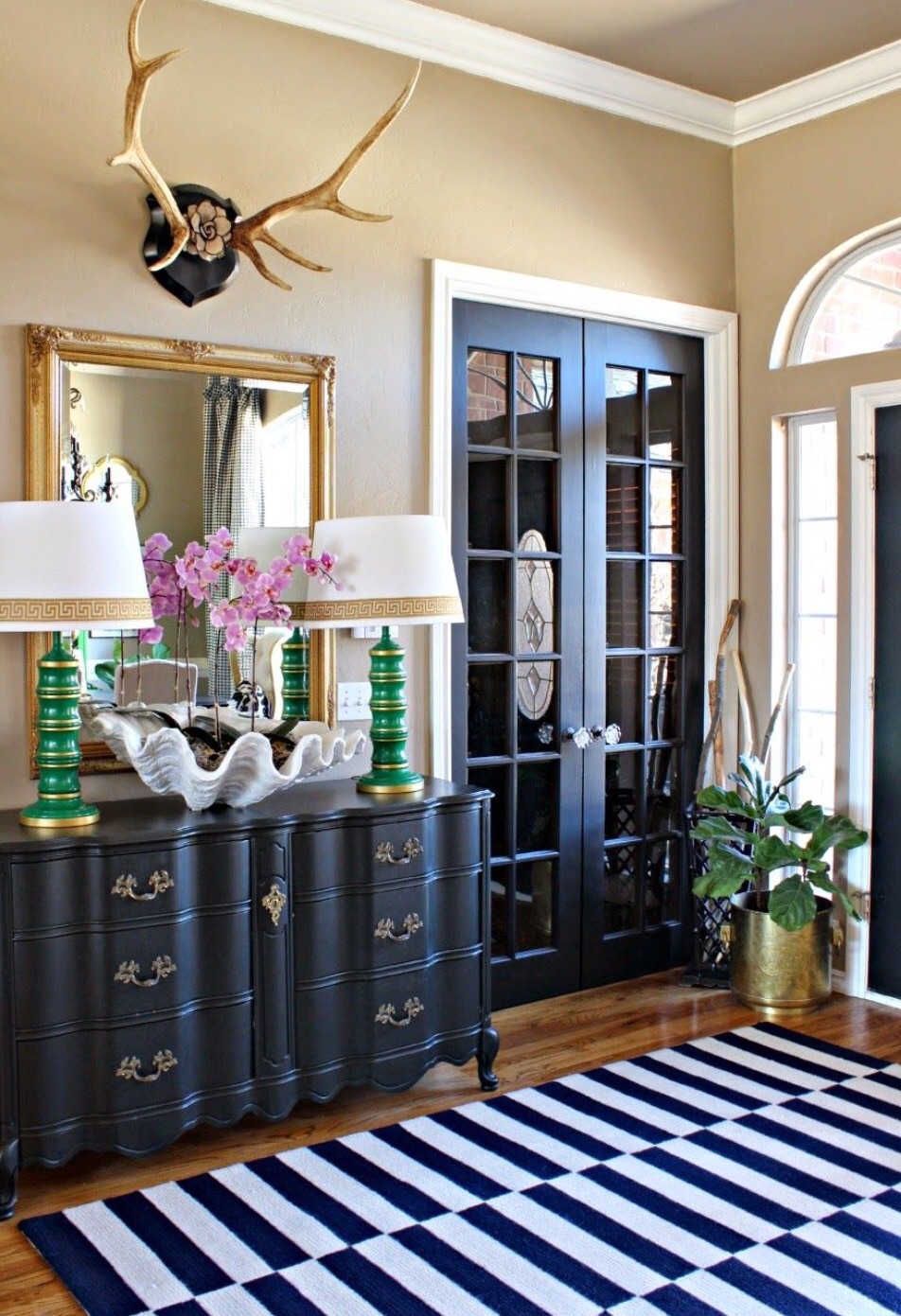 Can you see the black chest of drawers?
The black interior doors help to anchor the space. The black chest of drawers would have been lost in this entry without them.  And don't you just love the pop of green lamps against the black backdrop?
You'd hardly notice the black tones in this bathroom tile without the black door.  The black tones in the bathroom are very subtle, highlighted by the interior black door.
Hardware Color for Black Doors
My first choice for hardware is brass – notice how it stands out on the black door in this black and white kitchen.
#4 Black Doors Conceal Dirt
I wish it had occurred to me when my children were small to paint my kitchen doors black.  The black interior doors would have disguised a multitude of dirty little hand prints!
This includes pantry doors which can be revolving doors for children!  Read about cool pantry doors for your kitchens here.
#5 Black Doors Make Ceilings Appear Taller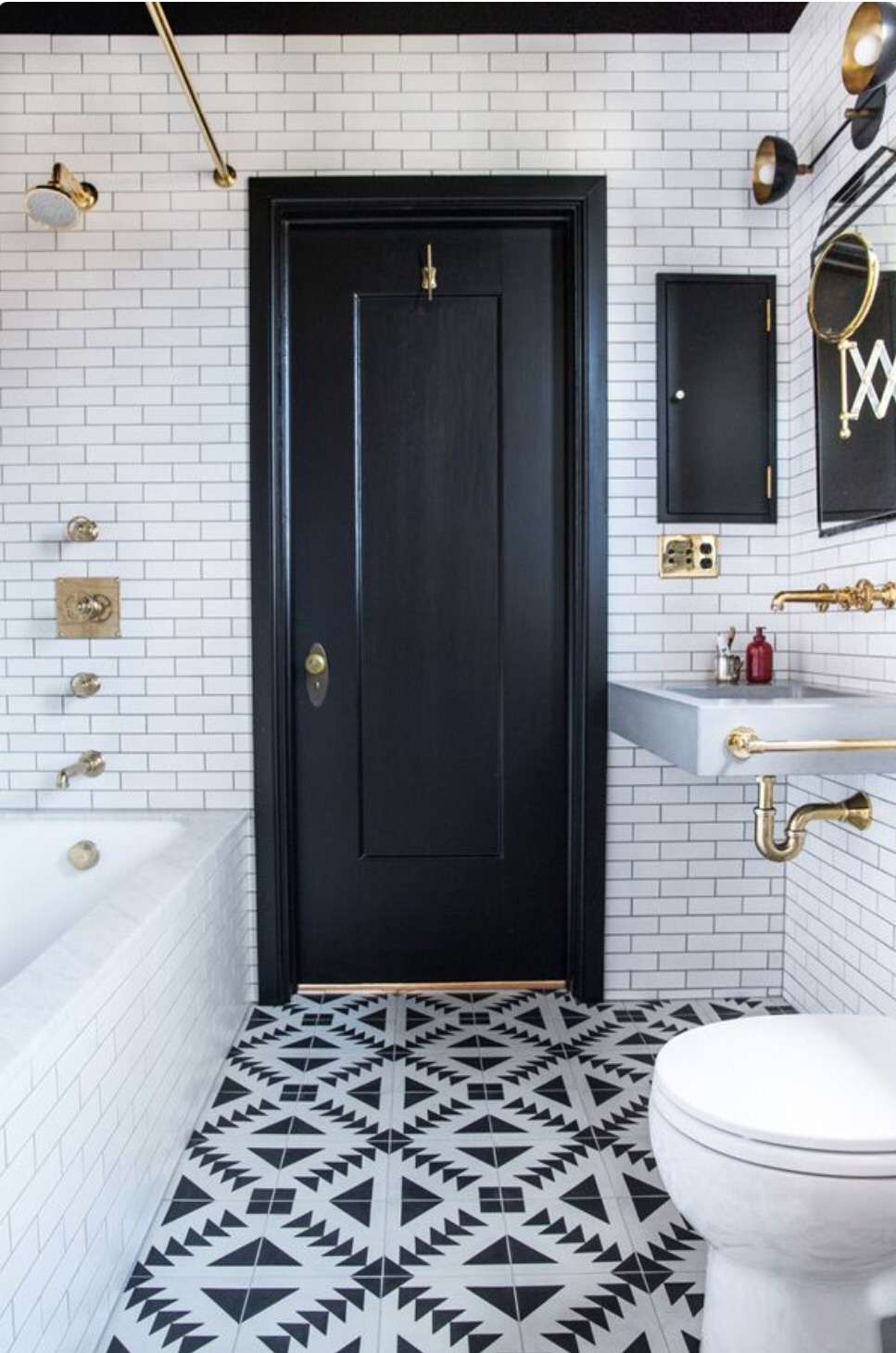 Black interior doors draw the eye upward and give the illusion of a taller ceiling height.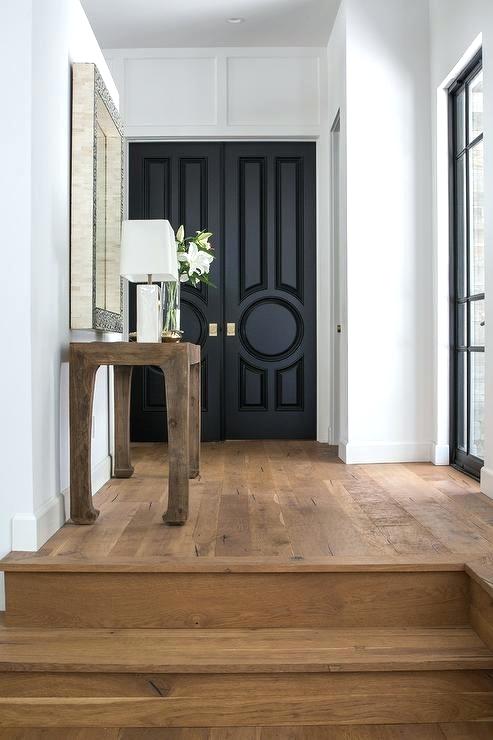 This solid black door soars up and is the focal point of the room.
You can see how black interior doors work with any interior style!  The floor and furnishings in this home are rustic – yet it seems like a wooden door wouldn't have fit in! The black door makes perfect sense.
What is the Best Black Color to Paint My Interior Doors?
My favorite black for interior doors is Sherwin Williams Tricorn Black.  It doesn't have any undertones and it's the most neutral black that I've found. It looks great with most colors which makes it extremely versatile.
What is the Best Paint Finish for Interior Doors?
Paint finishes range from high gloss to flat and there are a few factors to consider when choosing your paint finish.  The higher the gloss, the more durable & stain resistant your paint will be. While providing a bold, dramatic look, a high gloss finish will also magnify imperfections.  So, prepping carefully before painting is essential.  Semi-gloss and Satin finishes are used most often because they have less sheen, but are still very durable.  Flat finishes have no sheen, but are harder to keep clean.
How to Clean Black Interior Doors
Painted interior doors are easy to clean!  Dust them regularly with a microfiber cloth which will pick up more dust than a feather duster.  Then use a cleaner that will remove oil & grease like vinegar and water or for tougher dirt use a mild dish soap and water.
What's the Best Trim Paint Color to use With Black Doors?
The best trim color should coordinate with the paint color and finish of your walls.  Colors like white, cream and grey always look good!  Or, you can paint the trim around the door black for a seamless look.
The 5 Reasons to Paint Your Interior Doors Black
They add instant drama to any space
Black doors make builder grade doors look more expensive
They add balance to other black decor in the room
Black conceals dirt
Black doors make ceilings look taller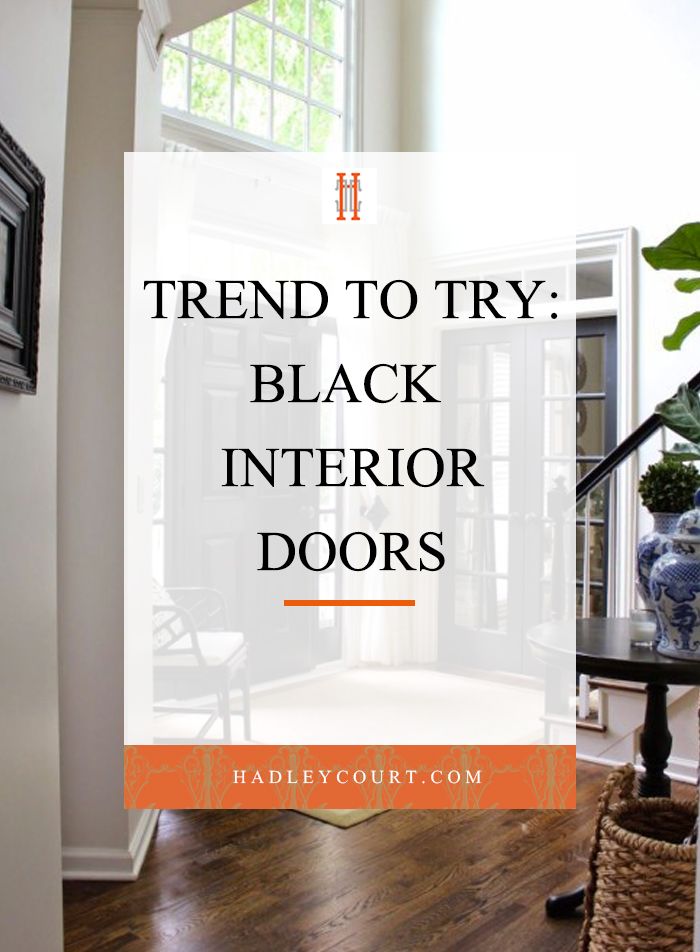 Photo credits:  Angel & Blume, beayoutifullife.com, andelconsortium.com, Katy Matinez Design, Pinterest, quitestyle, multifamilyexecutive.com, Trim Team, Starspot, makinglemonade, MonicaWantsIt, homeemployment.info, theinspiredroom.net, Cecy J Interiors, bpmsupplies.ie