Adding a wreath to your front door is such a welcoming, warm touch as guests (or you!) enter your home. It's also an easy way to add personality – are you modern, are you traditional, do you prefer streamlined or farmhouse decor?
If you fall within the farmhouse camp, this post is for you! I've got 17 farmhouse wreath ideas that will be perfect to hang on the front door of your modern farmhouse. Now, don't worry if "farmhouse" isn't your thing or you're not into DIY (for that, Etsy was created and you can even customize most designs to reflect your taste to boot)!
I think you'll find that I don't mean shabby chic, tons of plaid and camo, and/or milk pails all over. Farmhouse decor is inspired by that rural, agricultural look, but it is combined with classic shapes and colors to create a cozy yet still elegant design. It's similar to grandmillennial decor where you take two, seemingly-unrelated things and mash them up to create a cohesive approach to decorating.
Fall Farmhouse Wreath Ideas
When you think of fall, you almost certainly think of the changing leaves and the beautiful colors they bring. Why not hang those gorgeous hues at your front door! One stunning option is a
wreath full of mums in orange, red, and yellow to reflect the foliage on the trees. The entire wreath can be mums or you can add texture with pinecones and acorns.

You can also celebrate the splendor of the season with leaves of all shades. Pack the leaves tightly in all directions and add in textural accents like wheatgrass and dried berries to create a lush, multi-dimensional wreath you'll want to hang on your front door all year long.
Autumn is also an especially rustic time of year, thanks to all of the corn stalks, hay bales, and flannel used in decor. Capture those feelings with a wreath made of wheat arranged in a fan pattern. You can leave the wreath as-is for a more minimal style or dress it up with some fall-hued berries.
Pumpkins are of course another harbinger of the season. But if orange pumpkins are a bit too on-the-nose for you, try pumpkins of different colors! Try white and sage pumpkins (or any color) of varied sizes, all pulled together with a black and white bow is a very chic way to decorate your front door for the season and do so in colors that reflect your style.
You may also enjoy: 9 Simple and Savvy Fall Decorating Ideas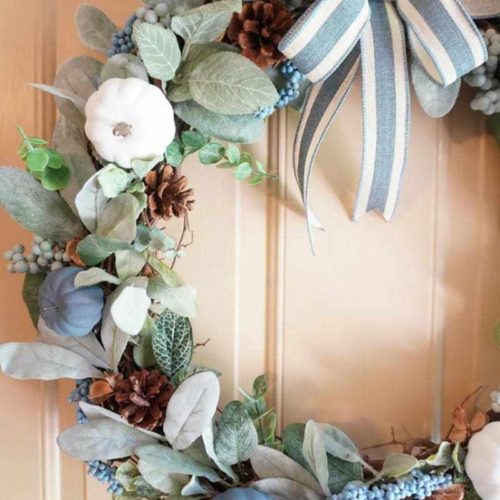 The Latina Next Door.com
Wreaths for Winter or the Holidays
Winter is a time for entertaining guests and a wreath on your front door adds an extra welcoming touch. Of course, red and green is a classic color combination for the holidays, but you can update this look for a modern farmhouse style by using southern magnolia leaves. These are a glossy, deep green and have a luscious brown velvet back that, if exposed, adds a layer of warmth and texture to your farmhouse wreath. If you really want to bring in the red, include pepperberries or holly berries.
If your décor style isn't red and green, try an all-white wreath. Stems of white berries are elegant, yet natural and stays true to the agricultural look of farmhouse style decor. To add a bit of color, look for some light green eucalyptus. You can extend the life of this wreath and its versatility by adding a Christmas-themed bow to it, then removing it when the calendar turns to a new year.
White burlap is a sophisticated yet rustic wreath option! Burlap's natural texture adds dimension and depth without being too rustic. Creating a wreath with white burlap looks like snow drifts. This clean and bright look is stunning on a dark front door. Also, this is another farmhouse wreath option that lends itself to adding a holiday-themed bow, then removing it after the holidays are over for a clean winter look.
You may also enjoy: How to Pick the Perfect Paint Color for Your Front Door
Spring Farmhouse Wreath Ideas
Spring is all about fresh, new life! Take your front door decor inspiration from the buds on the trees and the extra light we have after daylight savings time ends. One of the most beautiful buds to come in spring is the forsythia. It's delicate, yet bold thanks to the bright yellow hue. Keep things simple and create a wreath entirely of forsythia blooms. You can even include some green forsythia (the color of forsythia in the summer) to create dimension in the wreath.
For something lighter, ditch the traditional full wreath and replace it with a single brass ring! Add spring flowers, like ranunculus and tulips. Anchor in these flowers with greenery on both sides to reflect the new growth of the season. This look is perfect for springtime. White flowers are fresh and clean, but spring is always marked by pastels, so the choice is yours.
For an all-greens option, layer different kinds of eucalyptus. Left undyed, this plant is a beautiful light green that has depth and texture, thanks to its different shapes. For a true farmhouse feel, create (or shop for) a wreath that's slightly imperfect. Vary the sprig lengths for additional texture and interest on your door.
You may also enjoy: Welcome Spring! My top 5 Styling Tips for Your Outdoor Living Space
Summer Farmhouse Wreath Inspiration
Summer marks the cotton harvest, so why not add cotton to your wreath? A simple grapevine base can be dressed up and brightened up with the addition of budding cotton scattered throughout. Elegance and farmhouse together in one!
If you're interested in a floral option for the summer, pick something bright and vibrant, just like the sun. Peonies bloom at the start of summer as do hydrangeas. These lush, full flowers mixed with some bright green foliage echo the fun of summer.
Succulents are another fun idea for a summer wreath. They come in all shapes, sizes, and even colors like coral, pink, and purple. Fill a wreath with succulents of all styles to create a modern farmhouse summer wreath that is sure to turn heads!
lollyjane.com
Summer harvests are the most delicious! So, take some inspiration from your garden when creating a farmhouse wreath for summer. When done right, the addition of some items you'd find in your garden (peppers, peaches, or grapes) can make a unique and unexpected wreath. For this one, make sure you don't go overboard – you could go from modern farmhouse to outdated quickly. Keep it simple and monochromatic for an elegant look.
You may also enjoy: Why Hale Navy May Just Be the Perfect Blue Paint Color
Wreath Ideas for All Year Long
One of the most versatile wreath options is one made of boxwood. These bright, cheerful greens are inviting and can dress up any front door, for any occasion. You can style the boxwood in an elegant, tightly-pruned circle or allow the greens to be slightly wild and natural for a more agricultural look.
Another classic, versatile option for all year long is a wrapped burlap wreath. This natural look can be enhanced with simple bows that are changed for the season or with ribbon hangers that reflect the time of year.
Skip to My Lou
For a wreath that isn't a wreath, try a circular sign made from wood. Decorate it with the same embellishments you'd use on a wreath – think a bow, greenery, flowers, all the items I've mentioned above – for a unique wreath that toes the line but doesn't dip into rustic territory. Talk about modern farmhouse chic!
You may also enjoy: Entryway: Tips for a Lasting First Impression
Shop Welcome Door Hanger @ Etsy
I hope you've been inspired by these ideas to create your own farmhouse wreath. You can customize your wreath to reflect your tastes, your home, and the changing of the seasons — all with a few simple swaps of flowers or greenery. And, like I mentioned, if you aren't a crafty person by nature, places like Etsy were made for you!

Hadley Court's Christmas Gift Guide