While neutral paint colors still hold as the standard, bolder colors are starting to take center stage. If you're looking for a rich color update for your home, Benjamin Moore Hale Navy offers a deep blue that coordinates with a range of styles.
This velvety rich hue looks incredible in a variety of applications from your home's exterior to a kitchen or bathroom.
If you're looking for some Hale Navy inspiration, read on for a few ingenious ways you can incorporate the color in your own space.
Paint Your Exterior in Hale Navy
One standout feature of this paint color is that it has both cool and warm undertones. You can update your entire home's exterior with this paint color for a dramatic impact and some bold curb appeal.
Thanks to its versatility, the deep blue makes Hale Navy houses stand out, especially with a creamy white trim.
Don't be afraid to use this color as full exterior paint for the entire home. With white shutters and trim throughout, it can literally transform the entire look of a house.
Make a Statement with a Hale Navy Blue Front Door
If you want to start a bit smaller get a sample of Hale Navy first, since it is such a bold color.
Paint the trim of the door in a gorgeous white color and you'll instantly create a dramatic entryway.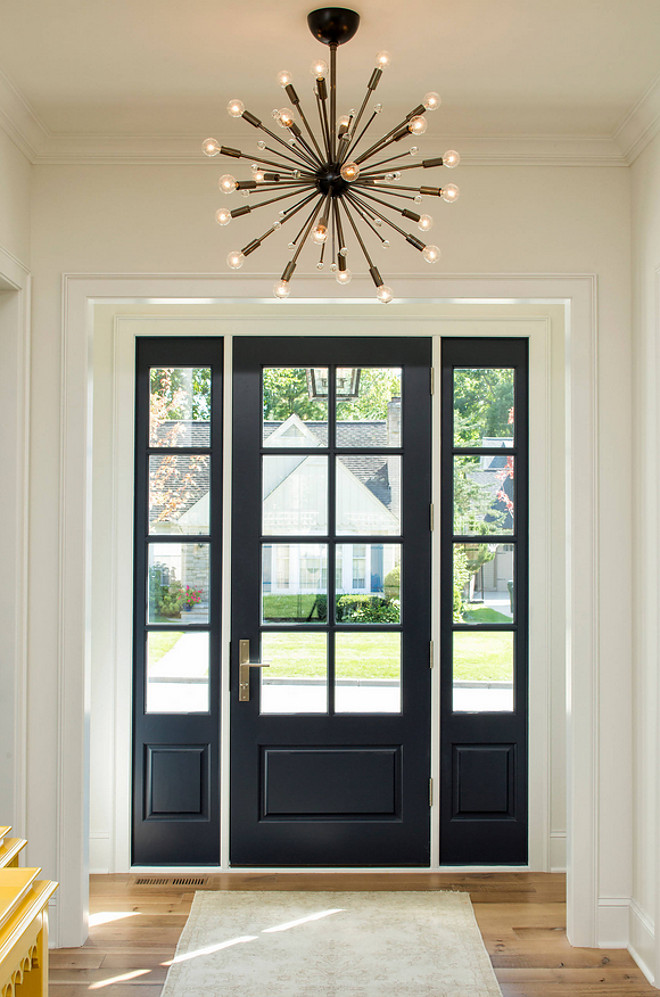 The deep tones of blue add a bold look to your house, and it's a fantastic choice for homes going for that classic nautical-inspired look.
Since this color is so deeply saturated, it's the perfect choice for a front door. Complete the look with a beautiful eucalyptus wreath for your front door.
Try Hale Navy in the Kitchen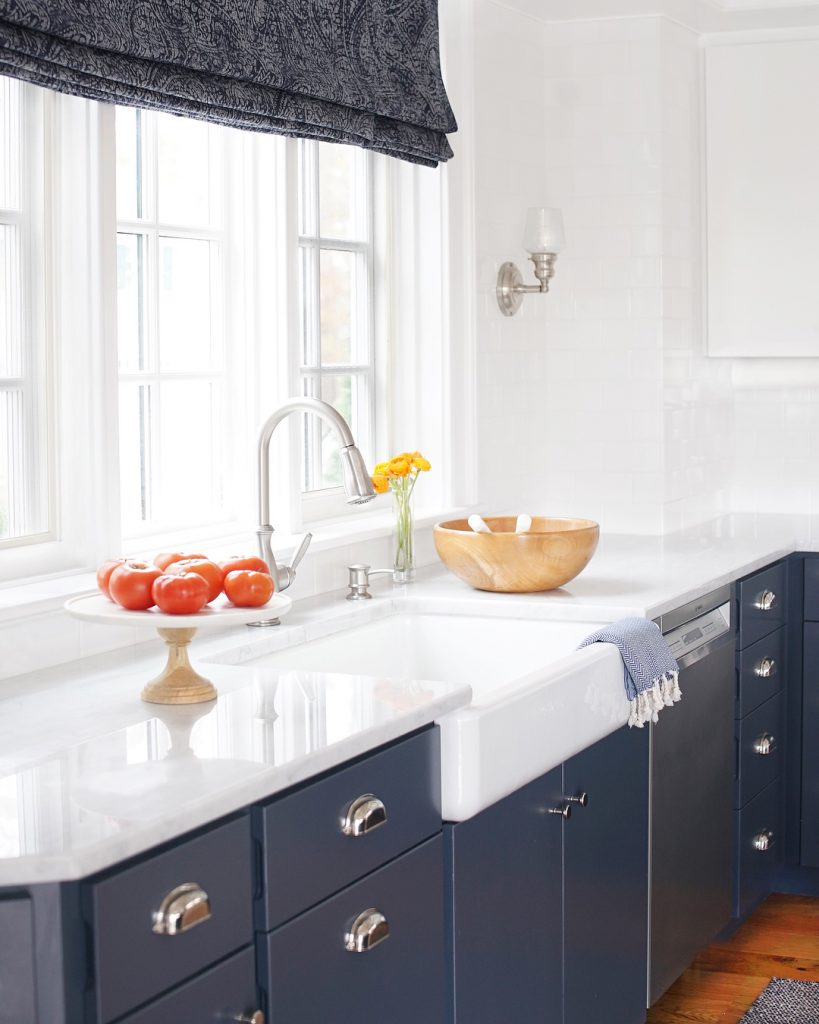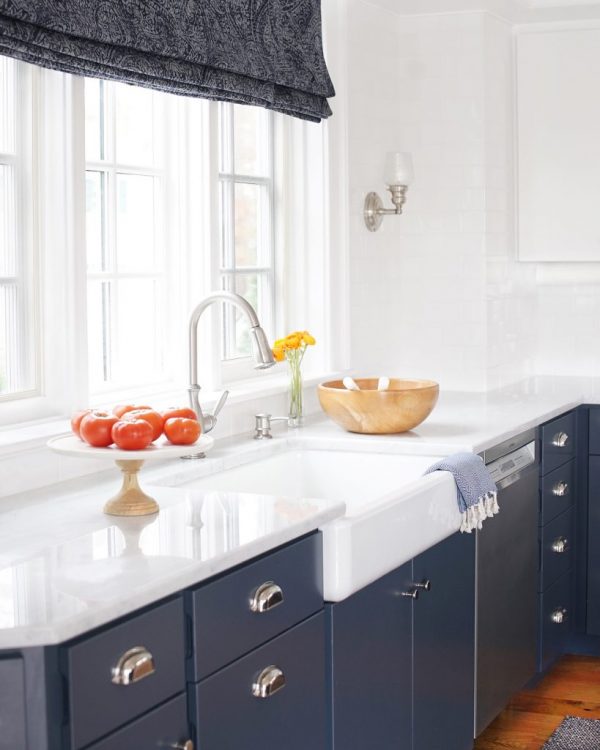 Looking for something other than a white kitchen? Make a statement with Hale Navy kitchen cabinets!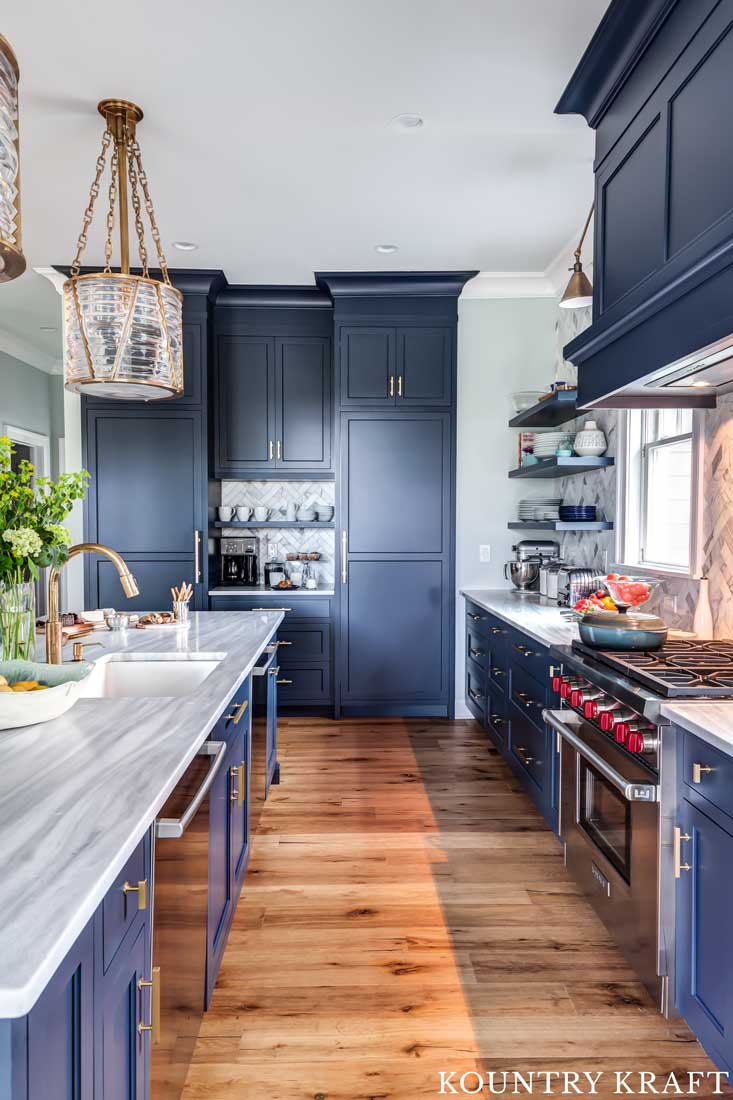 Paint your cabinets this color, then pair it with some satin gold hardware or silver hardware to make it pop. Copper and bronze also work well with this color of cabinetry.
You can also try a two-toned look and paint either your top or bottom kitchen cabinets in this color to create an impressive Hale Navy accent. Finish it off with white marble countertops for a luxe look.
You may also like: Dreamy Blue Kitchens
Have Fun with a Hale Navy Ceiling
If you really want to get creative, try painting a ceiling in this color. It's a dramatic effect but can also be warm and cozy.
I love how this one features white painted stars, creating a magical planetarium.
Consider Hale Navy Blue in Your Powder Room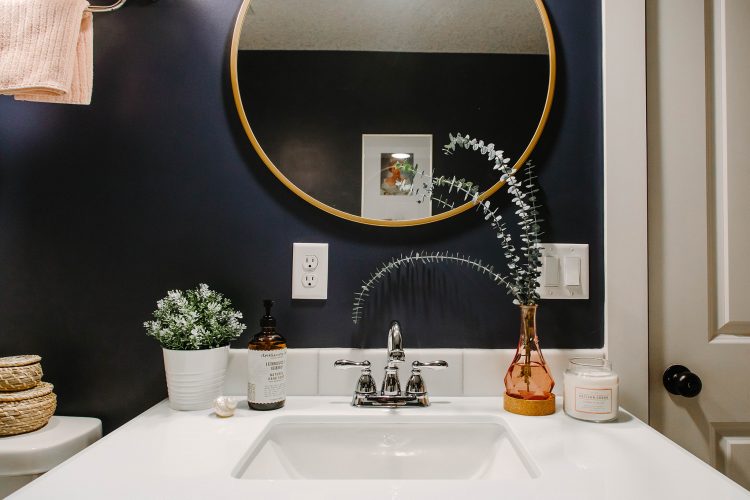 Thanks to the nautical vibe, it's not surprising that Hale Navy looks stunning in a bathroom.
Paint your bathroom walls in this blue color and add wide white trim around the room for a stunning touch.
The deep blue color will inspire you to create a fun bathroom design, incorporating elements like anchors, whales, or starfish.
Not into the nautical look? It's also a modern paint color that will look lovely in a master suite or powder room. Some white beadboard creates a nice contrast, as does gold and green accents.
You may also like: 9 Ways to Use Beadboard in Your Bathroom
Create an Intimate Setting in the Dining Room
For a cozy dining and entertaining space, try painting your dining room in Benjamin Moore Hale Navy. It won't make your room look too dark (especially if you complement it with lighter colors and have plenty of natural light). This look pairs gorgeously with some white wainscoting to give your dining space a classic touch.
The richness of this shade makes it ideal for smaller spaces where you want to create a more intimate atmosphere.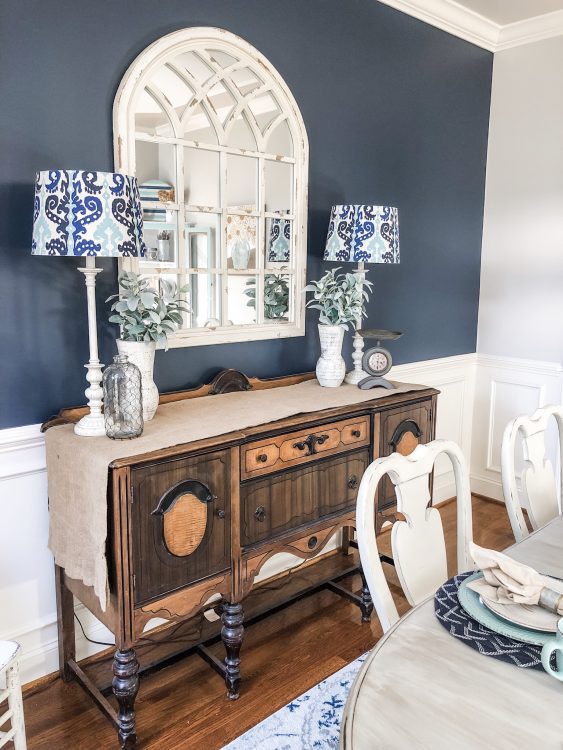 Match the blue color with a white buffet or a rustic dining set.
One wonderful thing about this navy blue is that it's the perfect choice for both traditional and modern spaces. The details you choose will help you create your own unique touch and give it a look that helps express your own personal style.
How to Decorate and Accessorize with Hale Navy
Metallics in any range work quite well against this deep blue shade. Tie the color into your decor by adding in throw pillows and artwork in a coordinating navy blue.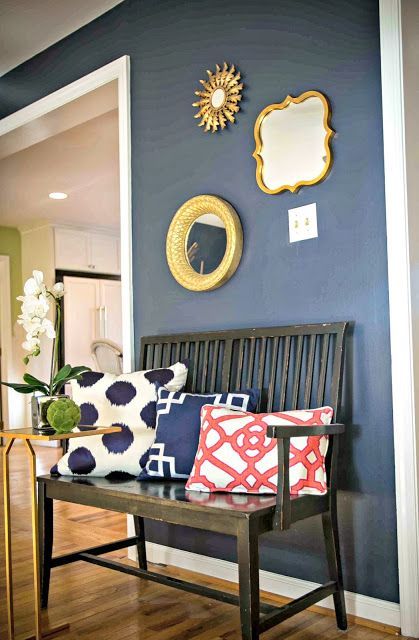 Gold-tone mirrors look stunning when hung in a room painted in Hale Navy blue.
What Colors Go Well With Hale Navy?
White always works well against Hale Navy when used for trim. If you're wondering what white goes with Hale Navy, ivory, cream, or off-white tends to look best. A color called White Dove, also from Benjamin Moore, is the perfect match for a creamy contrast.
If you prefer a crisper white, try Cloud White or Simply White by Benjamin Moore.
The Sherwin Williams Hale Navy equivalent is their 2020 color of the year: Naval.
To really bring drama to your interior or exterior, try Benjamin Moore Hale Navy and see how many stunning ideas you can come up with!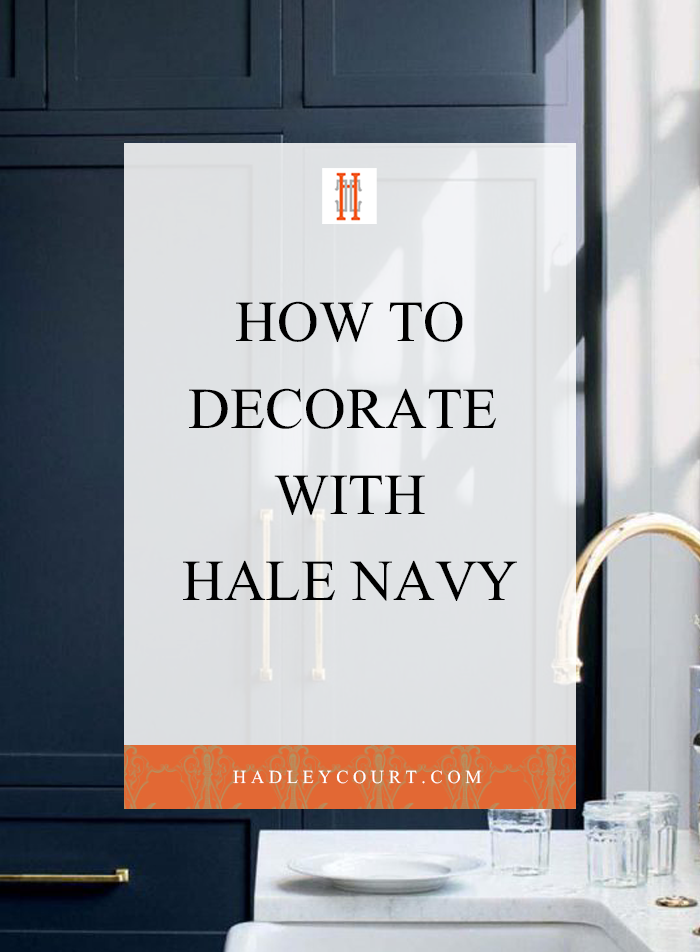 Photo credits: interiorsbycolor.com, interiordesignserviceonline.com, wilshirecollections.com, Life on Virginia Street, buzau.club, kubehpre.info, Freshome, Homebunch, Sink the Homebird Life, Fox hollow Cottage, Kountry Kraft