Okay, so how many of you have had to select tile before?
Bet we're close to 100% of this audience!
Helping my interior design clients select the right tile is a big part of my job.
Luxury kitchen designs often use tile as an integral part of the overall design concept.
Things to consider when choosing are tile are the style of your kitchen, lighting, space, and your vision!
The backsplash should showcase the color and style of your kitchen.  It is the focal point of the room.
My Favorites
By far, the most beautiful handcrafted tiles I've seen are made by New Ravenna. The picture above and the three below are from their collection.
As many of you know, I love chinoiserie.  This design named CHINOISERIE is made of hand cut jewel glass, marcasite, pewter, and mica.  It has a quartz finished sea glass background. It is from their Delft Collection.  It is high on my list of what I love most in handmade, luxury tiles.

Many of my interior design clients in Midland choose a comfortable, familiar palette of taupes and browns.  This New Ravenna tile has a  gorgeous color of tortoiseshell.  It goes well with copper fixtures – a metal finish that is becoming increasingly popular again in luxury kitchen designs.
In this kitchen designed by Barry Dixon,  he installed the tile in 2 different shades.   The band of darker tile close to the ceiling grounds the kitchen and it matches the color on the custom bar top edge.  Notice how he also used it underneath the window to tie it into another level.  The ceiling is highlighted by a decorative tile that uses the same color scheme as the upholstery used in the kitchen.
Another designer whose work has always inspired me is Architectural Digest Top 100 designer Suzanne Tucker.  I love this kitchen she designed, and the way she incorporated beams into the ceiling -that appear to go into the hood.  The tile she selected reflects the light coming in from the window and gives a sheen to this room designed with mostly matte materials.
Color Combinations
Black is back!  Black & white are trendy now and kitchens are following suit.  The backsplash in this kitchen doubles as a piece of art!  It adds personality to this white kitchen.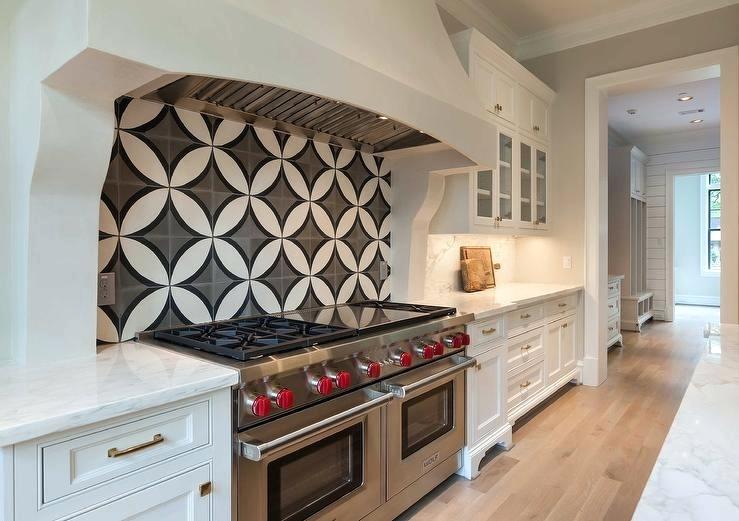 A classic combination for kitchens has always been blue and white.  For one of my clients,  I used an existing French blue and white hand painted tile in the kitchen,  It was the building block for my kitchen design.
I am so excited to install this tile by Ann Sacks, called Davlin rose gold.  We are putting it in a backsplash in the bar.  It is European gold-leaf fused between 2 pieces of handcrafted glass.  It is glossy, and glittery and gold!
Not Your Average Neutral
Ann Sacks -Hashtags-deskgram luxe pewter is the tile I chose for the backsplash in my kitchen. It is travertine, but you wouldn't know it! The thickness is varied and so is the surface – some are smooth and others rough. It creates a lot of texture and dimension to the backsplash.
Another good choice for a neutral tile is Concept Surfaces Parma Pompey Style tile,  It's a brick mosaic composed of a blend of solid color glass and metallic.  It fits beautifully in both classic and modern kitchens.
For a clean, classic look try this ceramic subway tile from Walker Zanger 6th Ave.  I used the Fog Gloss for a backsplash in a bar to complement the neutral tone of the walls and furniture.  It is perfect for the sophisticated style of the home.
Terrific Tile Ceilings
This beautiful design by my friend, designer Lisa Kahn, shows how she used tile on the barrel vaulted ceiling.  It takes my breath away as do the inset tile panels above the range.
The copper ceiling tiles in this kitchen are vintage 19th century Victorian.  They add architectural detail & rich texture to this kitchen.
I hope that you will be inspired to seek the best tile resources and design solutions for your own kitchens!
Find more ideas for kitchen tile backsplashes in my post:  Kitchen Inspiration! Metallic Tile Backsplashes!
Leslie Hendrix Wood
Founder,
Editor in Chief
Hadley Court
Interior Designer
Leslie Hendrix Wood Interiors
Gracious Living, Timeless Design, Family Traditions
Photos credits:  Architectural Digest, New Ravena, Traditional Home, Ann Sacks, Concept Surfaces, Veranda, Armstrong Ceilings, Legotape.com