"Houses, like gardens, need our watchful eye, sunshine and nurturing. The houses where we live don't thrive on neglect. Living abundantly requires loving energy." – Alexandra Stoddard
Two memories from childhood have inspired the design vision of Alexandra Stoddard, best-selling author, acclaimed interior designer and contemporary philosopher.
One of her happiest and earliest memories is of her mother's garden filled with pink peonies. To this day, she's fond of all shades of pink, and peonies are her favorite flower. She loves the exuberance of peony blooms, and how just a few can add joyful color to a room, like the living room of her 1775 cottage in Stonington, Connecticut.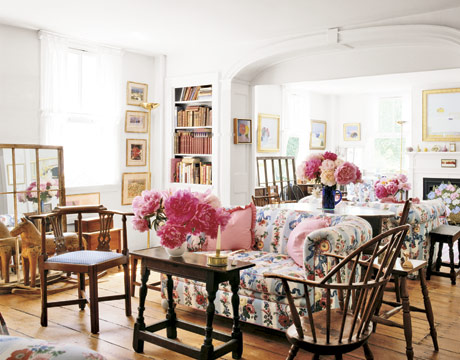 The second memory came from visiting her mother's friends and sitting stiffly in formal living rooms. "I was frightened by the cold, dreary, dark formal rooms of my mother's friends," she recalled. "I wanted to liberate people from dreary environments and help them turn living rooms into gardens. Home should be a place where people can flourish, not just cope, with their lives."
Alexandra's first principle of interior design is to "bring the harmony, joy and inspiration of nature inside. Nature is so exhilarating and liberating….It can be winter in your head, but spring in your heart. All winter long I keep plants and flowers inside. There is something growing in every room, even if it is just a simple bud."
"We might not have Monet's talent for painting masterpieces, but we can transform our personal environment into a sensuous, happy, colorful retreat, a place that is so pretty, so cheerful and pleasing that it inspires happiness in everyone you welcome in."
Viewing home as a garden makes it a private refuge, she said. "Home is the tiny space you occupy and maintain on earth, your soil to cultivate. It is sacred."
Alexandra recently spoke to Hadley Court from her Connecticut home, sharing her philosophy of gracious living in Part 1 of an exclusive interview, here. In today's Part 2 post, she shares her vision of interior design.
Six years ago, Alexandra and her husband, Peter Brown, shut the doors of Alexandra Stoddard Interior Design at 100 Park Avenue, which Alexandra began in 1977. The highly successful firm was international in scope, with projects including the Finland Embassy and a hotel in Paris, along with New York gems like the Mayfair Regency and the New York Yacht Club. In the firm's prime, Alexandra Stoddard had over 200 independent contractors and around 8 employees working for her, and always had an intern because she loves to mentor others. In addition to closing her firm in 2008, the couple sold their New York apartment and moved in to their weekend retreat cottage in Stonington permanently. The interiors of their New York apartment are captured in Alexandra's book, Feeling at Home, in which Alexandra taught how to create a home that is your emotional center and reflects who you are.  
Pictured in the book is Alexandra and Peter's master bedroom in New York, anchored by a Canadian Maple 4-poster bed she designed and adorned with floral linen bed hangings.
 "We thought of our bedroom as an indoor garden," she said.
Flowers aren't the only element of nature Alexandra brings indoors. She also craves light and color. "I'm a colorist," she said. "I find poetry and energy in color. I deeply feel color. I can't look at blue without thinking of the beautiful sky and water."
Blue is the theme of Alexandra's cheery cottage kitchen, above, where she and Peter have welcomed hundreds of guests over the years.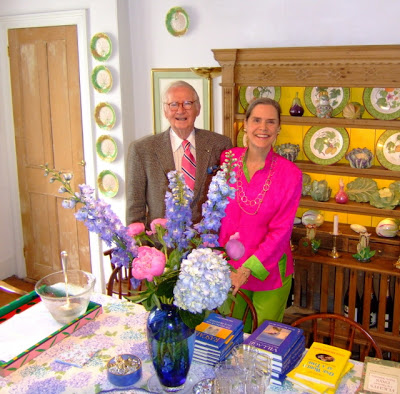 In Alexandra's groundbreaking classic, "Living A Beautiful Life–500 Ways to Add Elegance, Order, Beauty & Joy to Every Day of Your Life," she originated the idea of creating an atmosphere of beauty and tranquility with simple touches that turn the ordinary into the extraordinary. She learned this approach from her mother, who made something as simple as serving coffee or tea a special occasion. "She always added a little extra touch, like placing a little dish under the coffee cup, special touches that didn't cost anything or take any time."
Even an arrangement of ribbons, fabric or ordinary household items can be special and inspire happiness, with Alexandra's touch.
Flowers, light and color make up the elements of Alexandra's interior design vision, but even more importantly, she believes home should be a place of meaning that flows out of who you are.
Quoting interior designer Van Day Truex, she said, "Your home should be an autobiography."
In Alexandra's book, Choosing Happiness, she wrote, "Our house becomes a home when we love it. Our home can always be in bloom, full of springtime, fresh beginnings, plants growing and happiness flowering…Plant your seeds and cultivate your garden. Everyone who does so is wise, because happiness is centered here."
Ultimately, Alexandra's philosophy of gracious living and her vision for interior design are in perfect harmony. Just as love turns a house into a home, giving love is the key to gracious living, she believes.
"The kinder you are, the happier you are," she said. "Give instead of taking. The essence of any kind of happiness is to serve, to be kind, to give."
Kim Darden Shaver
for
Leslie Hendrix Wood
Founder, Editor In Chief of Hadley Court
Gracious Living. Timeless Design. Family Traditions.
~~~~~~~~~~
You're invited to please subscribe to Hadley Court blog, here, and to follow Hadley Court on Pinterest, Facebook, Instagram and Twitter, here, here, here and here
Photos 1, 2 & 6 from countryliving.com; Photo 3,8 & 9 from jenningsandgates.BlogSpot.com; Photo 7 from kathrynbechenink.BlogSpot.com