Who would've thought we'd be using the same material in our homes 2000 years later? Known as traverino in Italy, travertine stone was used for the pillars, walls and floors of the infamous Roman Coliseum.
Travertine Floors
Travertine is timeless and a great choice if you want a natural stone floor in your home. Rest easy if you already have travertine floors because they stand the test of time.
TIMES THEY ARE A CHANGIN'
About 10 years ago travertine floors were installed by the thousands. Builders were installing and decorators were creating an "old world" or tuscan look in homes. That was the trend, but of course trends come and go as do our tastes in things.
The natural stone has earth tone colors which fit perfectly with warm neutrals. Interior design trends are now toward cooler colors of white and gray. If you happened t0 have built or redecorated during that time you're probably thinking, "what can I do"? There are a lot of ways to update your look and avoid the expense and chaos of installing new floors!
Even though travertine had been over-used, its still a good choice for floors because of its natural beauty. It's a versatile stone and looks great not just on floors but throughout your home.
New Look, Same Travertine Floors
Does this look familiar?
The last home I completed had a Tuscan look with travertine floors and my client wanted to update to a dressier more tailored look.
I took the focus off the floor by laying a rug on top and moving the focus of the room to the bookcases painted with lacquer. Her floor was a creamy beige which is pretty neutral and easy to work with. Read about how I updated my client's living room on my post Living Room Ideas.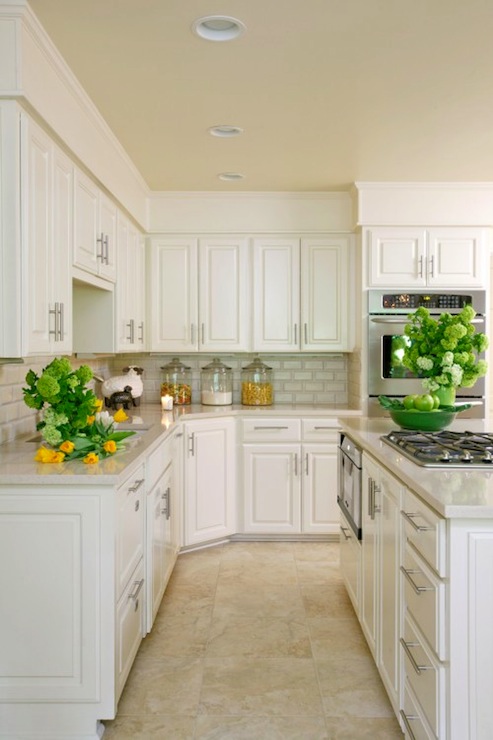 Paint everything white and that will instantly update your room. The yellow/beige shade of the floors don't distract at all from this crisp white kitchen. The travertine tiles are all the same size and looks more contemporary.
Try adding some pops of color to your furnishings and watch how that can transform the old world look to a more modern, cool style.
PROS & CONS OF TRAVERTINE FLOORS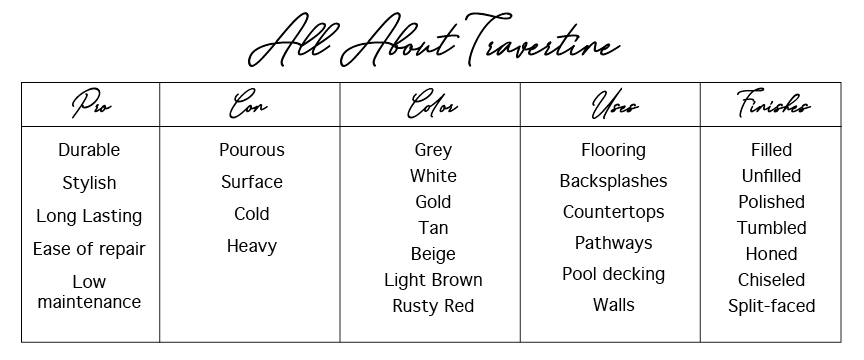 Travertine Floor Maintenance
Travertine is a natural stone. Most people think that it's limestone, but it's not. Travertine is a sedimentary rock identified by winding and irregular holes.
It should be sealed right before or after it is installed because it is porous. Experts recommend resealing it yearly. My travertine floor looks great and I haven't had to re-seal it every year, but what do I know? I just mop, vacuum and go!
It costs less than marble and granite and is available in many different shapes, sizes, colors and finishes. It's so versatile and can be used throughout your home.
Honestly, I don't think there are too many negatives about using travertine in your home. It is heavy so installation is more strenuous. The porous nature of the stone is alleviated by having it sealed. It's in the mid-range price of natural stones, but high end of all flooring options. And its cold on your feet in the winter so wear some warm & fuzzy slippers!
Types of Travertine
The most commonly used finishes for Travertine are honed, polished and brushed or tumbled. There are others like split-faced and chiseled. Each has a distinct look and purpose.
If you want a dressy, modern look then choose the polished finish for your travertine. It resembles marble because of its shiny reflective surface.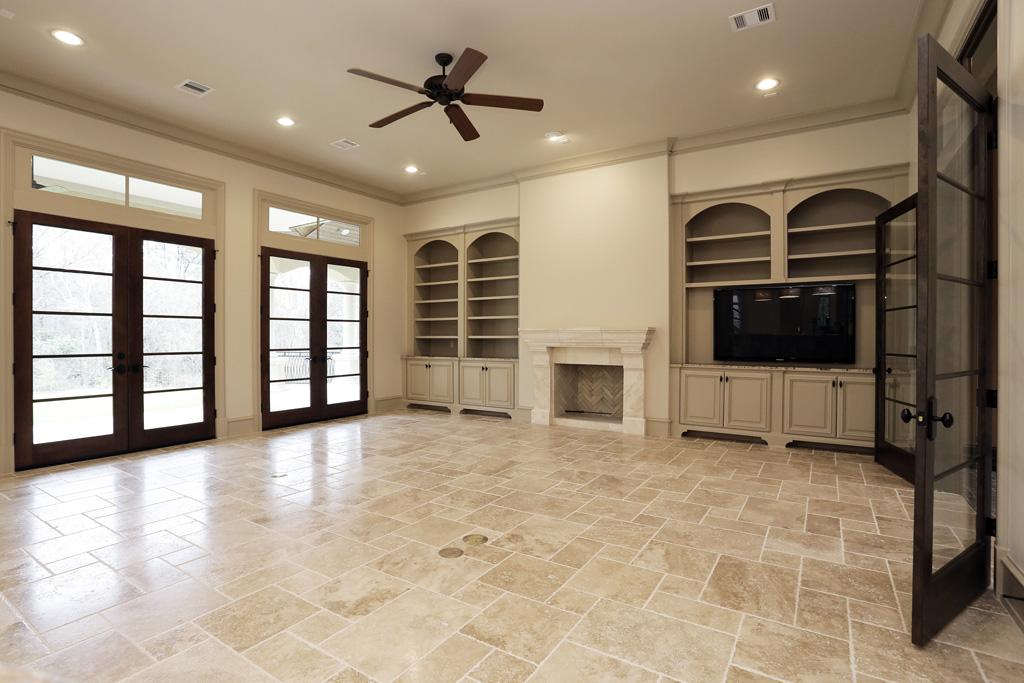 Honed & filled travertine is the most popular choice for floors. The pits are filled and sanded down or "honed". It provides a smooth and natural look usually with a matte finish.
If you want a more contemporary look buy travertine tiles in the same size and shape.
For a textured surface that doesn't reflect light you should use tumbled travertine. It has unfilled pits and holes with rounded edges. You could say it looks weathered and should be used if you want a rustic look. It's most commonly used for backsplashes or walls.
Split face is the roughest finish available in travertine. It's cut at varying angles and not honed or filled. Use it on walls, fireplaces, backsplashes. The wall looks like a contemporary piece of art!
Chiseled travertine has chipped edges which require more grout when installing. It has the feeling of being old or antique. I'm sure it looks familiar to you as it's laid in the villa pattern that was so popular.
Where to Find Travertine Floors
The travertine tiles in this kitchen backsplash are all the same size, light in color and brick-shaped, which is in more in line with today's design trends.
I would've been fooled by these countertops because it looks like marble to me! The travertine slabs have been sanded down flat and polished and sealed to create a flawless, modern look. This is a premium grade of travertine because of its consistent color and smooth edges. Read more about countertops in my article: How to Choose the Right Countertop.
Travertine was used from the floors all the way up to the ceiling in this bathroom. In the tan, gold shades it creates a warm inviting look that makes me want to soak in that tub for hours! This a standard quality of travertine because of the shade variations and more holes in the tiles.
I put travertine pavers around my swimming pool because of its natural appeal and because it can withstand extreme heat and cold. The pavers are thick pieces of travertine and can add beauty to driveways, walkways and patios as well.
Read my article on making a statement with patterned tile in your home.
Photos credits: Sefa Stone, Stoneworkswholesaling.com, myreadlit.com, Avalon flooring, billielourd.org, Pinterest, Lowes, Build direct, Mazzmaer Stone Turkey