Happy New Year Friends! Its a new year and the best time to create an organized bathroom.What is it about the new year that makes me want to get every room in my home organized? It is like I'm nesting – it happens every year! I know I'm not the only one because most of my friends are in the same mode – its weird! Today I would like to share with you the ultimate bathroom organization guide.
Here's how I started this year with my bathroom.  I cleaned out my cabinets, decluttered my makeup drawer, streamlined my shower, cleared off my countertops, added baskets & bins & trays until I can't do anymore.  It looks great and my bathroom is completely organized – I feel much better now!
So where do you start?
Start with this Ultimate Bathroom Organization Guide and follow with these steps:
Bathroom Cabinet Organizing

Instant Storage
Evaluate Your Space
The first step to bathroom organization is to determine what your needs are.
What are the things you like about your bathroom?
Do you need more space to store linens & toiletries?
Is it easy to find things in your drawers?
Make a list and take measurements.
Great bathroom organization ideas don't just cover what you see on the outside, they keep everything on the inside organized too.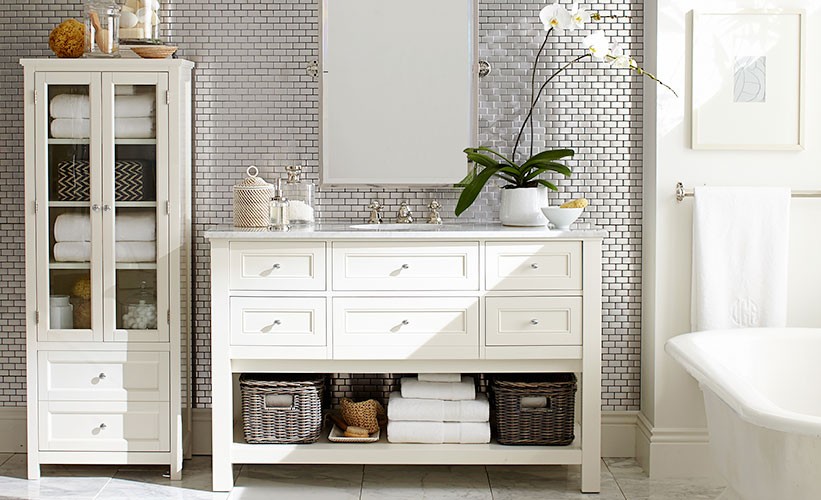 Bathroom Drawer Organizer
There are so many bathroom drawer organizers available that makes it hard to choose!
They have partitions for drawers, interlocking bins, containers made out of acrylic, metal, wood, etc.
I use a variety in my drawers and over time have found what works best for me.
This is what I wish my Husband's bathroom drawers looked like!
I did drop some organizers in his drawers and it has helped him to stay more organized.
Here is a good example of setting a couple of partitions inside your drawer.

These look custom made, but you can buy some and create the same kind of cubby holes for your drawers.
Bathroom Cabinet Organizing
The most favorite thing in my bathroom is this cabinet for my make up. Bathroom organization means everything has its place and it's easy for me to grab and go and leave no trace of being there when I'm finished!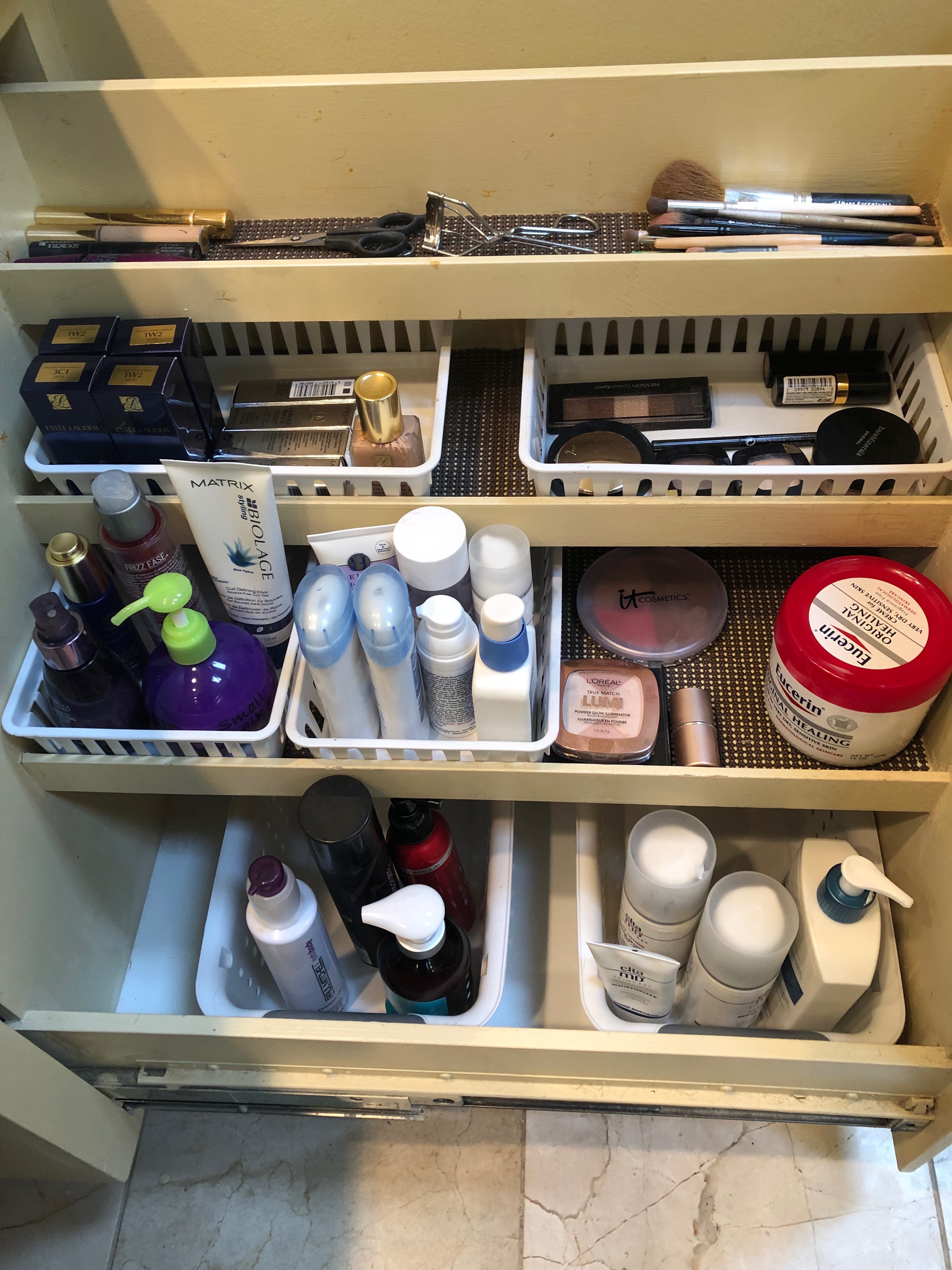 At the end of the day, I walk into a clean, clutter free bathroom.
Aaahhhh… and that's how my entire bathroom is organized.  Everything is out of sight or tucked nicely into a container – pleasing to the eye with a clean look.
There is more wiggle room for your toiletries in bathroom cabinets.
Take advantage of the inside of your cabinet doors by adding hooks, over the door shelf hangers, or containers.
Use bins and baskets to organize your towels, linens, bath products, and even your toilet paper!
These pretty baskets look nice outside of your cabinets too.
It doesn't matter how many times I open my cabinet doors to get something- I can't remember where anything is!  So to make things easier on myself and my poor memory, I use as many clear containers as possible.  I have even put some labels on baskets and bins where I can't see what's inside.  Put smaller items in front and risers for items near the back to make them easier to reach.
Underneath your bathroom sink isn't the most attractive area, but what it lacks in looks it makes up for in space.


It is a good place to add expandable shelving or stackable corner shelves.
Instant Storage
Short on space in your bathroom?  Don't be afraid to go vertical and incorporate decorative shelving into your bathroom organization and design.
It's a great way to add layers of storage but make sure you can reach it.
Use some of that extra shelf space for decorations like candles, greenery or picture frames with photos and art.  This will add color and warmth and make your bathroom less utilitarian.  I can usually manage to keep one or two house plants alive and my bathroom is the perfect place for them.
Pro Tip – For the ultimate in your organizational arsenal: How to Organize Your Linen Closet
Streamline your Shower
Not a fan of seeing 20 different shampoo bottles in the shower? Empty them out and pour them into matching dispensers. Your hand soap, shampoo, conditioner, body wash, and lotion are all items that can be emptied and put into matching containers.
Find the biggest area on your bathtub to place all your bathing essentials.  This is another good place to add some decorative touches.  The small bouquet of roses fits right in with the soap.
Clear off you Counters
Trays are a brilliant trick to corral all sorts of clutter; I recommend using them to group like-items.
Your toothbrush holder, bathroom candle or some flowers all look lovely grouped together on a tray.  Don't overload your tray with stuff and select objects of varying heights.
Cool Containers
I thought about my Daughter's dorm room when I saw this.  The limited space poses a real problem for diva's like us!
Its nice and compact and could probably hold all the makeup & tools for most people!
I have lazy Susan's in several of my cabinets because they make things so easy to see and reach.
In my bathroom cabinets, I use them to hold manicure & pedicure items.  In my kitchen pantry, they're great for spices and vitamins & medications.  They help make organizing a breeze by putting the same type of products together.
Decorative jars are easy to incorporate into just about any bathroom design, and they're great for holding small things like cotton balls and Q-tips.  If you love a uniform look, use jars to store your bath salts and liquids like hand soap.
A Final Word
The Ultimate Guide to Bathroom Organization shows it's not that hard to organize your bathroom for the new year. First determine what you need and take measurements by Evaluating your Space. Next, clean out your clutter by Organizing your Bathroom Cabinets. and Drawers.
Finally add space by putting up shelves, hooks and containers and creating Instant Storage.
Have you got any bathroom organizational tips and tricks? Please feel free to share in the comments I read each one.
Photo credits:  Pinterest, Container Store, Crossroads Baptist Church, Pottery Barn, Good Housekeeping, Martha Stewart, the creativity exchange, Forever free by any means, Ella Claire Inspired, restorative justice.co, hey hat, traditional home