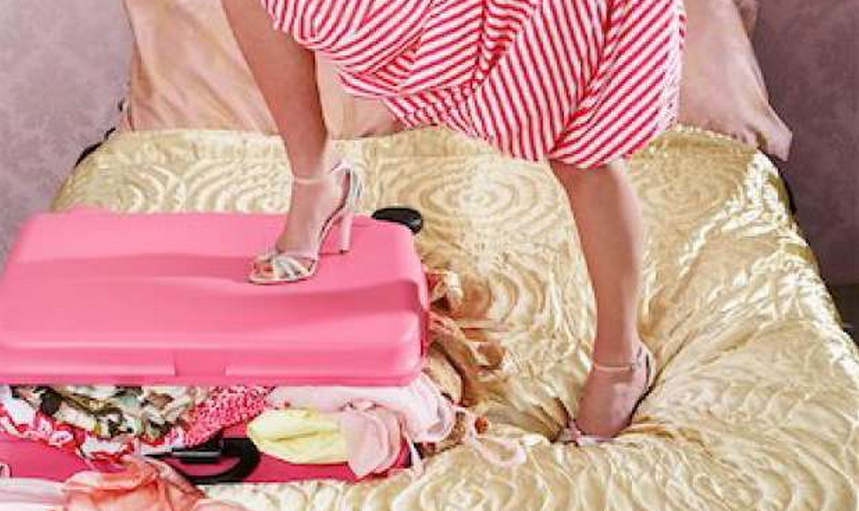 Today on Hadley Court, I'm going to share a top tip for organizing for gracious business travel, thanks to a wonderful blog I found, that shows a system of packing to get between 20-40 outfits out of just a few carefully chosen pieces of clothing so you don't end up standing on your suitcase, trying to fit everything in and can travel, graciously and fashionably, with just a single carry on piece of luggage.
If you've read Hadley Court for any length of time, you know I believe that organization is the key to gracious living – whether you're entertaining, cooking, travelling, relaxing or shopping.
With the upcoming Design Bloggers Conference I'm attending this weekend, plus a family vacation in Mexico right after that and High Point Market the first week in April, I hope today's post will be helpful information for all of you, too.
With well fitting basics + your favorite color palette, perhaps one based on this gorgeous shawl from Hermes, that I saw on Absolutely Faaabulous,  here … you'll be ready for what I will show you today, below, that answers the question: "What should I buy, how can the pieces I buy combine into different outfits, what should I pack for different occasions and how can I make it all fit in one suitcase?"
Readers, please meet OUTFIT POSTS and the author, MK's, ONE SUITCASE series. In her series, she shows her readers, through pretty graphics like the one below, how to pack for different situations in just one suitcase. In addition, she shares how to put the pieces together, for different types of occasions, to make between 20- 4o different outfits. The infographic below from her blog shows 16 pieces for a spring business casual trip and how they can be combined to make 40 different outfits!
I would change the shoes and the pieces to suit my taste, of course, but isn't her idea brilliant?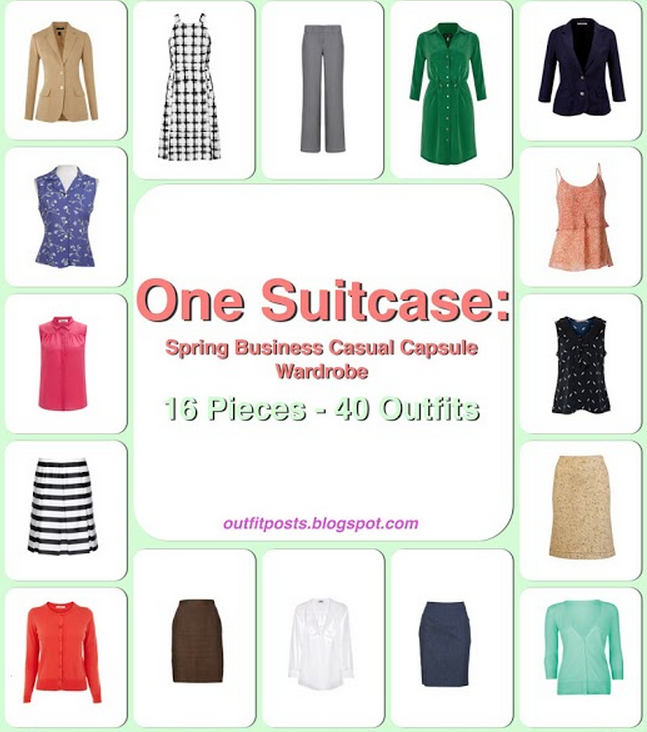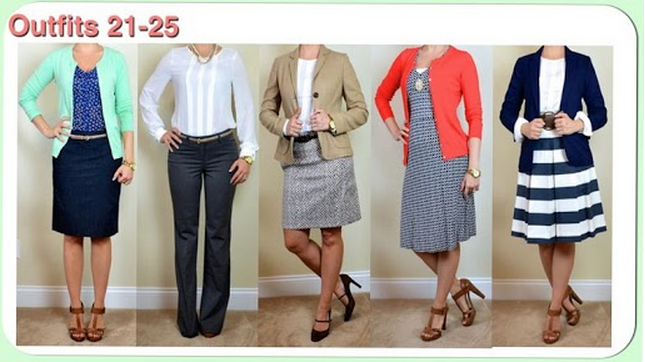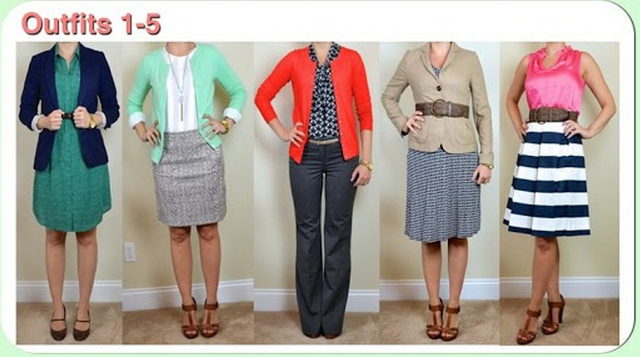 Her Paris Vacation wardrobe organization infographic shows her system: Notice her 3 elements of organization for ONE SUITCASE:
1. Foundation Basics
2. Pieces that Add Interest with Color, Pattern, Texture
3. Key Accessories.
Doesn't this make shopping and organizing for travel easier?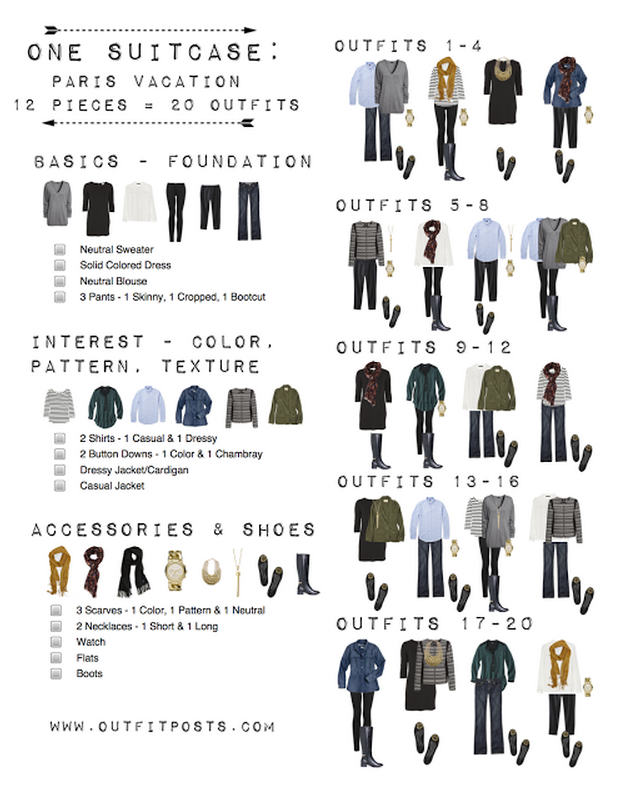 Please go over to her blog, http://outfitposts.com and tell her thank you. She has saved me so much time as I get ready to pack for my upcoming trips, and I hope she'll now do the same for you.
Do you remember this image from yesterday's post, here, about Emma Rane's new luxury carry on – the QUARTERMASTER? Now, using MK's system, and studying her outfit combinations a bit more closely before I go shopping, I think I could pack everything I would need into this single carry-on and feel confident I would be able to dress stylishly and comfortably while travelling. Do you feel the same way, readers?

I think using MK's ONE SUITCASE system, with Emma Rane's QUARTERMASTER, could help keep us all beautifully organized, calm and stress free to enjoy our business and pleasure vacations.

And don't forget to buy the GRID IT at Brookstone, or online at other places, available in different colors and sizes, while you're out shopping, that I wrote about on an earlier post, to organize your cords and electronics – you can use it for makeup, too…. it's a lifesaver.

And my favorite packing tip of all comes from Martha Stewart, "Drop your bag on the floor, things will settle, and you'll find extra room."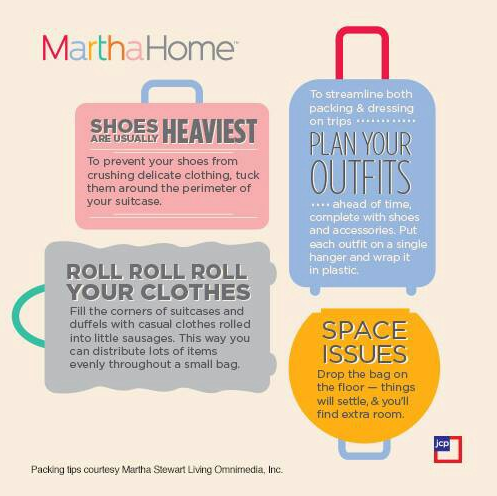 ~~~~~~~~~~
Thank you for reading Hadley Court, I appreciate it and don't take your time for granted. If you'd like to, may I invite you to please subscribe to Hadley Court, here, and follow Hadley Court on Pinterest, G+, Facebook and Twitter, by clicking here, here, here, and here ?
Have a blessed day ~
Leslie Hendrix Wood
Decorator
Chancellor Interiors
Midland, Texas
Founder,
https://hadleycourt.com/blog/
~~~~~~~~~~
Image Credits:
http:/thegraciousposse.com
http://absolutelyfaaabulous.com
http://outfitposts.com
http://ebbryrane.com
http://marthastewart.com
http://brookstone.com