Do you have the most efficient method to pack your clothes in one suitcase?
Getting ready for a business trip or vacation seems to double my workload!
I feel like I'm in a race against time between tying up loose ends at work, making arrangements for my dog, my house, and in all that haste figuring out what to take on my trip and finding time to pack my suitcase.
I know what happens when you add children to the mix – the equation increases exponentially!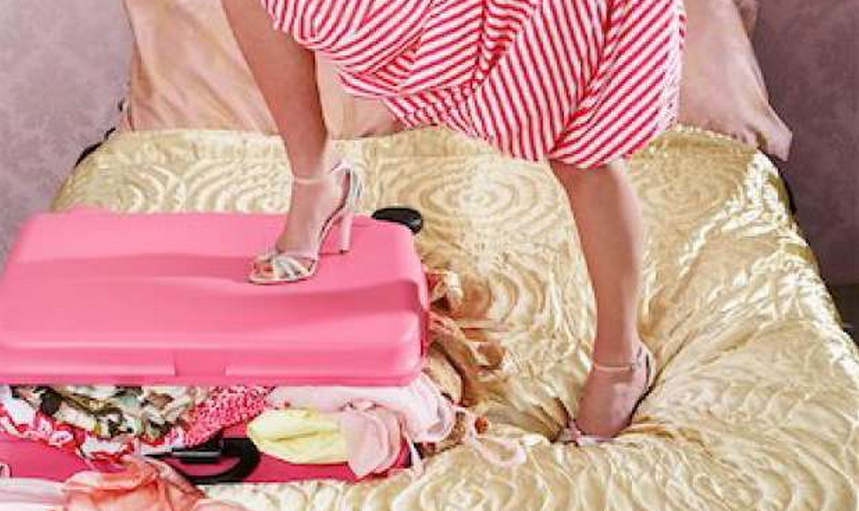 Planning and packing a suitcase for a trip can be easier by organizing your clothes into one suitcase for travel.

The hardest part of packing a suitcase for a trip is deciding what you need to take.  You have to consider what to pack for changes in weather, casual & formal events, outdoor activities, bedtime, shoes, and toiletries.
The ONESUITCASE Method
The OneSuitcase method of packing a suitcase will set you on the right track for packing everything you need in a compact, organized system.
Instead of packing multiple outfits for each day, the OneSuitcase method converts a few clothing basics into weeks of travel fashion.  And takes care of all the unexpected events that might occur along the way.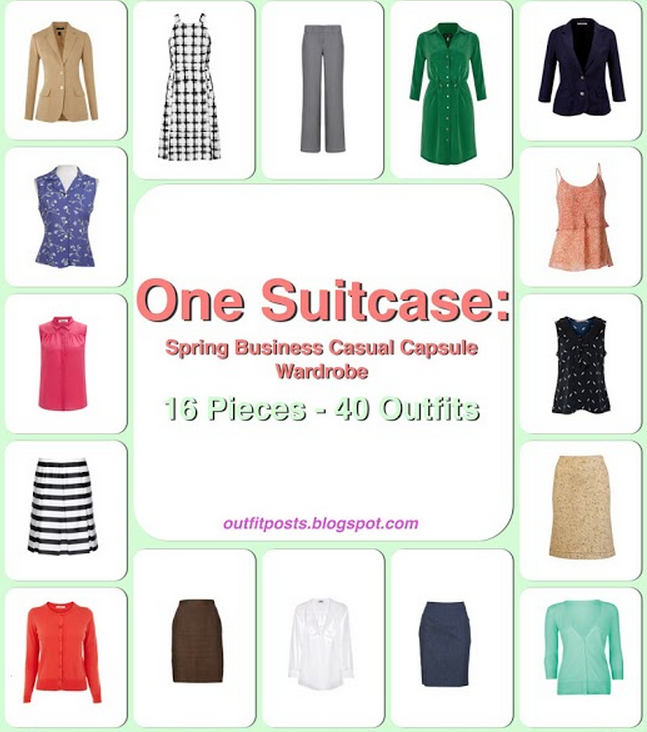 On the website you can find examples of what to pack for most travel itineraries.  The Spring Business Casual Capsule shows what clothes to take and how to put them together to create 40 outfits from 16 basic pieces of clothing.
The Paris Vacation capsule shows how to create 20 outfits from only 12 pieces.
The 3 Elements of Organization
Notice the 3 elements of organization for ONESUITCASE:
1. Foundation Basics
2. Pieces that add interest with color, pattern, texture
3. Key Accessories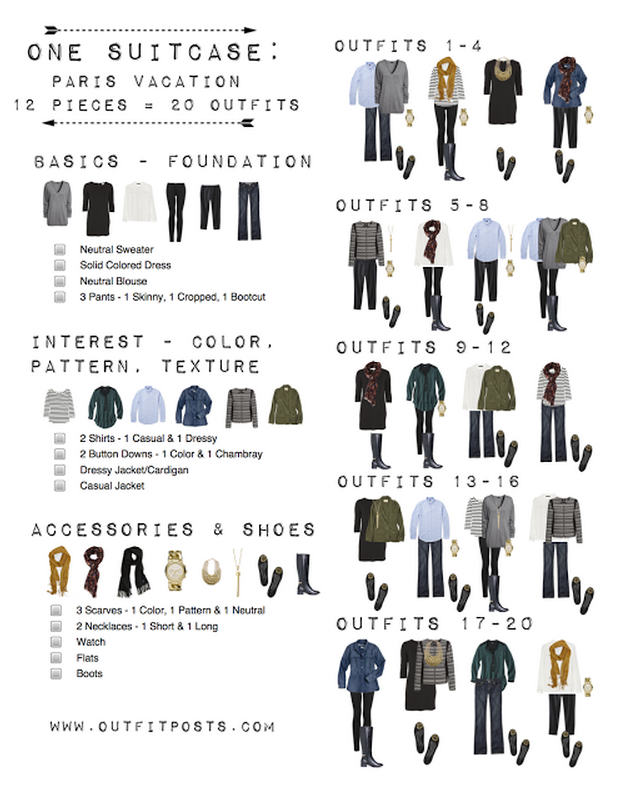 Fill It Up
Now that you have your wardrobe picked out – Let's pack!
It's not fun lugging around a bunch of suitcases while your traveling!   Suitcases that are large enough to hold all your stuff and easy to cart around are essential to traveling light.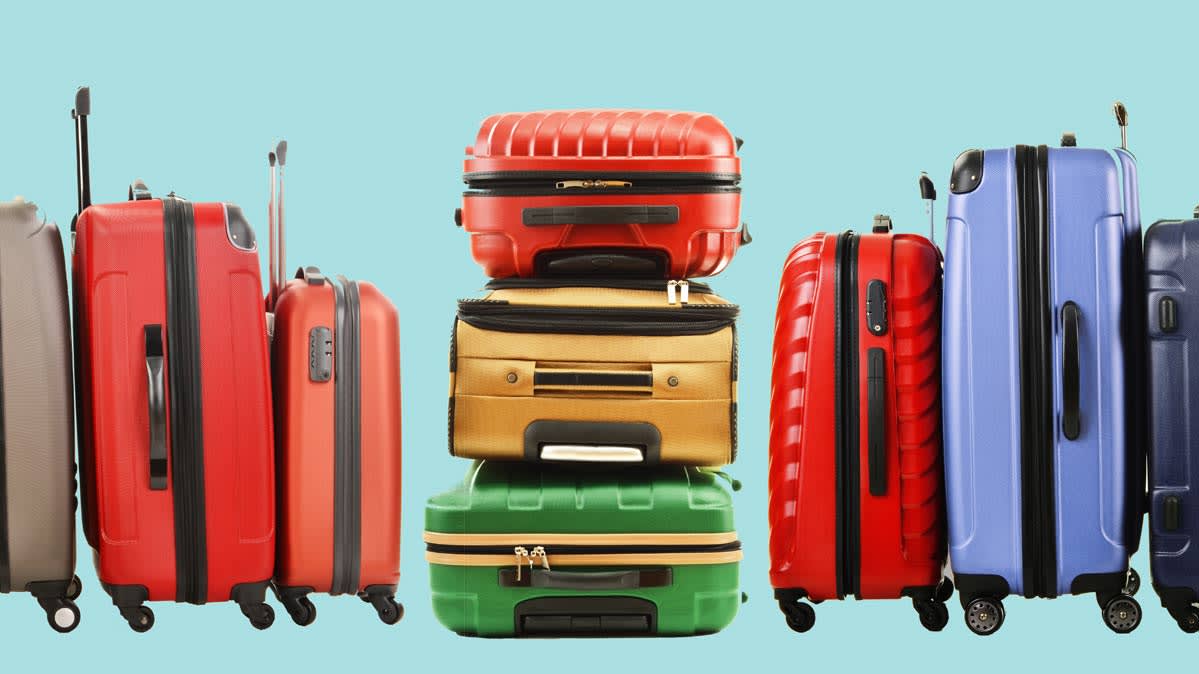 Emma Rane's QuarterMaster suitcase is small enough to carry on with lots of space for storage.
Use Cubes and Satchels
Cubes and Satchels help to organize and maximize space.
With the Emma Rane's QuarterMaster suitcase I mentioned earlier, cubes and satchels are included.
There are different ways to organize the packing cubes.  Sometimes I'll pack my cubes by bundling all the same clothes together.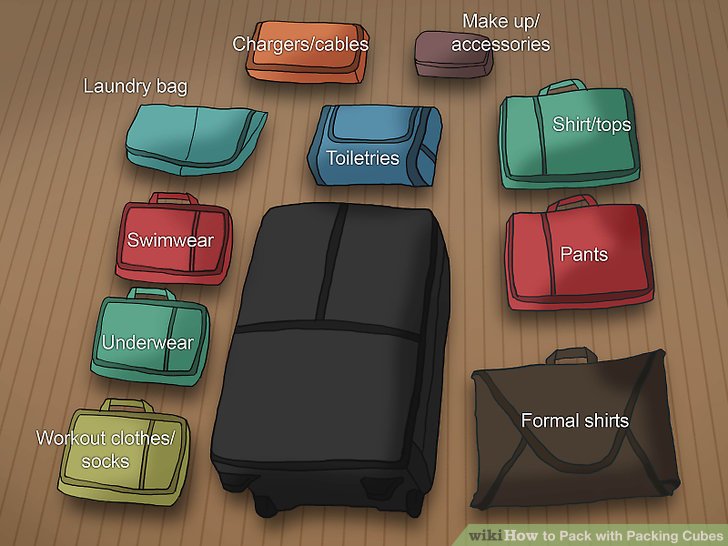 When my kids went away to summer camp I organized the cubes by day.  I put everything they needed for each day inside a separate cube and labeled it.  It gave me some peace of mind knowing they would not be wearing the same pair of socks all week!
I also use them as an overnight bag when that's all I need.
As much as we all love our tech gadgets – traveling with them is another story.
To stay connected while I'm out of town I use a GRID IT. It keeps all my tech tools organized and in one place.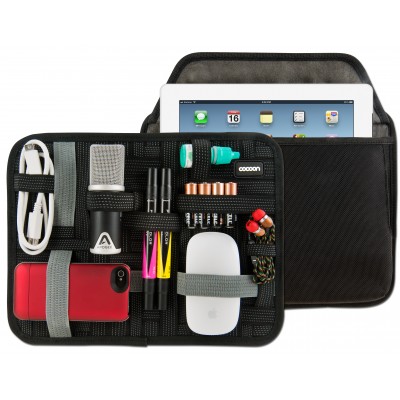 My favorite packing tip of all comes from Martha Stewart, "Drop your bag on the floor, things will settle, and you'll find extra room."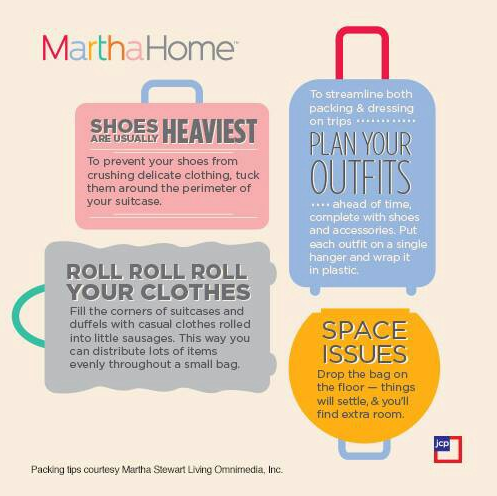 Rolling your clothes before putting in the suitcase helps prevent them from getting so wrinkled.  Stick with knit, wool and cotton fabrics because they are less apt to wrinkle.
I put my jewelry in a pill box and all liquids into a plastic bag to avoid spills.  Store breakables in the center of your suitcase covered with clothes for protection.
Always pack something to hold your laundry.  It makes getting home & unpacking so much easier – just throw the laundry in your washing machine and put whats left back where it belongs!
 Three P's for an Organized Suitcase
1. Plan – make a list of everything you'll need on your trip
2.  Prepare –  wash iron, cleaners, errands
3.  Pack your suitcase – use packing cubes, pill boxes, plastic bags, laundry bag
Happy traveling – for a top vacation destination check out Asheville, NC and the Biltmore Estate: Mansion in the Mountains for history, adventure and scenery!
Image Credits:  thegraciousposse.com, outfitposts.com, ebbyrane.com, marthastewart.com, ebags, consumer reports, wikiHow