There is no skirting the issue – when it comes to a brand that exudes sophisticated elegance and fine finishes, the furniture design team at John Richard Collection understands how to not only make a statement in a room, but create luxury with rooms that wow.  And what better time of the year to make a statement then when entertaining guests in your home during the holiday season.
The John Richard Collection is one of Leslie Hendrix Wood's sponsors to High Point Market this week and their showroom is sure to be a highlight as they display the skillful blend of what is new in home fashion with the great designs of the past, resulting in a timeless quality that can fit perfectly with an array of couture's finest black tie gowns for the holidays,  as paired examples demonstrate for you below…
The remarkable "Marla" console showcases migrating birds that are reverse painted on black glass. Black glass is also on the top and sides, paired with golden legs to complete the look. Couture gown by Selyse Baratheon.
Furniture & Accessories Collection by John Richard Collection – Couture gown by Oscar de La Renta.
The John Richard Collection, founded in 1980 in Greenwood, Mississippi,and still headquartered there [ along with Viking Range ]  is known for a strong design staff who travel the world seeking inspiration.
The design staff artfully merges cultural and historical influences to the distinctive artisan-crafted furniture, such as the graceful fluted console table, as shown in the lead pairing (gold gown – Ralph Lauren), to handsome and stately consoles, accent tables, and chests of drawers.
Along with these luxurious key pieces for the home, the John Richard Collection also offers elegant decorative accessories such as refined and opulent mirrors, an ornate or classic lighting selection and wall art pieces to stylize your room design, much as the perfect pair of earrings or statement necklace finish off your ensemble…
Exquisite! The John Richard  Collection Hyde Park Mirror – Surrounding the modern beveled edge mirror is a fretted frame finished in distressed silver with acanthus leaves, buds, flowers, and C-scrolls. Dress detail – Ralph Lauren.
Create a winter wonderland in your living room with this elegant "Frost Tree" grid wall art by artist Teng fei. Dress – Ralph Lauren.
Asymmetrical influences from this Lanvin couture gown also translate to this graceful side chair.
This clean-lined splay leg console table features a macassar ebony veneer finish with boxwood inlays and brass-plated feet.
This John Richard Collection lacewood chest is a showstopper! The figured ebonized pearl wood is caused by medullary rays, a natural feature giving the appearance of lace. The buckle handles and gate gallery (ledge on chest top) are bright chrome. The piece is balanced with the couture gown, In-Out by Yian Xu.
This vignette also featured two popular accessories -the silver driftwood and shell lamp and the twisted briars compote, all flanked by a pair of Toulouse side chairs in a parisian silver finish – that would add elegance to any room.  Gown – Zuhair Murad Haute Couture Fall/Winter 2014-15.
Square-cut slices of alabaster blocks are stacked to form the geometric-column base of this intriguing lamp. Dress – Stephanie Rolland.
Truly a work of art, from the Carolina Herrera couture gown to the John Richard Collection abstract oil painting.
What an elegant means of layering in an almost water-like element into a home with this oil painting called "Blue Jinlu".
This room vignette is probably one of my favorites, merging the clean line credenza, with the sumptuous pair of bergère chairs, and the more refined and modern rings mirror – truly transitional timeless design.
Whether you will be at High Point Market yourself, or not, we hope you will follow along with Leslie on her social channels via Facebook at: http://facebook.com/HadleyCourt — and twitter at: http://twitter.com/Hadley_Court — and on Instagram at https://www.instagram.com/hadleycourt/.  Also be sure to keep up with fresh timeless design inspirations with Leslie on Pinterest at: http://pinterest.com/HadleyCourt/ 
Thank you for reading, commenting and subscribing to Hadley Court.
Lynda Quintero-Davids
for
Leslie Hendrix Wood
Founder, Editor In Chief
Hadley Court
Decorator
Chancellor Interiors
Midland, Texas
~~~
Gracious Living. Timeless Design. Family Traditions.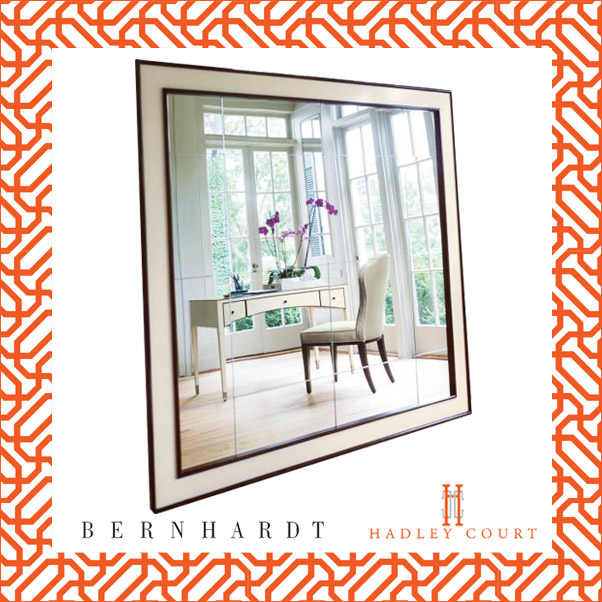 Speaking of timeless design…have you entered our #TimelessDesign giveaway with Bernhardt for a chance to win their beautiful HAVEN writing desk?
You can enter here: https://hadleycourt.com/giveaway and our randomly chosen winner will be announced on October 23rd, the last day of High Point Market.
We also invite you to…
Please visit Bernhardt's website here and please follow them on Facebook, Twitter, Pinterest and Instagram.
And if you missed our earlier post on Bernhardt's STORIES OF GIVING initiative to honor 12 of their employees and artisans who are giving back to their local community, please click here.