Sometimes there is just too much going on to put together a formal gathering for Thanksgiving. All you need is turkey:) and a warm inviting table to set the mood for a day full of good food and fellowship. I am sharing my favorite informal Thanksgiving dinner tabletops and recipes to help make you're day extra special even without china and crystal!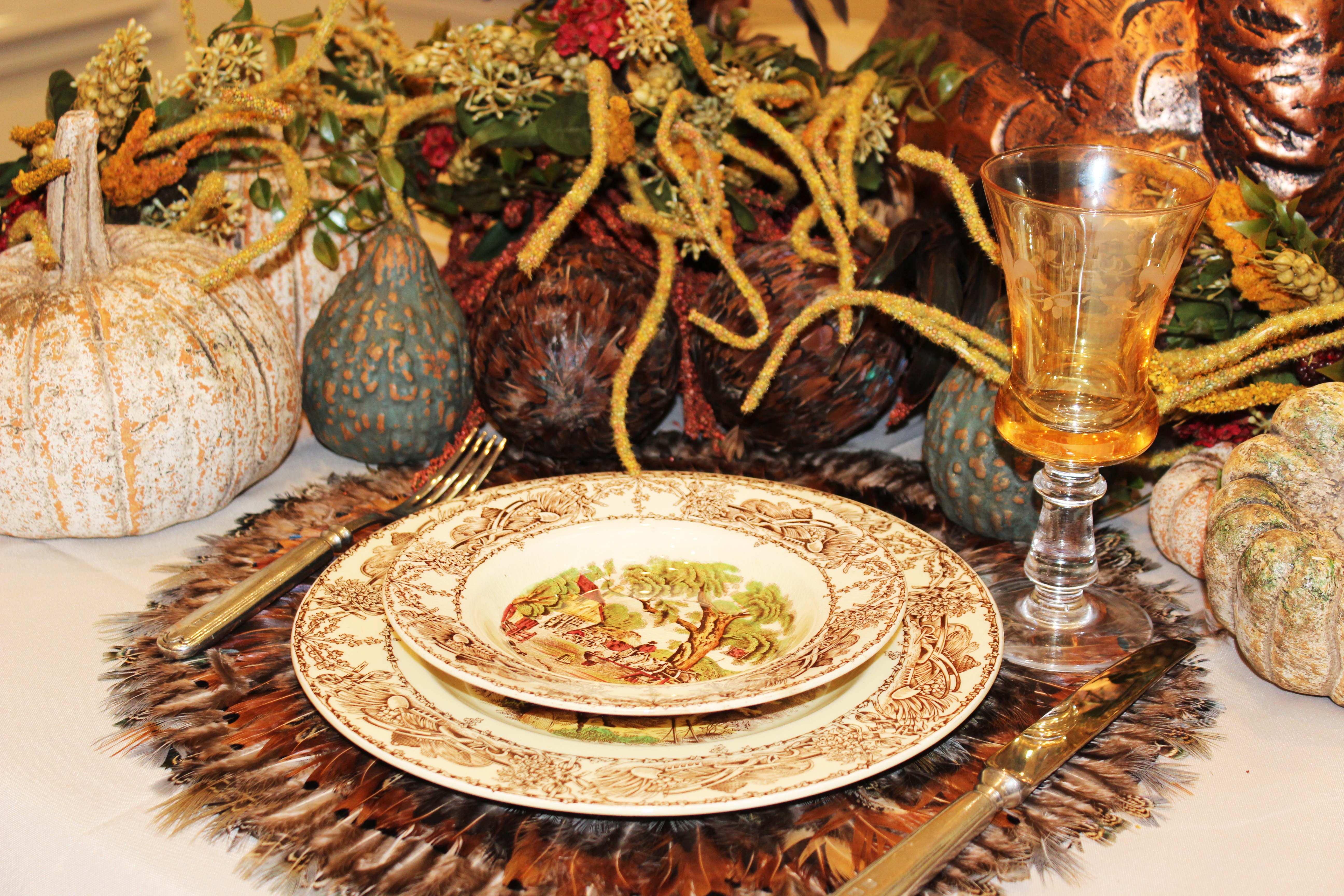 Celebrate the splendor of the season with the colors of Fall. Pack pinecones, pumpkins, gourds, and turkeys tightly in all directions and add in textural accents like wheatgrass and dried florals to create a lush centerpiece. Finish the look with some Thanksgiving themed place settings.and candles.
More Centerpiece Ideas
My centerpieces are a surprise each year! No two are the same and I use everything from burlap to feathers. Read about our top 3 tips for creating memorable Thanksgiving Tablescapes here.
.

Informal Thanksgiving Recipes
Fried Turkey
My best friend lived in Louisiana for several years and it was there that she first tasted fried turkey. Since then, fried turkey has become a tradition for them on Thanksgiving Day.
Easy Fried Turkey
Fried turkey makes a crispy outside and tender inside
Ingredients
1

0-12 lb

turkey

fresh, never frozen, no flavors added

1

oven roasting turkey bag

1

bottle

injecting marinade

I use Tony Chachere's Creole Style Butter Injectable Marinade

1

cajun spice rub

peanut oil
Instructions
Clean out the turkey and cut the tail off and the excess skin that covers the cavity

Inject the turkey all over - in the thighs, legs, wings, breasts - you will see some of the marinade squirt out. Inject at different depths in all parts of the turkey.

Rub the Cajun spice on the skin and sprinkle in the cavity. Place turkey in the turkey bag and let it sit over night.

To fry the turkey in an electric fryer - follow the instructions that come with that fryer.

To fry in propane: place the turkey in the pot and fill with water (before you've injected it) so it covers the turkey completely. Remove the turkey and then mark the water level - you will then fill the pot to this level with peanut oil. That will prevent the pot from overflow when cooking.

Place the turkey legs up into the oil. The temperature of the oil will decrease so you will need to increase the flame until the temperature stabilizes at 375 degrees. Cook the turkey about 3-4 minutes per pound or until the breast reaches 180 degrees.

Remove from the oil and let rest 20-30 minutes. Carve and serve
Stuffing
A popular way to prepare stuffing is to use the Pepperidge Farm Herb Seasoned Stuffing Mix. I mix the traditional & cornbread together. Follow the directions on the back of the package and you can't miss.
Broccoli & Cheese Casserole
Broccoli & cheese are made for each other! This yummy combination of broccoli, cheese & rice is scrumptious and is a great choice for your Thanksgiving Day menu.
Broccoli & Cheese Casserole
Creamy broccoli, cheese & rice dish
Ingredients
1

large jar

cheese whiz

1

16 oz pkg

chopped broccoli

1

c

instant rice

1

can

cream of chicken soup

1

cup

celery

chopped

1

cup

onion

chopped

1

stick

butter
Instructions
1. Sautee celery & onions in butter

2. Add broccoli and cook until defrosted

3. Add cheese whiz, soup, & rice. Mix together

4. Put into 9 x 13 dish and bake at 350 degrees for 1 hour or until browned & bubbly
Frozen Cranberry Salad
I recommend having at least one dish that isn't baked! I love this frozen cranberry fruit salad, both refreshing and like a dessert.
Frozen Cranberry Salad
Sweet, frozen cranberry fruit salad
Ingredients
1

can

whole bananas

1

cup

marshmellows

1

can

crushed pineapple

drained

3

bananas

1

cup

pecans

chopped

1

container

Cool Whip
Instructions
1. Mash Bananas

2. Add remaining ingredients and mix well

3, Pour into 9 x 9 dish & put in freeze overnight.

4. Remove 15 minutes before serving
Potato Casserole
Instead of serving a traditional sweet potato casserole – try this souped-up hash brown potato recipe. Full of flavor and very satisfying.
Potatoe Casserole
Easy do-ahead frozen hasbrown casserole
Ingredients
1

24 oz bag

shredded forzen hash brown potatoes

2

cups

sour cream

1

can

cream of chicken soup

1

stick

melted butter

1

tsp

salt

1

tbsp

dry minced onion or chives

1

cup

grated cheddar cheese

1/2

cup

cornflake crumbs
Instructions
Thaw potatoes (press out all moisture).

Mix together sour cream, soup, 1/2 stick butter, salt, minced onion, & cheese.

Bake in preheated 350 degree oven. for 60 minutes. Last 10 minutes top with mixture of corn flakes mixed with 1/2 stick butter.

Can be made ahead. Bring to room temperature before baking.
Beer Bread
This bread makes a dense, flavorful loaf of bread in the blink of an eye! You will be glad you tried it.
Beer Bread
Easy homemade loaf of bread
Ingredients
3

cups

flour

3

tbsp

baking powder

omit if using self rising flour

1

tsp

salt

omit if using self rising flour

1/4

cup

sugar

1

12 0z can

beer

1/2

cup

melted butter
Instructions
Preheat oven to 375 degrees

Mix dry ingredients and beer

Put into greased loaf pam

Pour melted butter over mixture

Bake 1 hour, remove from pan and cool for at least 15 minutes
Recipe Notes
For a softer crust add butter into the batter instead of pouring it over the top.
No-Bake Pumpkin Cheesecake
Rich and creamy – a twist on an old classic!
No Bake Pumpkin Cheesecake
Only take 15 minutes to make this rich, no-bake pumpkin cheescake
Ingredients
12

oz

cream cheese

set out at room temperature for 30 minutes

1

cup

gingersnap crumbs

1

cup

graham cracker crumbs

3

tbsp

sugar

5

tbsp

butter

melted

1/4

tsp

salt

1

tsp

ground cinnamon

1 1/2

tsp

pumpkin pie spice

1

tbsp

vanilla extract

1

cup

powdered sugar

1

can

solid packed pumpkin

2

cups

whipped cream
Instructions
1. Combine gingersnap crumbs, graham cracker crumbs, sugar, butter and pinch of salt in medium size bowl. Press into a 9-inch springform pan. Chill for 30 minutes.

2. Beat the cream cheese until light and fluffy, about 2-3 minutes. Add the cinnamon, pumpkin pie spice, salt, vanilla extract, powdered sugar and pumpkin. Beat until smooth, about 2 minutes. Using a large spatula, fold in the whipped cream, , then pour into the chilled crust, smoothing it into an even layer. Place in the refrigerator and chill for a least 2 hours before serving. Remove the sides and garnish with additional whipped cream if desired.
Easy Thanksgiving Dinner
I've found a way to serve a fuss-free Thanksgiving meal and set a pretty table!
You can easily keep the feeling of a special occasion with all the amazing Thanksgiving paper products available in stores today. Mix and match patterns, add some pinecones, and you're family and guests will be impressed!
Easy Thanksgiving Recipes
Thanksgiving Turkey
Neiman Marcus has a fully cooked, herb roasted, frozen turkey – just defrost and bake. If you're traveling, you can throw it in your car and let it defrost on the drive! Or have it shipped to your destination.
Crockpot Stuffing
Thanksgiving wouldn't be the same without stuffing on the table! Easy to travel with crock pot stuffing can be made ahead and put in refrigerator.
Crock Pot Stuffing
Easy recipe for made from scratch stuffing cooked in your slow cooker
Ingredients
1

cup

butter

1/2

tsp

black pepper

2

tsp

salt

or to taste

2

tsp

poultry seasoning

2

cups

celery

diced

2

medium

onions

chopped

6

cups

dried white bread

cubed

6

cups

dried brown bread

ubed

1/4

cup

chopped parsley

fresh herbs to taste

thyme, sage, rosemary

3-4

cups

chicken broth

2

eggs
Instructions
1. Heat butter over medium heat until melted. Stir in poultry seasoning, black pepper and salt to taste. Add celery & onions and cook until softenend (don't brown). Cool completely.

2. Place bread cubes in a large bowl. Add cooled celery and onion mixture, parsley and fresh herbs if using.

3. Add chicken broth a little bit at a time just to moisten and gently stir. Your may not need all of the broth. Sir in eggs.

4. Cover and refrigerate overnight if making ahead of time.

5. Grease a 5-6 qt slow cooker well. Place stuffing in the slow cooker and turn onto high for 30 minutes. Reduce termperature to low and cook an additional 3-4 hours or until hot and cooked through. If stuffing is done before your meal is ready it can remain on warm.
Recipe Notes
Can use store bought bread cubes/crumbs, which will need closer to 3 cups broth.
Green Bean Casserole
You can't go wrong with the green bean casserole that has been around forever. A recipe served on generations of Thanksgiving tables, it is so simple to make.
Baking all your recipes in aluminum serving pans makes clean-up even less time consuming! Works perfectly for a buffet style meal.
Classic Green Bean Casserole
Only 6 ingredients needed for this classic
Ingredients
1

can(10.5 ounces)

Cream of Mushroom Soup

1

tsp

Soy Sacue

4

cups

cooked cut green beans

1/2

cup

milk

1

dash

black pepper

1 1/3

cups

french fried onions
Instructions
1. Stir the soup, mild, soy sauce, black pepper, beans and 2/3 cup onions in a 1 1/2 qt casserole.

2. Bake at 350 for 25 minutes or until the bean mixture is hot and bubbling. Stir the bean mixture. Sprinke with remaining onions.

3. Bake for 5 minutes or until the onions are golden brown.
Baked Yams
Twice baked sweet potatoes are simple & sweet.
Stuffed Yams
Easy baked sweet potatoes
Ingredients
6

med

yams or sweet potatoes

1/4

cup

butter

1

tbsp

brown sugar

dash of pepper

hot milk

1/4

cup

chopped walnuts

marshmellows
Instructions
Scrub potatoes and bake at 425 degrees for 40 minutes or until soft. Cut slice from top of each. Scoop out inside, being careful not to break shell. Mash the potatoes in a mixing bowl. Add butter, brown sugar, salt and pepper and enough hot mile to moisten.

Beat with electric mixer until fluffy. Fold in chopped nuts and pile mixture lightly into potato shells. Garnish with walnut halves.

Bake at 350 degrees for 15 to 20 minutes. Top with marshmellows the last 5 minutes of baking until browned and hot throughout.
Wilted Lettuce Salad
Serving a green salad would be a nice addition to this meal and the easiest thing to do would be to buy a bagged salad to serve. But, if you have time, the wilted lettuce salad is a good option for those short on time and still homemade. Use some spinach leaves and it can double as a vegetable.
Wilted Lettuce Salad
Ingredients
5

slices

bacon

1

tbsp

lemon juice

1

tsp

sugar

1/2

tsp

black pepper

1

head

lettuce

rinsed, dried & torn into bit-sized pieces

6

green onions

thinly sliced
Instructions
Place bacon in a large, deep skillet. Cook over medium high heat until evenly browned. Remove from skillet, crumble, set aside.

To the hot bacon drippings, add the vinegar, lemon juice, sugar and pepper Stir over medium heat until hot.

In a large bowl, combine the lettuce and green onion. Add the warm dressing and toss to evenly coat. Sprinkle with bacon and serve.
Pecan Pie
Most Southern homes will have at least one pecan pie ready to serve on Thanksgiving Day. You can whip it up faster than you can say "Thanksgiving"! If you are strapped for time, try Mrs. Smith's frozen pumpkin pie or Costco's pumpkin pie, both are pretty close to the real thing!
Cheers to a beautiful Thanksgiving Day filled with delicious food, family and friends!
Photo credits: The Makeshift Chef, Campbells, Food52.com, King Arthur Flour, Neiman Marcus, dinner@the zoo, Weary Chef, Meredith.jpg, Taste of Home, the Federalist