As a central gathering place in almost any home, it's important for a kitchen to feel spacious and provide ample room for seating. But what if your kitchen simply can't fit a large table and chairs? Consider a kitchen bench! Banquettes, as they are sometimes called, take up considerably less floor space without chair legs.
While you may hear "built-in kitchen bench" and picture farmhouse decor, I think you know that I would find ideas to make this space-saving design choice elegant and classy! I've gathered some of my favorite built-in kitchen bench ideas to save space and have you wishing there were more guests in your home!
Corner Seating Ideas
Grab the corner booth! By building a banquette into a corner, you're adding additional seating without taking up precious floor space. A corner lined with windows creates a warm and inviting place to gather. The natural light also adds an airiness that can make the room feel larger. If you need to add additional seating, simply place a chair or two at the open table space.
Built-In Kitchen Benches with Storage
Not only will your kitchen feel larger with a built-in bench, you can also really increase your kitchen storage if you're smart about it! Put a hinge on the seats themselves and boom, instant storage. If you can't install hinges, hang coordinating fabric to create a curtain. Then store items in baskets or bins under the bench for easy access.
This is a great place to store items you don't use often, like specialty appliances or seasonal table linens. But be careful to not store items you'll use often in the very corner. That's just not practical.
Neutral Benches for Smaller Spaces
One of my favorite tips for any small space is to keep colors neutral and light. This is absolutely true in the kitchen, too! To let go of some of the visual weight, keep your bench seating and the table neutral. A slight pattern in the upholstery is okay, but for the most part you want to stay away from anything that might draw the eye or feel too heavy. A neutral color palette also goes with any interior design style, making it a universal good choice.
You may also enjoy: 5 Ways to Design with California Style
Colorful Bench Ideas
Though the bench is a space-saver, it still takes up a significant portion of your kitchen. It's valuable real estate, so make it "worth it" by turning your banquette seating into a statement piece. Use a bold fabric or leather or paint your bench an unconventional color – whatever will help your banquette to stand out while still fitting with the décor in your kitchen and home. If you need some guidance on statement pieces, check out these 7 rules I've pulled together!
You may also enjoy: Inspiration! Black Kitchens

Tables For Built-In Benches
If the point of using a bench is to save space in your kitchen, make sure the table is saving space too! A circular table has a smaller footprint than one with corners. Think about it – those corners are mostly wasted space anyways! Especially if your banquette space is already small, a table with a smaller footprint is the way to go. A circular table is especially helpful in a corner banquette, because they are much easier to get around into the corner.
You may also enjoy: Welcome Wednesday :: The Kitchen Table
Breakfast Nook Seating
A bump out can add valuable square footage to your home, but sometimes the proportions that make sense for one room simply don't make sense on another floor. This is often the case with kitchens (and how breakfast nooks became so popular).
If the bump out isn't the right space for countertops and you want to keep the natural light the windows provide, make it functional by installing bench seating on either side. Suddenly a space that's too awkward for chairs or cabinets has a purpose.
You may enjoy: Welcome Wednesday :: The Breakfast Nook
Lighten Up with a "Floating" Bench
Another way to save space and look sleek at the same time is with a floating bench. These are built right into the wall without legs or visible supports. The lack of supports and bulky bases makes this a highly adaptable solution that can be customized and styled to match any interior design style. An added benefit of the floating bench: you've never found an easier chair to sweep under!
Veranda
Think Vertically with Shelves
If you can't put storage below your bench seating, why not put it above? Floating shelves are a great way to achieve multiple goals around your banquette: provide storage, keep things light, and of course make it functional. This is a useful place to display beautiful cookware or serving platters that you don't use every day, but that deserve to be shown off instead of hidden in a pantry somewhere.
You may also enjoy: Above your Kitchen Cabinets Decoration – Ultimate Guide
Ideas for Curved Bench Seating
Design your bench seating to seamlessly blend with the other elements in your kitchen. Follow the curve underneath bay windows to create a cheery, inviting place to sit.
Kitchen Island Bench Seating
The biggest space-saver of all is creating a banquette that is multi-functional. Adding bench seating into your kitchen island will open up your kitchen and provide you with a nice place to gather for meals, do homework or surf the web!
You may also enjoy: How to Accessorize a Kitchen Counter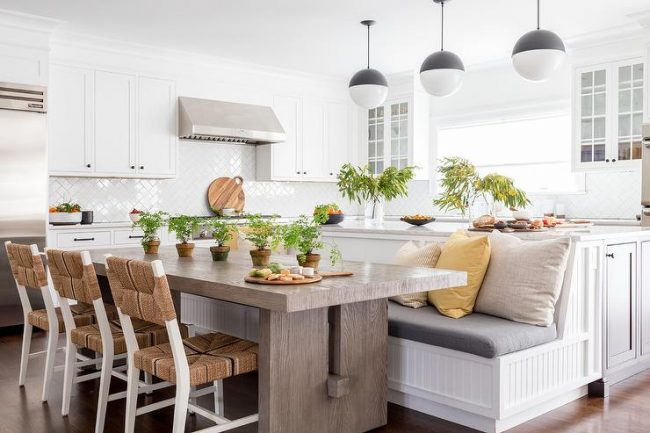 Adding a banquette to your kitchen is an easy, beautiful way to make your kitchen feel larger and have more seats at the table. And isn't that what the kitchen is all about? Which built-in kitchen bench idea do you want to try in your home?