Have you ever looked at that empty space above your kitchen cupboards and thought that space needs to be used?
Above the kitchen cabinets is a great place for decor, organizing your collections or both. Today we've prepared the ultimate guide to style the space above your kitchen cabinets.
Finally utilize and style that awkward, dead space between the ceiling and top of the cabinets.
Use your Favorite Collections
Do you enjoy collecting certain objects?
Are they packed away in a closet or basement waiting to be showcased somewhere?
Try using the space above the kitchen cupboards to showcase that collection!
Be careful not to overdo.
Even more, make sure not to use items that are too small (they won't be seen) or too heavy.   Great suggestions include vases (for example see Susan Serra Associates, New York Kitchen Hardware and Cabintery example below), pitchers and clocks. Another suggestion is books (finally have a  dedicated space for those cookbooks) you will
be inspired by our 10 favorite kitchen and cabinetry combinations
.
Signs and Vintage Collections 
Did you find an overscale sign that you are not sure where to showcase in your home?
Do you have any vintage heirlooms or something you picked up at the flea market that is begging to be displayed in your home?
You can showcase cutting boards, picnic baskets, mirrors, vintage baking or cooking tools, vintage signs and even macrame' wall creations (double-check the size will fit in the area) above the kitchen cupboards.
Create the look with rustic country French farmhouse decor.
Loving the farmhouse trend?
You could hang framed mirrors or even small macramé creations. Another idea is vintage baking or even copper pots (especially if you are aiming to create the French farmhouse country kitchen cabinetry).
This colorful and modern French farmhouse embracing the space above the kitchen cabinets.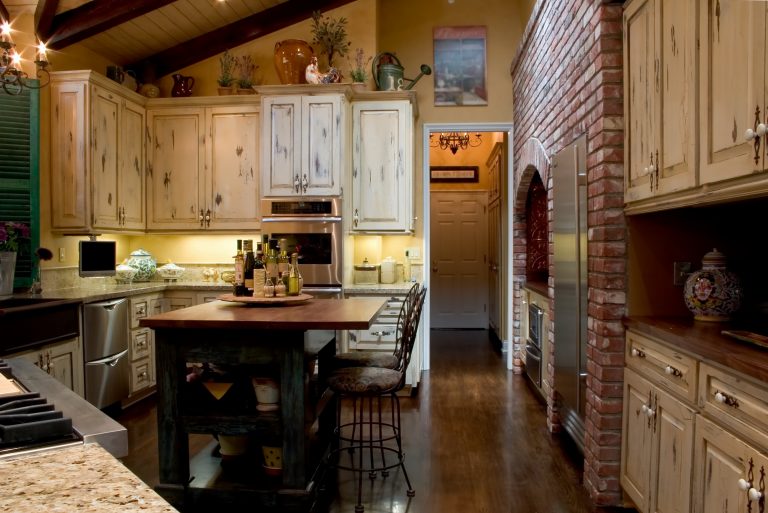 Or keep it practical and hang excess cooking tools. Whatever you choose this wall space surprisingly caters to wall art of almost any kind—but flea market treasures seem to look even more charming.
Practical Collections
Have you run out of spots to put your extra rolls of paper towels?
Don't want to hide your vintage kitchen scale in a cabin
Keep the space above the cabinets simple and practical. You can display a few decorative pieces with surplus kitchen supplies, baking trays, & cake stands.
Remember to aim for one color palate to make a more sophisticated look.
More Storage
You could use the space above your kitchen cabinets to provide extra storage.  If you're starting from scratch, build your cabinets to the ceiling for extra storage and no empty space!
Or make open shelving across the kitchen cupboards and add dividers and baskets to the space above your cupboards. Try to use matching baskets and vertical dividers to give the space an organized and clean appearance.  The baskets will keep extra kitchen supplies or small items out of sight and give the kitchen an organized look. You could even add cupboards around the room and over the sink to really create a lot of storage.
Memories and Art
Do you have some beautiful black and white photographs?
How about some vintage oil paintings that you picked up at the local flea market?
Use the space above your kitchen cabinets to create a small gallery inside your home. Suggested ideas include combining similar artworks and frames. Alternatively, position some black and white photographs in this space or even framed family portraits.
Style Ideas
Use these style ideas to create  visual impact for high ceilings or  finishing touches to the space above your kitchen cabinets. You can add the finishing touches with wallpaper,  greenery and tile. You can get creative with the finishing touches.
Create a Visual Impact for High Ceilings
Do you have high ceilings?  High Ceiling kitchens require a bit more preparation to track down decor objects tall enough to fill the space above the cupboards. Furthermore, the decor needs to work with the rest of your kitchen. This can include items like ceramic art and tall, artful vases to give a modern style to the kitchen.

Wallpaper
Sometimes you don't have the space or the items to showcase above your cabinets. Consequently, you could decorate the walls above the kitchen cabinets using some permanent or removable wallpaper.  Other ideas include brick (brick wallpaper as a great alternative), paint or even tiles that coordinate with your kitchen backsplash.
Greenery
Another finishing touch includes greenery. Use vases or pitches and add some faux greenery to really bring some color to the space. Further, use a few of the same style plants and pots to give the kitchen some great finishing touches.
Maybe an indoor garden?
Use plants like Snake Plants, Pothos or Spider Plant that handles dry spells and moderate to low light with ease. In contrast to faux greenery, remember that you will likely need to climb up to water the plants every week. As with faux greenery use similar style pots to keep the look clean and contemporary.
Finally No more Dead Space
As you can see from our guide the space above  the kitchen cabinets no longer has to be dead space, use it for decor or organizing your collection
Your creativity is the limit to what you can use the space above your kitchen cupboards for.
What about a calendar on a chalkboard in your kitchen?
Now you can always remember birthdays and family getaways right in the center of your kitchen.
Or add some sparkle with bright Christmas lights.
Use beautiful Garlands to turn your kitchen into a statement-making room.
Above all, don't forget the following design tips:
Less is more. In each suggested tip we mention making sure that you don't overdo. Bring value to the space and do not overcrowd.
Measure your space and make sure not to use items that are too small or too big
Finally fill that awkward, dead space between the ceiling and top of the kitchen cabinets.

photo credit: Leslie Wood Interiors, Susan Serra Associates, Lisa Cohen, Kitchen Decor Club, Decolover