Sustainable design is on-trend right now, but why is it important? Sustainable interior design materials lower your ecological footprint and add an exciting new (to you!) feel to your home. Don't be boxed in by old ideas of recycled design elements, though. You might find yourself surprised at the elegant, updated look sustainable materials bring to a space.
 I've gathered 10 of the latest and greatest sustainable interior design materials guaranteed to make a big statement with a small environmental impact.
The Traveler World Guide
Bamboo
When considering structural materials for your makeover, you really can't get better than bamboo. As sustainable interior design materials go, it's pretty versatile. Not only is it a very strong material, it's also very flexible. Bamboo is so "green" because it's so fast-growing.
It's a renewable resource that works inside and out of your home. Inside, bamboo is a great choice for décor or as a base for furniture. Outside, it makes a beautiful yet solid choice for planters, furniture, or decorations that can easily transition indoor-outdoor.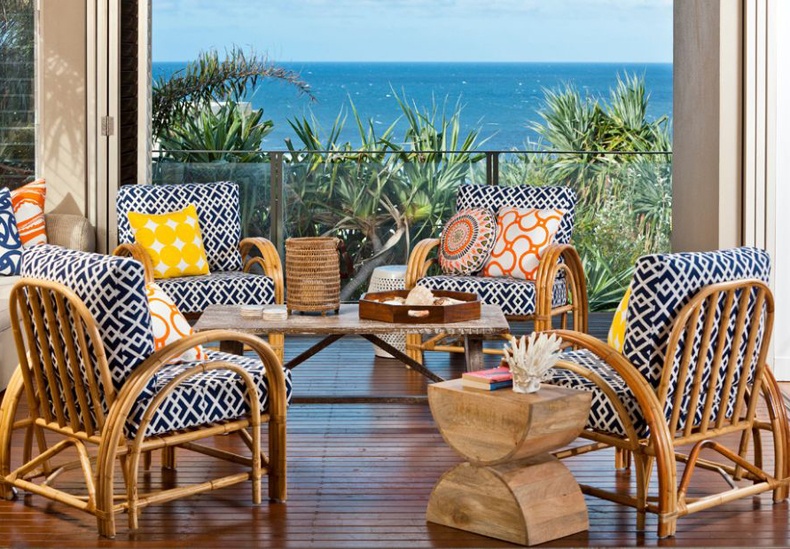 TheBestWoodFurniture
NATURAL STONES
Another incredibly versatile material for your home is a natural stone like travertine or marble (among others). These stones come in such a wide variety of colors and patterns, you're almost guaranteed to find something you like. If you're looking to redo your kitchen or bath, a sustainable interior design material like travertine can add elegance and color at the same time.
You may also enjoy: Travertine Floors Stand the Test of Time
Another benefit of stones like marble is that every single cut is different. If you and your friend both take my advice (as you should) and use sustainable natural stones like these, you can be sure that your rooms will still be unique.
 You can take sustainability one step further, by getting tile or terrazzo that has pre or post-consumer recycled content in it. This means there's less waste from design items, and even more renewable materials in your home.
You may also enjoy: Why We're Obsessed With Terrazzo Tile Right Now (And You Should Be Too!)
Glenna Stone Interior Design
CORK
Gone are the days of cork being relegated to your office bulletin board! Cork is a new versatile darling of interior design and I'm excited about using it everywhere. If you don't know, cork comes from the bark of the cork oak tree. This bark replenishes itself every nine years and removing the bark doesn't hurt the tree at all. This means it's ranked high among sustainable interior design materials.
 Cork can be used on walls, floors, accessories, or as insulation. Have cork do double-duty in your home office: it can still be a bulletin board, but by using cork as a cushion under your flooring you can eliminate the need for an anti-fatigue mat at your standing desk (and let's be honest, anti-fatigue mats rarely look good). Cork under the floor levels up both the sustainability and aesthetic of your design.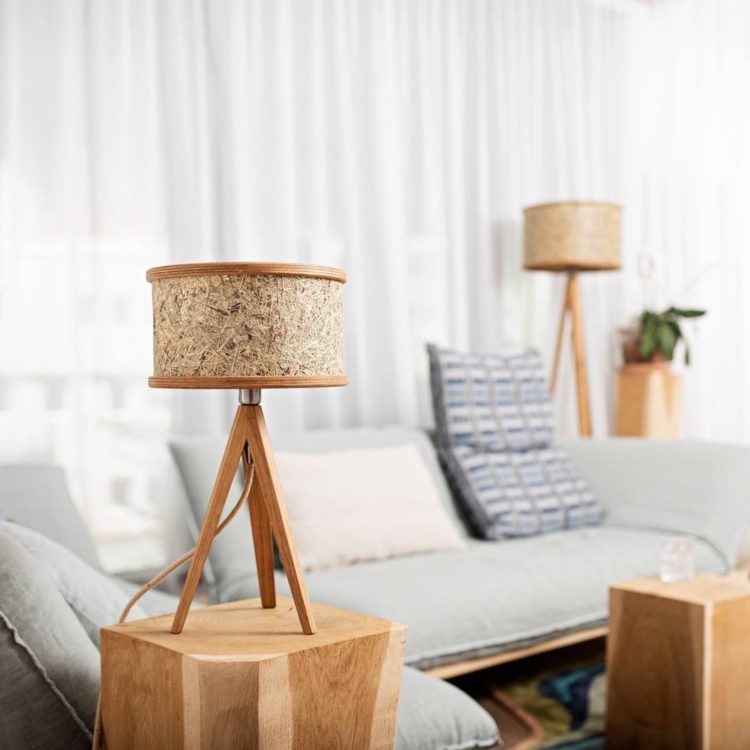 Ourgoodbrands
RECLAIMED WOOD
Yet another multipurpose material! I'm sensing a theme here. Reclaimed wood may be the king (or queen) of flexibility: you can build with it, you can make furniture with it… you can really add it to any part of your design.
 By using reclaimed wood, you not only reduce your footprint, you're also adding sustainability to your home. When you're trying to achieve an earthy or slightly masculine feel for your space, reclaimed wood is a great sustainable interior design material. It can also add great contrast in a bright, California-style home.  
 You may also enjoy: 5 Ways to Capture California Style in Your Home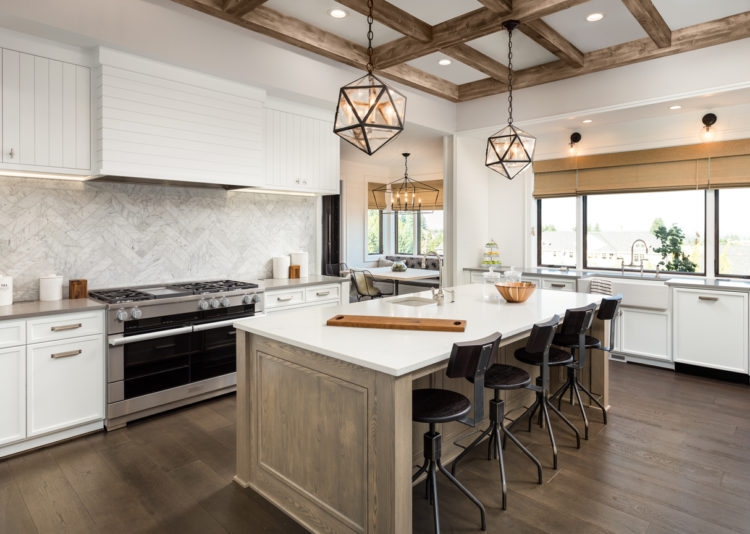 REPURPOSED ANYtHING
An easy way to be eco-minded: repurpose! Take a look at items already in your home, and think about how they can be given new life in a different room. Maybe it needs a new coat of paint or reupholstering a favorite chair. Sticking with items that have already been produced is a great way to be kind to the planet.
You may also enjoy: Transform the Wood Paneling In Your Living Room Into a Beautiful Space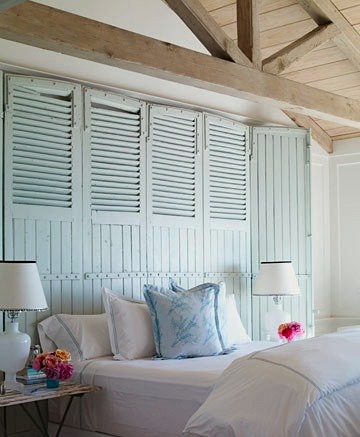 Kids Space Stuff
SUNLIGHT
This one is free and in endless supply. The power of natural light in a space is almost immeasurable! Don't be afraid to open the curtains and let the light in.
While it's not technically a "material" in the strictest sense of the word, sunlight is definitely a powerful element in design. You simply can't overlook the natural light of a space when redesigning or making over a room. A room can feel more elegant, more inviting, or even more modern simply by considering the light that naturally streams into a room.
Archeticturein
CERTAIN TEXTILES
Speaking of curtains, make sure that you examine the textiles you're using for them (and all other fabric elements, too). Textiles like wool, linen, and hemp are great sustainable interior design materials.
 Take a quick mental inventory of all the places where you'd use fabric in your room: pillows, bedding, blankets, chair covers, rugs, table runners – no matter the room, you have the chance to make an impact with textiles that are easily produced over and over.
 Some eco-friendly fabrics may add a more utilitarian feel to the design, but not necessarily. For example, linen anything adds a beachy, breezy element to any room!
You may also enjoy: 7 Ways to Breathe Life into Dull Spaces Using Lively Floral Textiles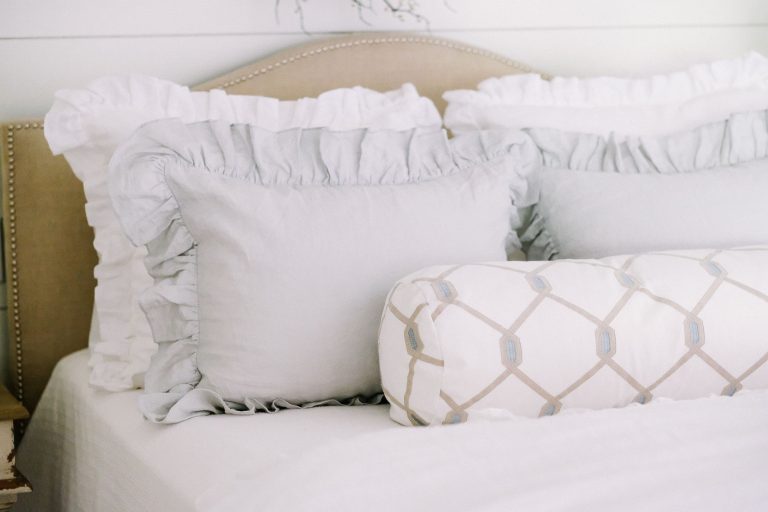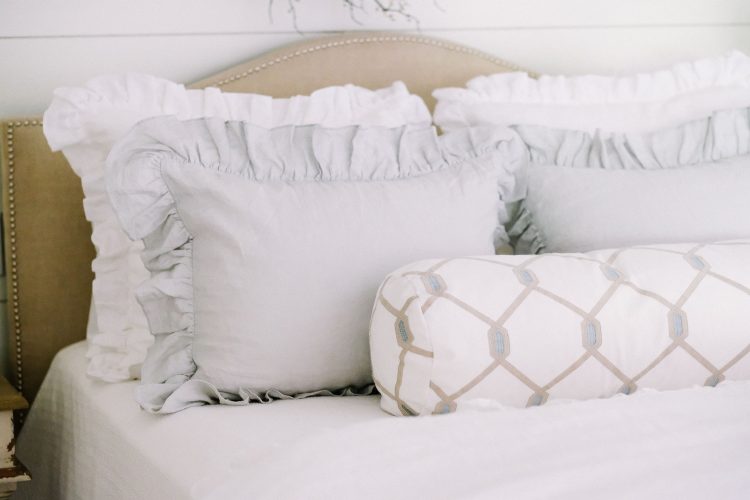 GLASS
Glass is an endlessly sustainable interior design material because it is endlessly recyclable. You can really make glass work in any space, regardless of the style or room.
It may seem like an obvious choice to use glass in your kitchen for cabinet fronts or plates and other serving items, but what about your counters? Countertops are now made with recycled glass, making them not only unique but also better for the planet.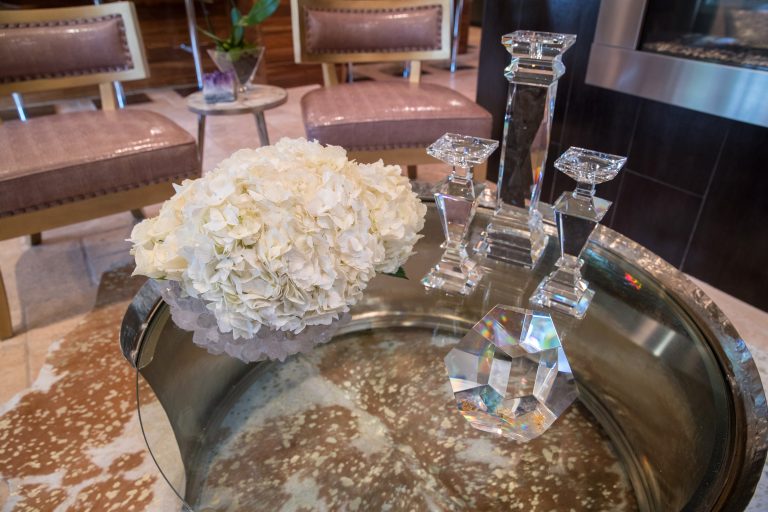 RECYCLED ALUMINUM
Your first thought about aluminum in design may be function and not style, but think again! More and more, I'm seeing aluminum in fine art and sculptures. If you're not ready to make recycled aluminum a statement piece in your home, consider selecting accent pieces created from this attractive sustainable interior design material.
Houzz
LOW OR NO-VOC PAINT
Never underestimate the power of a fresh coat of paint! It's a quick way to spruce up a room with little effort.
 VOC stands for volatile organic compounds. If it sounds bad, that's because it is! VOCs are toxic to humans, animals in your home, and the environment. By choosing low or no-VOC paints, you're making a healthier choice for everyone.
Another benefit to low or no-VOC paints is that they aren't considered hazardous waste. It's a great way to do a refresh in your home that's a better choice for your family and the planet.
You may also enjoy: 11 Cabinet Paint Colors that Aren't White
Chatalaine:  Michael Bonomo Photography
 CHOOSING SUSTAINABLE INTERIOR DESIGN MATERIALS
No matter how big your redesign, make it more eco-friendly by following these steps:
Can you repurpose anything? Before you consider buying new, look for the item in your own home or reach out to loved ones – maybe they're looking to refresh their homes as well.

Consider your source. Research the company you're purchasing from to see their practices.

Think about the waste you may create. Your makeover won't be sustainable if you're throwing items away and not properly recycling.

From start to finish, make sure the whole process is as eco-focused as possible. This includes your purchases and delivery, so do your research!
 And remember to always take care of your home. Proper care of your investment will make it last longer, and that's the most sustainable (and timeless) of all.