With a start of the new year brings the desire to make changes – either with our self or our surroundings. With so many focusing on resolutions that involve simplicity and shifts in the way they are living, why not also incorporate a kitchen redesign into your plans for the new year where the way a kitchen is being used or the mix of materials and color is thought of in fresh, new ways?
We hope today's post, full of beautiful kitchen designs and color ideas, helps inspire YOU, dear readers. Enjoy!
One of my personal favorite inspirations for a relaxed, casual kitchen design where space is being used in a fresh, new way is from designer Thom Filicia. He created a great area in the *breakfast nook* space usually reserved for a round table and chairs/banquette and turned it into an informal family seating area, while still maintaining plenty of storage and workspace in the kitchen, plus a casual eating space at the counter.
Balance and mix of wood stains plus open and concealed storage.
Although the kitchen can be the most expensive space in a home to remodel (if removing walls, changing plumbing location and adding a gas line for a range), a renovation, on the other hand, can give an existing footprint an updated look and feel by changing finishes and hardware. Some details to consider for a kitchen renovation would be:
Countertops
Appliances
Hardware
Lighting
Flooring
Seating
Storage
Kitchen storage plays a major role in the style, look, feel and function of a kitchen. Kitchen styles have changed, and many people today are opting for less upper cabinetry and more open shelving – but it all depends on your lifestyle, personal preferences, and also kitchen size.
To create the open shelving style, usually the upper cabinets are removed and replaced with shelving. An option to open kitchen shelving is to replace solid cabinet door fronts with glass fronts. Both styles can perform double-duty, giving the kitchen not only storage, but also a place to display & share your collection of crystal stemware, heirloom silver or transfer-ware you may have collected over time or that may have been passed down to you from your family.
Concealed storage, maintaining solid doors, can help to clear visual clutter off of the counter-tops by giving you a place to hide all the small appliances that may not be used as often, like the coffee maker or espresso machine. Again, it's all up to the lifestyle and preference of you and your family. Having a mix of both open and concealed storage is not only a kitchen design trend lately, but it also helps to bring balance to the kitchen space – and a feeling of calm harmony.
Another element to consider for balance and harmony in the kitchen and home is color – not just walls, seating and textiles, but changing the color of your cabinets can really refresh the look and feel of your kitchen, and possibly even elevate and lift your mood and spirits – which in turn can help promote your health and well being. Below are a few colorful kitchen designs to inspire you…
Cornflower Blue…
Cedar + Slate +Copper…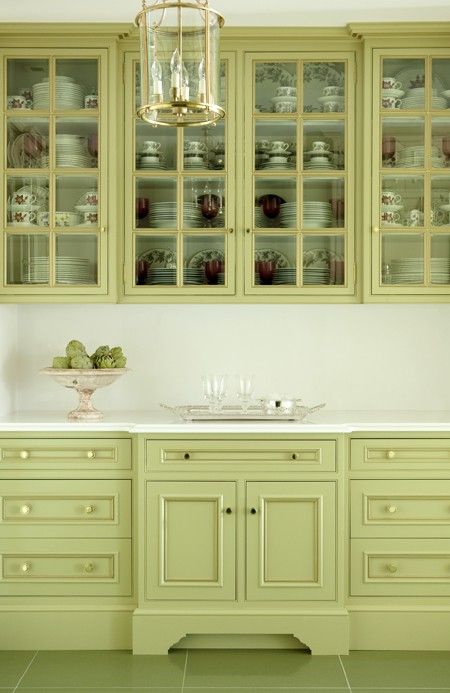 Crisp apple green…
Happy sunshine yellow!
And just as your accessories personalize your wardrobe and your rooms, such as mixing metals and layering patterns – the same treatments can happen in a kitchen. Pattern isn't necessarily only for textiles; pattern can also come from how countertops and tile backspashes are paired and finished off with hardware selections…
Walker Zanger, a #BlogTourVegas sponsor showing during the upcoming #KBIS2015 Kitchen and Bath show in Las Vegas that Leslie Hendrix Wood is attending has a gorgeous assortment of tiles to choose from to personalize your kitchen or bathroom, as you can see above.

Mixed metals – from polished nickel to antique brass are growing in popularity, and copper is a trend gaining more momentum for kitchen deisgn in 2015. The technique of mixing metals, and even countertop finishes from metal to stone to wood, is a wonderful way to warm the classic all white kitchen and give your kitchen the refresh and redesign it needs in 2015.
Appliances, too, are now statement pieces that elegantly pair color and metal mixes into a hardworking kitchen, such as this stove from La Cornue. And speaking of a statement piece, will you look at that show-stopper hood? Hoods too have become an important style and statement trend in kitchen design, blending both form and function into the kitchen, while helping to keep the air in the home clean and healthy – especially important if your family members or friends have asthma.
And speaking of range hoods, Leslie's friend and fellow #BlogTourVegas traveller, designer Mitzi Beach, is running a giveaway right now for a beautiful brushed stainless steel Cavaliere range hood from Range Hoods, Inc, here, if you need one for your own kitchen.
[Readers, do you remember when Leslie Hendrix Wood was interviewed for Mitzi's book, *Boomer Smarts, Boomer Power* about her faith, for the last chapter – the final *S* in S.M.A.R.T.S – spirituality? ]
I'm looking forward to seeing what other new resources and inspirations I see as I watch what Leslie and Mitzi and everyone else attending Blog Tour Vegas with them at the National Kitchen and Bath Association's show shares on their blogs, Instagram and Facebook Pages and Twitter feeds.
Readers, to keep up with it all, too, virtually, follow the tags on Facebook, Twitter and Instagram:
#KBIS2015
#KBISNeXT
#BlogTourVegas
#ModenusTalks
And below are some of the many wonderful #BlogTourVegas sponsors and reliable sources for your next kitchen design, renovation or remodeling project!
For additional kitchen inspiration, be sure to follow the Hadley Court – Timeless Design: Kitchens board on Pinterest. And for some great tips on kitchen design, you may enjoy reading these Top 25 Tips for Kitchen Design, from designer Matthew Quinn.
I hope you're as inspired as I am! Additional information on these featured kitchens can be found here:
Kitchen: 1, 2, 3, 4, 5, 6, 7, 8, 9, 10, 11, 12.
Which kitchen most inspires you? Let us know in the comments!
Lynda Quintero-Davids
for
Leslie Hendrix Wood
Decorator
Chancellor Interiors
Midland, Texas
Founder, Editor In Chief
Hadley Court
~~~
Gracious Living. Timeless Design. Family Traditions.
We invite you to please follow Hadley Court on
Facebook
Pinterest
Twitter
Instagram
Thank you for reading and subscribing to Hadley Court, we appreciate you!