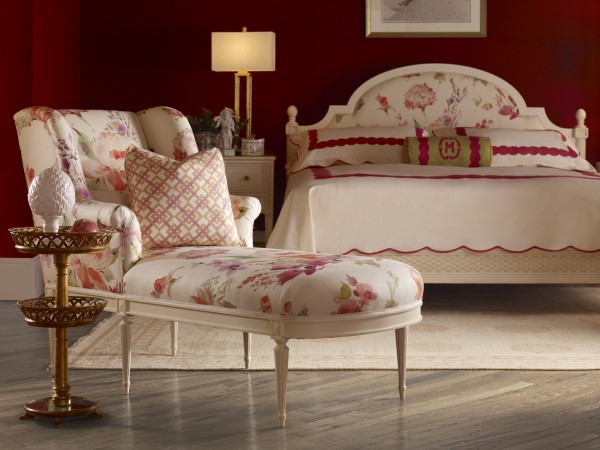 Charlotte Moss Reflects on Her Collection for Century Furniture 
The lovely tiered Memphis Accent Table with gold-leaf finish and basket-weave scroll work may have a compact footprint of 14″-by-14″ by 24″ high, but it is part of a bigger story of beauty and timeless design. The table, the first furnishings item offered in Hadley Court's Timeless Design Sweepstakes series, is one of 40 pieces in the Charlotte Moss Collection of upholstery, bedroom, dining and occasional furniture for Century Furniture.
It's no wonder the collection made headlines at the Spring 2014 High Point Market where it was introduced, since the collaboration unites two iconic brands: Century Furniture, a company known for design leadership and craftsmanship, and Charlotte Moss, an internationally acclaimed designer, prolific author, dedicated gardener and passionate philanthropist.
"Creating this collection for Century Furniture was one of those opportunities to sit back, close my eyes and imagine how we live NOW," said Charlotte. Infusing the pieces with livability and practicality, Charlotte said she collaborated with Century's stellar design team to create upholstered pieces that are luxurious but welcoming and hospitable, and wood finishes that are elegant, sophisticated and modern. "You may notice some unexpected details in this collection," Charlotte added–details that address how we live today. For instance, the tiers of the Memphis Accent Table have antiqued mirror surfaces that "are practical and elegant at the same time," Charlotte said. "The two tiers give me a place for my glasses and a cup of tea."
Charlotte calls the Memphis Table "an American version of what the French call a 'vide-poche', " a French term for "empty pockets" that often refers to a container or bowl near the door where you can stash keys, spare change or cell phones to control clutter.  
The Memphis Table is not alone in the collection with its distinctly Southern name. All the pieces have Southern names, including the romantic Atlanta bed, the eye-catching and dramatic Beaufort Chair & Ottoman and the Charleston Slipper Chair.
Why the Southern theme? "The (theme) is fitting because I am Southern, and so is Century Furniture. You do what comes naturally–we did not have to work too hard on names for the collection–they were in our own back yard."
As for the Memphis Table itself, Charlotte has great affection for it. Speaking of the gold-leaf finish, she said, "The intention was to have a little bling without being flashy, or stated differently — a patinated gold effect–which would lend itself to bedrooms, sitting rooms, a library or the drawing room."
Even beyond design, Charlotte considers her most important work to be community service and philanthropy. She serves on the Boards of the Thomas Jefferson Foundation at Monticello, the Bone Marrow Foundation and the Advisory Board of the New York School of Interior Design, where she received an Honorary Doctorate Degree. The Memphis Table, shown at the Kips Bay Decorator Show House, below, was part of a design collaboration with Century and Fabricut Fabric to benefit a New York charity that provides an after-school center for children in the Bronx:
Can you envision the enchanting Memphis Table becoming part of your everyday story? If so, then, enter to win it in our Timeless Design Sweepstakes, here!
Kim Darden Shaver
for
Leslie Hendrix Wood
Founder, Editor In Chief of Hadley Court
Gracious Living. Timeless Design. Family Traditions.
~~~
You're invited to please subscribe to Hadley Court blog, here, and to follow Hadley Court on Pinterest, Facebook, Instagram and Twitter, here, here, here and here
All photos courtesy of Century Furniture and Charlotte Moss.
Please also LIKE Century Furniture on Facebook here and Charlotte Moss on Facebook, here.