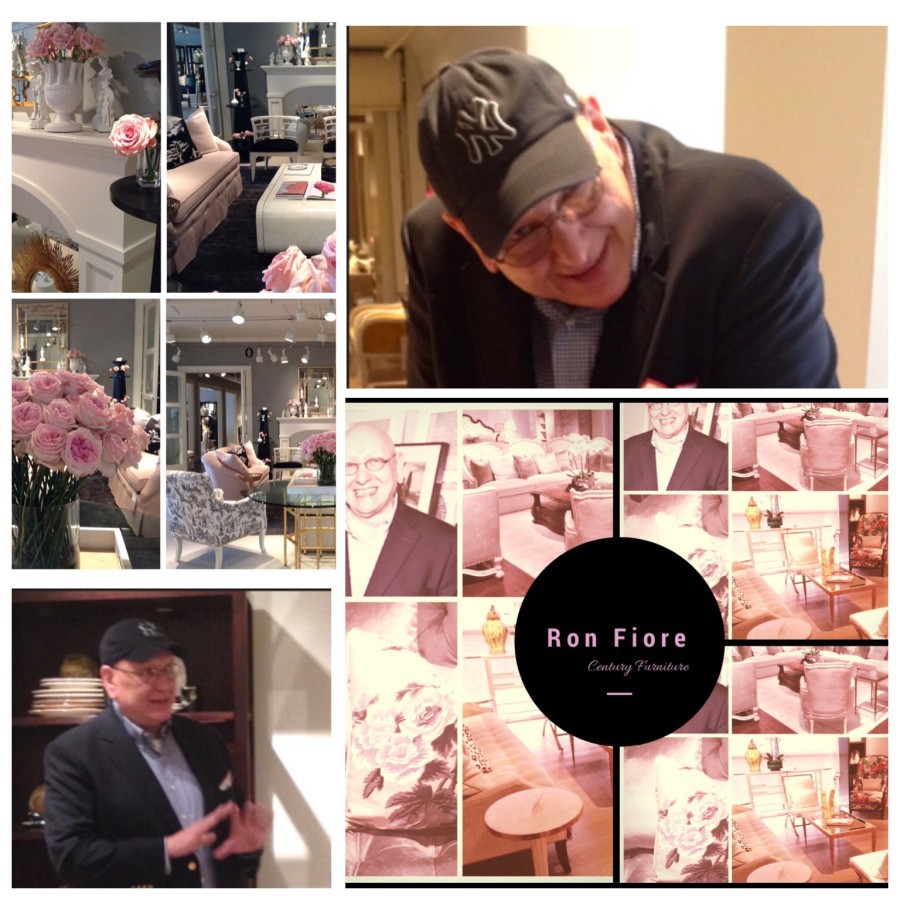 Meet Ron Fiore, merchandising maestro and creative genius behind the rebirth of the Century Furniture showroom at High Point Market. I hope you have already read my earlier post about Ron's brilliant makeover of the Century Showroom. If not, please read here. Today, I wanted to focus more on Ron, rather than focusing only on his work.
When I met Ron, I was taken aback by his gentle and humble spirit. I think Ron belongs amongst furniture royalty, yet there wasn't a hint of ego about Ron. I felt like I had known Ron forever. Read on and I think you will feel like you have known Ron forever, as well.
BACKGROUND
Ron began his career at Marshall Fields in Chicago in Home Furnishings in the early 80's when Department Stores were ultra luxurious. Ron says Marshall Fields was a special place. He worked there for 10 years – "It was a dream, a great life."

He worked at Henri Bendel on Michigan Avenue for one year.

He then went to Baker Furniture as the showroom design manager. He was part of the relaunch of Milling Road in the early 90's.

He went to J. Peterman for four years in Kentucky to redevelop their home furnishings area and then went back to Baker.

He then went to Hickory Chair in 2000 and stayed there for 11 years. He loved working at Hickory Chair and working for Jay Reardon whom he calls a "Furniture God."

He left Hickory Chair to join Bernhardt Furniture for the challenge of being a part of elevating the brand. Ron thinks Alex Bernhardt is brilliant and was proud to help Bernhardt become competition for other high end manufacturers.

Ron left Bernhardt to freelance. Freelancing did not last long because Alex Shuford called him the day after he left Bernhardt. Ron met with Alex over Dunkin' Donuts and coffee. Ron was impressed by how unassuming Alex was. The result is what we saw in Century Furniture's showroom this spring.
Q&A with RON FIORE
How do you like to decorate your own home?
With black and white with little color. I am dyslexic and I can't live with color. I like the power of black and white-more in a vintage way than a modern way. I have tons of layered prints. I love books, prints and art. My brain only thinks in graphics.
What is your favorite piece of furniture?

A very simple black table with castors from Paris. A Thomas O'Brien table from Hickory Chair. Only Thomas and I own those table. I love those more than anything. Also, a Hans Wegner peacock chair. You can't sit on it, but I like to look at it.
What is your favorite food?
Spaghetti and Meatballs.
What are your favorite books?
The Brothers Karamazov, The Hours and Memoirs of a Geisha. I love anything Japanese. There is a lot a guy can learn from Memoirs of a Geisha.
What is your favorite color?

Cobalt blue and fluorescent orange.
Who is your favorite designer?

Thomas O'Brien-he has an amazing aesthetic. It is hard to pick one because there are so many wonderful things out there. I love Prada. I love the strictness of Prada.
Where does your creativity come from?
I don't know where it came from. I think you either have it or you don't. A certain amount of fantasy goes into creation. To think in fantasy, you have to be very thoughtful. Thomas O'Brien is very thoughtful-how one thing affects another. I am crazy about Windsor Smith. She thinks about how one thing affects another as well.
Do you have college degree?
No. I studied painting at the Art Institute. I have a lot of street smarts. I was life taught. Reading and traveling keeps you honest.
What advice to give someone who wants to do what you do?
You have to go to college now. You have to know technology.
What are your favorite cities?
Tokyo and Chicago
MY SPECIAL TAKEAWAYS FROM RON FIORE
During my visit with Ron, he made a few statements that will forever endear Ron to me.
"I think I am just damn lucky."
"I have worked for really nice people."
"You can't go through life thinking everyone owes you something."
"Classics can always move forward. It is hard to talk about the past. I like to stay in the now. I like this moment – too many people live in the past."
"If you are a nice person, nice things will happen to you."
I hope I have given you a glimpse of how very special Ron Fiore is.
The furniture industry has certainly been enriched by the talent and creative genius of Ron Fiore.
~~~
Leslie Hendrix Wood
Editor In Chief, Founder
Hadley Court blog
Interior Designer
Leslie Hendrix Wood Interiors
Midland, Texas
Gracious Living. Timeless Design. Family Traditions.
I invite you to follow me on Pinterest at
http://pinterest.com/HadleyCourt