If your house is anything like mine, then you know that the kitchen is the central gathering space. Even if you've thoughtfully arranged another area of your home for a party, guests end up in the kitchen anyway!
Because the kitchen is so popular with guests, it's a good idea to make it as homey and welcoming as possible. One way to achieve this feeling is with a fireplace. It isn't as puritanical as you may think. While it can add a more traditional element to your space, fireplaces in kitchens can be very modern, too. Take a look at what I mean: I've rounded up 7 reasons why you should consider a fireplace in your kitchen makeover!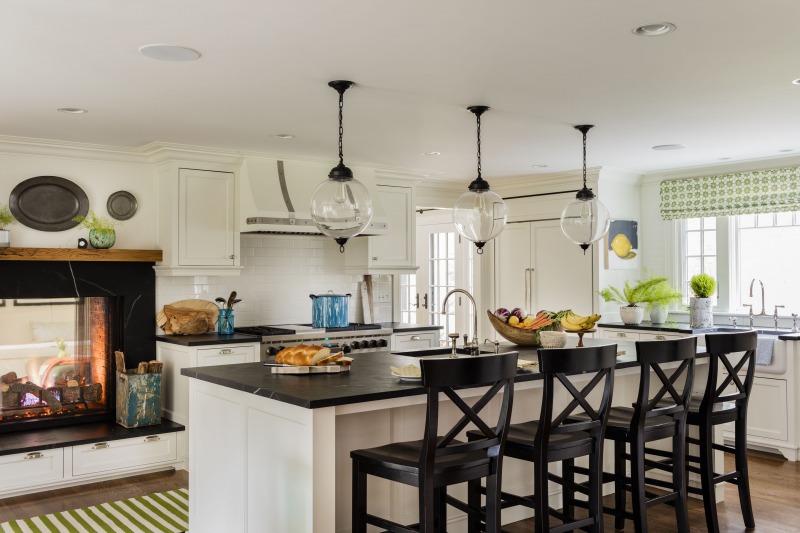 Platt Builders
Kitchen Fireplaces Add Warmth
When it comes to cooking and preparing meals, having a large kitchen can be a wonderful thing! But sometimes, having a large kitchen can make your home feel drafty or even empty. A fireplace is the perfect remedy. Not only does it literally add warmth by way of the heat from the fire, but it adds visual warmth as well. The orange glow of the flame makes the space instantly more warm and inviting.
You may also enjoy: Boost your Mood: How to Use Orange in Your Home
Decorpad
Provide Comfort
There are a lot of folks who spend the most time in their kitchen over any other room in the house. Everyone always says, "The kitchen is the heart of the home"! Since that's the case, why not make it even cozier?
A fireplace adds to the comfort level in a room and is so inviting, too. You can create a relaxing seating area in your kitchen with the fireplace as an anchor! Imagine grabbing a warm mug of coffee or tea and sitting down to read a new cookbook or magazine – your very own cozy spot right next to the kettle. This also provides a great space for guests or family members to keep you company while you're preparing a meal.
Y Lighting
Break Up a Space (in a Good Way)
Depending on the layout of your home, if your kitchen is attached to another room (like a great room), it can feel a little too open. One way to break up a space that feels too large or potentially cavernous is to add a fireplace. While the fireplace will break up the room visually, it stops short of acting like a full wall, which would close off the rooms and potentially make them feel small and cramped.
If the family room and kitchen are in your great room but have slightly different styles, a fireplace can be a great bridge between the two designs. It can also bring the family together, serving as a common gathering space between the two.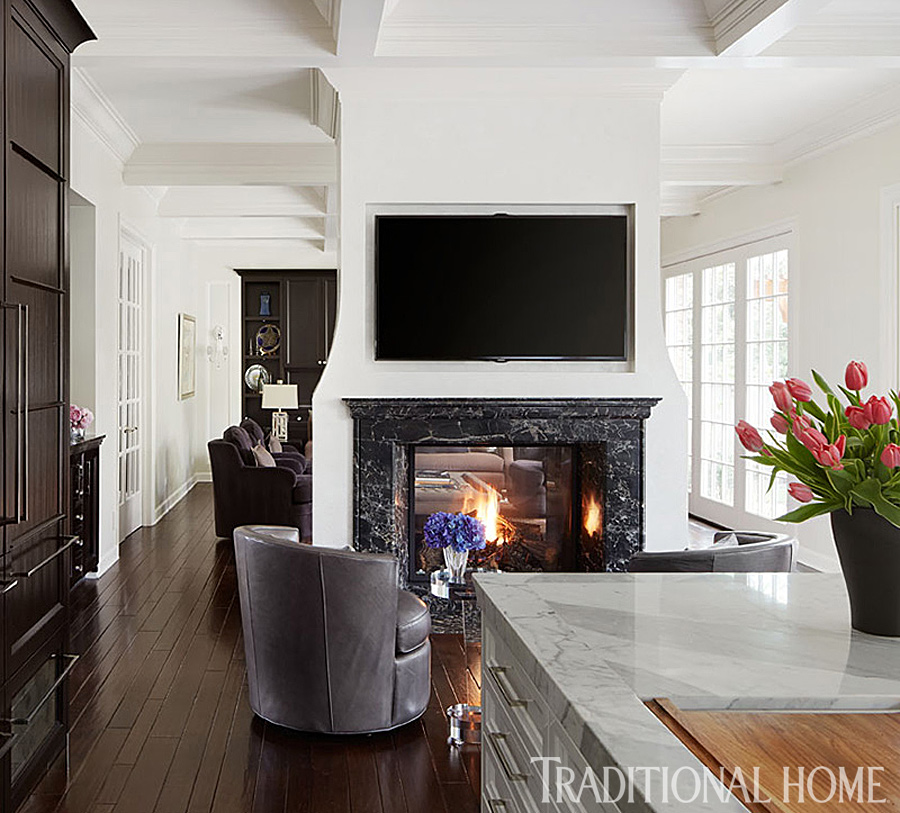 Create Interest
When you think about elements of a kitchen, some things immediately come to mind: a stove, a refrigerator, a sink. I'm willing to bet a fireplace would not find its way to the top of many lists, making it a unique addition – but one that makes perfect sense!
You can make your fireplace even more distinctive with the materials you choose. By choosing a unique stone or shape for the fireplace, you'll surely create a feel for your kitchen that your guests won't soon forget.
As you think about what will surround your fireplace, consider a fabulous mantel. A mantel can help make your fireplace feel more purposeful and original to the home, even if it's part of a makeover. An added bonus is that you can use the mantel for storage that is both functional and serves a decorative purpose; for instance, you can keep your fire starters or matches in a beautiful decorative jar.
You may also enjoy: Beautiful Fireplace Screens
Increase Your Cooking Space
Of course, at one time fireplaces were standard in kitchens: it was the only way people cooked! While we have plenty of modern conveniences these days, there's just something special about food cooked in the fire.
There are plenty of great designs these days to make the fireplace in your kitchen beautiful and useful at the same time. It can double your cooking space, making your fireplace pretty and practical. It's a great place to bake pizzas, cook soups in a large Dutch oven, or even have a rack for boiling water in a kettle. But always be prepared to roast some marshmallows!
You may also enjoy: 2020 Fireplace Trends: Add Warmth to Your Home
Add a Design Element
A fireplace in the kitchen might make you think of an old farmhouse, but that certainly does not have to be the case! A sleek, modern fireplace may fit better with your home's design.
The look of the fireplace also depends on the type of fuel you want to use. A gas connection can offer you the opportunity to create a sleek and modern design, finished with glass and smooth stone or steel. A wood burning fireplace does lend itself toward a more rustic appearance, finished with brick or a more natural rock face.
Of course, there are also plenty of inserts for gas fireplaces that look like natural wood. Either way you go, the design of your fireplace provides a final note about the style and feel of your kitchen.
Built- Ins
Some kitchens are nice and large and have plenty of space to spare for a statement fireplace, whereas a smaller kitchen may want as much real estate as possible for your standard appliances and storage. Here's the good news: you don't have to have a large kitchen to have a fireplace, so don't let this stop you from including a fireplace in your kitchen! A small fireplace built into the countertop can still add warmth (and extra cooking space) to your home.
You may also enjoy: Cozy Kitchens with Fireplaces