When it comes time to redecorate or refresh your home, there are plenty of decisions you have to make: paint color, finishes, new furniture…it can be a lot. One big decision you have to make is the type of flooring you want in your home.
If you've decided on carpet, you know that there are a lot of tough decisions to make, including what color your carpet will be. With so many options out there, it can feel like a daunting task. Luckily, I am here to help you out! (I'm just so humble, too.)
Carpet One
CARPET COLOR BASICS
After many years in interior design and helping my clients find just the right carpet for their homes, I'm confident you can follow my tips below and make the right choice for your home.
Pick a Color Family
Before you can pick a color for your carpet, you have to pick a color family for your room. Right off the bat, you should ask yourself: How do I want the room to feel?
If you want the room to feel calm and peaceful to everyone who enters, stick with colors like blue, green, and purple. These cool tones are associated with harmony and serenity. A warm color scheme (reds, oranges, and yellows) gives off a comfortable and inviting ambiance. It can also make a space feel more joyful and energetic. When you're looking for an airy and light feel, stick with neutral tones like white, gray, and beige.
The color family you select will communicate the feel of the room to your family and your guests, so be sure it suits the room and will flow with the rest of your home.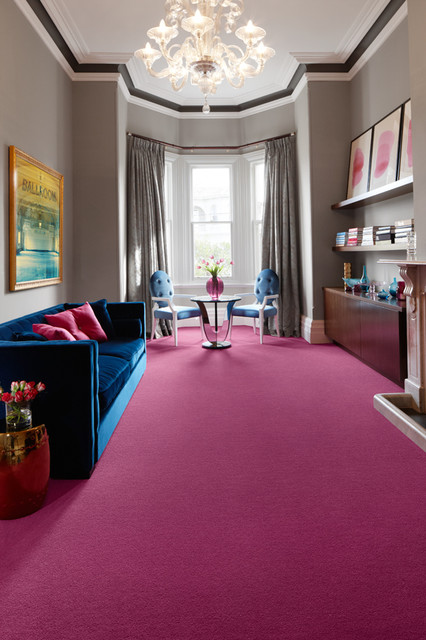 Houzz
Choose the Most-Limited Color First
As you're choosing a carpet color, you have to consider the color availability of other items in the room. For example, a sofa for your family room may only be available in 4 or 5 colors. You don't want to limit yourself to one sofa option after falling in love with a carpet color!
In some rooms though, your carpet might be the first thing you choose. If you're redecorating a bedroom, think about the huge selection of bedding available. Even after selecting a color family, you'll still have lots of options for blankets and pillows; however, you won't have unlimited options for your carpet. In this case, select your carpet color first, then move on to bedding or paint colors.
Working this way, from most-limited to most-available, ensures that everything will coordinate and will provide you the most options as you go along.
New York Times
Think About Your Lifestyle
When choosing your carpet color and style, it's important to think about you and your family. How will you be using the space?
When choosing carpet for the room where your kids will plunk down with their friends for homework or movie nights, consider something more durable. You'll want to select a carpet that either doesn't show stains or is easy to clean (or both). Similarly, if you're redoing your hallway, select a carpet that is more durable. A hallway is a high-traffic area and will need to stand up to the test.
If you have a younger family or you run the risk of tracking in dirt from hobbies (any other gardeners out there?), consider a carpet with some Berber flecks or a slight pattern. These will help to hide small stains and discoloration from heavy use between cleanings. While you want your home to be beautiful, you can also be practical!
Remember, your family includes your pets! If you have dogs, cats, or any other critters, make sure you consider them when selecting your carpet. What color is their fur? Do they shed often? Something that's easy to vacuum would do well in a family with four-legged friends and a carpet color with a more natural tone will be more forgiving when it comes to pet fur.
You may also enjoy: Entryway: Tips for a Lasting First Impression
Shaw Floors
What's Your Style Personality?
This carpet is yours, after all, and it should reflect who you are! The great thing about carpet is that it's available in many different colors and textures. You don't have to settle for a color you don't want just because you think you should.
Let your imagination run wild and really think about who you are as you design your space. If you want the room to be warm and inviting, reflect that with a soft, warm carpet. For a room (and owner) with a more contemporary touch, look for something with a modern pattern. Carpets can be a large expense; choose something that you will love in your room for years to come.
You may also enjoy: Stunning Staircases
The Spruce
Is There a "Perfect" Neutral?
I have to say it: some colors just don't "go." There really isn't a "neutral color that goes with everything," unless you're talking about pure white. And in most cases, I would not recommend pure white for a carpet color! Instead of forcing something to work or changing your mind again and again, it's good to keep in mind that some colors just may not work together.
Instead of looking for the perfect neutral, choose something that works with the most number of elements in the room. Or think about what will have the best flow from one room to another throughout your home.
If you are trying to pick a neutral carpet color, I suggest a beige with green undertones. Typically, a beige carpet with green undertones has the widest level of versatility. This carpet color will pair well with the most items.
Fabrica.com
You may also enjoy: Mohawk Carpet's Magical SmartStrand – No More Worrying About Spills!
Follow these steps and you'll be sure to pick a carpet color that works well in every room you choose to install it. As a general rule of thumb, narrow your selections down to 3-5, then ask for a large sample to bring home. Observe it in your room against different pieces of furniture and in different light. Live with it for a few days and see which one you like best!