With many families switching to at-home learning this year, having a dedicated space for kids to spend their days will help them focus and be successful. Lately, I've been inspired by the creative ways adults (and even some kids!) are setting up homeschool rooms and the ideas they're incorporating to help them be productive throughout the day.
While I don't have kids at home anymore, I can't help but get a pang of heartsickness for those days. I loved picking out my daughter's first day of school outfit and helping her organize her notebooks and papers.
Even though school may look different this year, that love for a perfectly organized desk and first day of school outfit is still strong in my heart! Naturally, I couldn't help but share some of my favorite homeschool room ideas in the hopes that they'll inspire you to recreate them in your kids' learning spaces!
Pottery Barn
Homeschool Room Essentials – Ideas
There are some essential elements that every work space needs so your kids can thrive while learning at home. Here are some homeschool room ideas and must-haves that every space regardless of size should include.
What Day Is It?
Kids will always watch the clock no matter how engaging their homeschool lesson is. Recess or a snack is right around the corner, after all! Hang a stylish clock and create a large calendar on the wall where your student can easily see what day it is and the time. On the calendar, note any important milestones like tests and due dates so you're both prepared and no one can say, "I forgot to study!"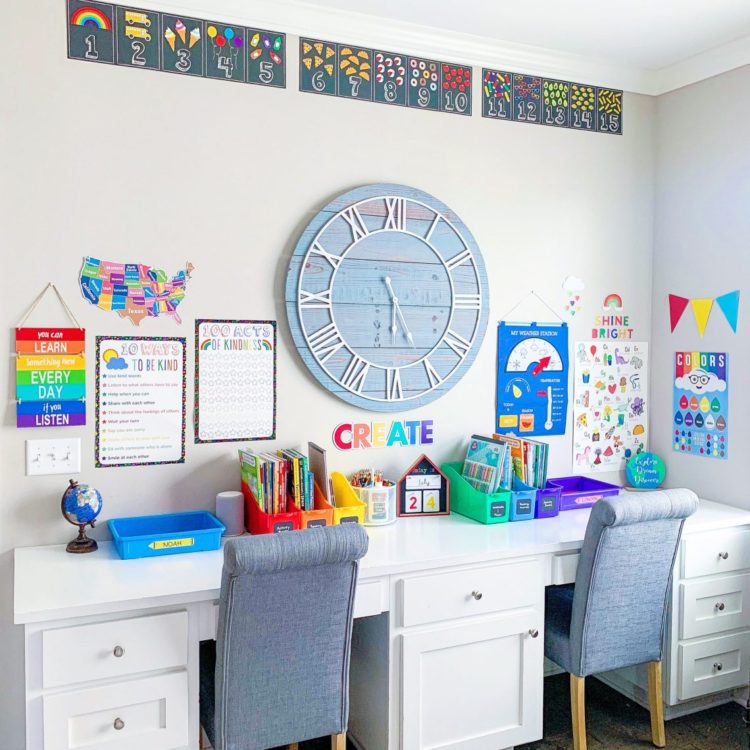 Grace, Giggles & Naptime
A Space of One's Own – Homeschool Station Ideas
The most important thing when creating a homeschooling room isn't necessarily the room, but the dedicated space for learning. Like how adults have an office that they go to only to work, it's important for kids to have an area that they go only to do school work. Psychologically, going into that space tells them it's time to learn!
Create a large desk space for your kids to spread out by pushing two rectangular desks into a corner to create an L-shape or find a desk specifically designed for the space you want to cover. There are many size options, so select something large enough for all the papers and notebooks, but not so large that the mess gets pushed around the desktop.
You may also enjoy: How to Create a Chic, Elegant Home Office

Organize, Organize, Organize
I adore drawers and cabinets. It lets you have everything at your fingertips when you need it, but keeps the visual clutter tucked away neatly.
Create a cabinet for your homeschool room out of an armoire or bookcase that has doors you can shut. Stock your cabinet with removable cubes to store folders, books, and other supplies you'll need for homeschooling lessons throughout the day.
Another idea to organize your homeschool room is by investing in a few rolling carts. They're convenient to roll out from under a desk when the school day starts and can get tucked away when you don't need it. Look for a cart with drawers rather than open shelves so you can keep the items on the cart neatly contained and they don't fly off the cart when you move it.
You may also enjoy: Back to School: Home Office Ideas to Encourage Productivity
Houzz
Teen Homeschool Room Ideas
Teens are going to be working independently most of the time and may have their own style when it comes to how they prefer to work, but that doesn't mean they can't enjoy an elegant, well-organized space. Here are some homeschool room ideas for the teens in your life.
Lamps Plus
Bring in the Light
When my kids were younger, I remember them reading in what felt like total darkness. How can kids do that? When designing a homeschool room, include plenty of light! A few task lights on the desk and a fun chandelier to visually separate the homeschool space from the rest of the room would shed plenty of light on all of your students' genius ideas!
You may also enjoy: Casting a Glow – How Lighting Design Enhances a Room
Architectural Digest
A Pretty Cork Board
I love a cork board that doesn't look like a cork board. You can always paint a cork board to match the design of your homeschool space, but I'd suggest finding a fabric-covered cork board. These boards are elegant and practical!
If you make your own, you can cover it with any fabric to match your kids' latest obsession to make it completely custom to them or you can find a board with fabric that coordinates with your homeschool room decor.
You may also enjoy: 5 Chic & Feminine Home Offices We're Smitten With
blinds.com
Elementary Homeschool Room Ideas
Children in elementary school have more supplies and therefore need a few special additions to their homeschool rooms.
The Classroom Creative
A Place to Post Notes
Rather than having a computer screen "decorated" in sticky notes with scrawled reminders, create a chalkboard wall near your schooling space. After all, a chalkboard goes with school like peanut butter goes with jelly!
There is special paint you can buy that dries to a chalkboard finish or, if you prefer to keep chalk dust out of your homeschool room (I can't blame you!), there's also dry erase board paint. Should you not want to leap to the commitment of painting, hang a few chalkboards, white boards, cork boards… you get the idea!
Decoratist
Even More Storage
Again, because elementary school children will have more papers, charts, workbooks, and supplies, having a dedicated space to house them is a must. Up the amount of storage in your homeschool room with small children by finding desks that have built-in cubbies or shelves.
You could also color-code your storage to the subjects your children will be learning so they can begin to learn independence. For example, having all math items stored in blue folders or bins, all language arts in red folders, and so on. It'll make cleanup easier and you can find materials faster in your homeschool area!
Homeschool Mastery Academy
Small Homeschool Room Ideas
Whether you have a large space or just a corner of your dining room to create a homeschool area, a dedicated space is a must-have! Here are a few homeschool room ideas for small spaces.
Kids Konnect
Store Everything In the Open – Neatly
I'm breaking from my "everything goes in a drawer" rule, because I have seen some homeschool room ideas where the use of hangers and baskets have kept things off the desk surface, within reach, and neatly organized.
Secure a cafe curtain rod above the desk, then use S-hooks to hang baskets to corral pens, markers, wires, and so on. Or find coordinating cups that sit neatly on a corner of the desk. Another option would be to employ your rolling cart and corral items in matching cups, file sorters, and folders.
fotor.com
Vertical Space is the Teacher's Pet
If your homeschool room doesn't have much horizontal space, reach for the stars and think vertically! Hang a cork board in front of the desk area and use it to give you vertical storage space with cubbies, baskets, and so on.
You can also go vertical with peg boards or a desk with a built-in hutch that contains a space for books and a spot to post notes and reminders!
You may also enjoy: 5 Top Tips for Home Office Design
Spacious Homeschool Room Ideas
More space can be a luxury, but it also poses a challenge to keep things organized, especially if your children are prone to not cleaning up as they go. Here are a few homeschool room ideas for more spacious work areas.
Homeschool 101
Take a Break
If your homeschool room has space, bring in a cozy chair to give your kids a spot to land between lessons or to do some quiet work that doesn't require a desk.
A modern take on a bean bag chair is a fun addition or you can dress up your homeschooling space with a more traditional tufted chair. Either way, check the fabric and make sure it's durable and stain resistant!
You may also enjoy: 5 Bold Office Designs that Will Make You Swoon
St. Louis Magazine
Different Work Zones for Different Subjects
When your homeschool room has plenty of area, crate different learning spaces based on the subject. Math, science, and technology subjects will need plenty of spots to spread out, diagram models, and build projects. Language-based subjects could benefit from having a quiet, distraction free area to write and think. Then, depending on your student's preferences, there could be another space all together to study for tests.
Utilize different tables or desks, colors, and lighting to create different "zones" in your homeschool room for different subjects and areas of focus!
You may also enjoy: A Look Inside the Office of Leslie Hendrix Wood Interiors
There are so many fun ideas for homeschool rooms, I'm a little sad I didn't get the opportunity to design a space for my children. No matter how you design your homeschool room, I hope you have a great school year and your distance learning adventures are easy for you and your kids. I'm raising my La Croix to you – you've got this!