A boss just needs her own space.
It's what allows her to think clearly, execute her brilliant plans and ideas, and feel like she's in her personally-styled element.
From vintage finishes to golden accents, read on to see the chic and feminine home offices we're obsessing over!
5 Chic and Feminine Home Offices We're Smitten With
Bright & Eclectic
While it's important to design an office around focus and no distractions, making sure there's eclectic life to the space is just as important for some.
Keeping walls and flooring neutral allows you to bring in multiple statement pieces, creating a chic and modern flow.
Execute this successfully with vibrant colored lamp shades, a mix of subtle and colorful art, neutral frames, and simple but colorful decor such as books, flowers, and chic storage for pens and other accessories.
The White Office
It's hard to think of feminine home offices without thinking of the white office.
To get the look, bring all of your neutral colors together and liven up the office with one statement piece like plush seating or a vintage art piece.
If you're loving this, you may also like: 5 Bold Office Designs that Will Make you Swoon

Elegant Hideaway
If you work from home, it can be hard to feel like you're getting actual work done due to constant distractions. But by designating a certain room as your chic workspace, you'll be more likely to use, it love it and focus.
We love the statement light fixture in this feminine home office. Crown molding, elegant cabinetry for storage, and sophisticated seating & decor give this space a professional yet pretty feel.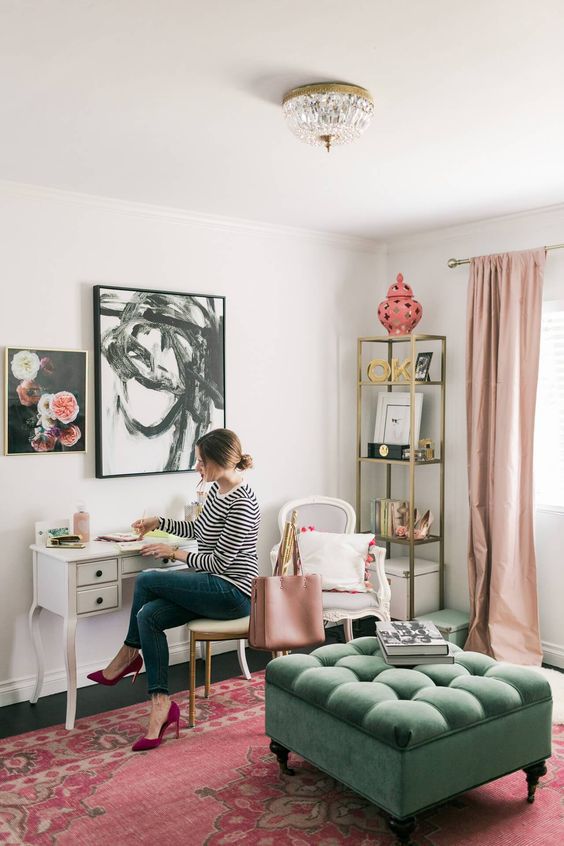 Modern Vintage
A home office for the modern woman means bold neutrals, subtly integrated fixtures, and strategically placed, colorful decor. Pairing elements like gold and brass with colors like blush pink and Kelly green create a chic, feminine, and focus-driven space.
To bring the whole look together, include personalized art and neutral statement pieces such as a vintage chandelier or a colorful Persian rug.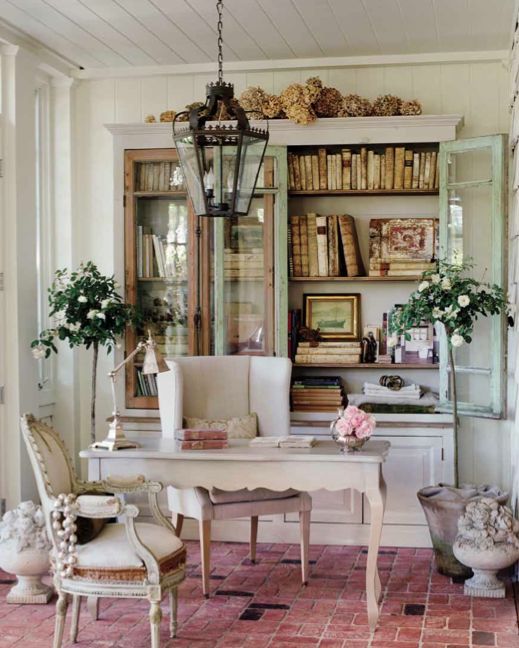 Parisian Oasis
If you want to add automatic femininity to a home office, we recommend Parisian-inspired furniture and decor. Not only does this beautifully tie multiple styles together (hello, vintage + modern combos), it allows you to bring in elements of nature and history, two things that are known for boosting productivity in a calming, creative way.
One reminder we always bring up? Don't be afraid to incorporate a feminine color into your vintage-Parisian space. It doesn't all have to be soft creams and subtle neutrals. Throwing in hints of blush pink, soft greens, and muted blues through florals and shelving will help tie the room together in a very stylish way.
A Feminine Home Office that Represents You
Ultimately, creating a chic and feminine office space means curating it to stick to your personal style, work, and design passions.
When thinking about your space, consider interior design trends you've always loved.
What designs do you Pin the most (crown molding, all-gold fixtures, patterned wallpaper, integrated storage space)?
What would work for your particular office space?
Once you realize what will create a perfectly chic and feminine space for you, all that's left to do is execute and get to work!
What chic and feminine home offices trends you love? Share with us in the comments below!
Images
Houzz, Style at Home, Between Naps on the Porch, M Loves M, Hooked on Houses