It's quite powerful, what the right balance of color and light plus textiles and talent can do to transform a space! Which is exactly what was done for the Junior League of High Point Designer Showhouse! A selected team of 24 designers took to heart the theme "From High Point to The World!" to masterfully restore this historic gem to its former glory — and beyond. One might think too many cooks in the kitchen would spoil the broth, but this team was so connected, each room flowed flawlessly from one space to the next.
Logo design by Madcap Cottage – Traditional With A Twist
I initially experienced the showhouse first hand when I toured the home Friday morning during the Press Preview I was invited to by Marketing Communications Director, Lisa McMahon. Later that evening, after the first day at High Point Market, I experienced the designer showhouse in a different light, thanks to an invite to the Gala opening for my husband I from Leslie Hendrix Wood!

The showhouse is so enormous – with its main house, outdoor living spaces, and carriage house (24 spaces in all!), it felt as if I was touring three homes in one. I was so inspired by many of the designs, but keeping this post within the design aesthetic of you, dear Hadley Court readers,  I'd like to share a few of the 'extra pretty' ones today – also featuring the same design style Leslie honed in on while being a Style Spotter this Spring at market: The New Feminine. Have yourself a cup of tea, while you sit back and enjoy these five fabulous & feminine detailed jewel boxes…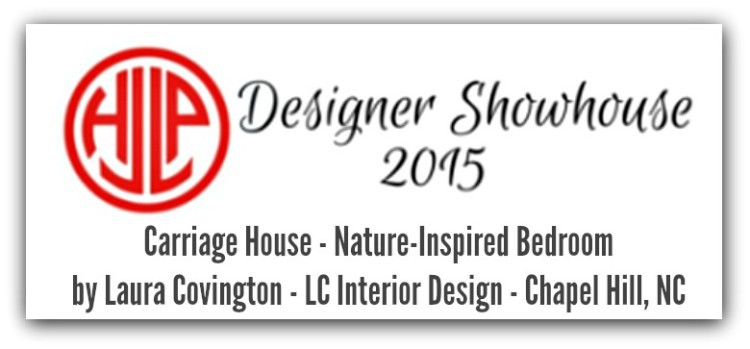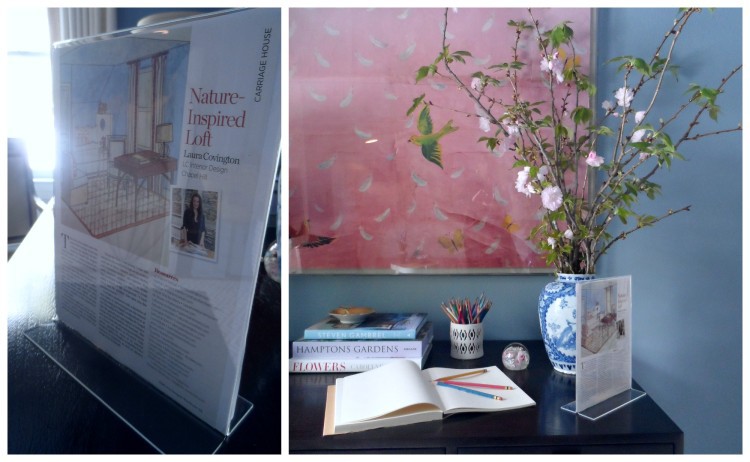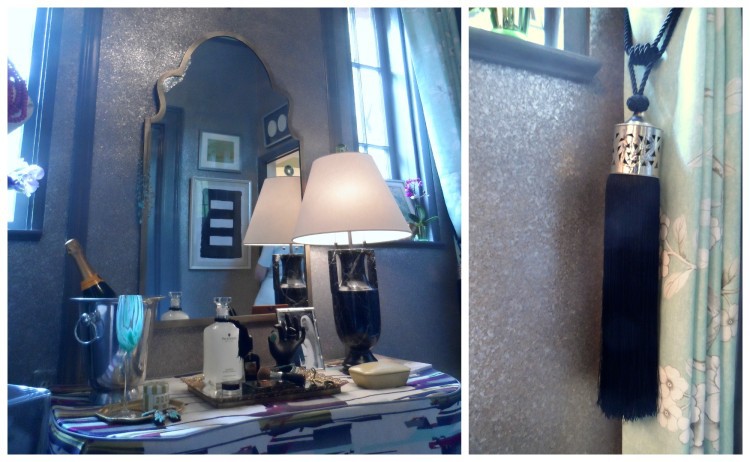 Where these spaces not charming, delightful and magnificent?
As I toured the house again Friday evening, seeing the rooms filled with happy smiling faces, and casting a different light, I also recognized that I had not gone through one space – The Library! Since the door leading from the Library Terrace was open Friday evening, I walked in to see not only the feminine sensibility designer Michelle Workman created in an otherwise masculine space, but also I was able to meet Michelle as she radiated beauty in the room, as well. Surprise! An extra space for you to delight in, thanks to photos I was able to locate online (from Michelle Workman and instagram)…
The last Junior League of High Point Showhouse was held back in 1980, 35 years ago, which makes this one, the R.B.Terry Estate pretty special. You may enjoy reading my previous post about the showhouse and its history at: The Beautiful Renderings From The Junior League  Of High Point Designer Showhouse
This weekend will be the last weekend the house will be open — From Friday, May 1 thru Sunday, May 3. Open house admission tickets will be sold for $25.00.  All proceeds from the 2015 Designer Showhouse will fund the reinstatement of the Junior League of High Point's Mini-Grant program, giving the continued support of health and wellness to the community. The JLHP's mission also continues to promote volunteerism, developing the potential of women, and improving the community.
Once again, thank you to the many gracious designers who donated their time to help restore Terry House, along with several design sponsors and vendors —
 Ann Sacks – Carpet One by Henry – Century Furniture – Circa Lighting – CRLaine – Currey & Company – French Heritage – Kallista – Kohler – Lee – Marsh Kitchens – Modern History – Marsh Furniture Company – NDI – Pratt & Lambert Paints – Stanton – Somerset Bay – Summer Classics – Thermador – Wesley Hall – Wilsonart
All photos by Lynda Quintero-Davids unless otherwise noted.
As always, thank you for reading Hadley Court. We appreciate YOU.
~~~
Lynda Quintero-Davids
for
Leslie Hendrix Wood
Interior Designer
Leslie Hendrix Wood Interiors
Midland, Texas
Founder, Editor In Chief
Hadley Court
~~~
Gracious Living. Timeless Design. Family Traditions.
We invite you to please follow Hadley Court on