Whether attending or following from afar, much excitement and anticipation is mounting for the fashion week of the furniture industry to commence: High Point Market Week! Along with designers and buyers attending scheduled showroom appointments, meeting up with online friends, making new connections and getting a MAJOR eyeful of visual stimulation from all the showroom vignettes plus new product introductions, many will also flock to see and experience the design collaboration of
Junior League of High Point (JLHP)
+
+
bringing together the 2015 Junior League Designer Showhouse.
The 2015 Junior League of High Point Designer Showhouse, also known as the Terry House, is a 5,400 square-foot-home built in 1912 by then prominent local businessman, Randall B. Terry. It is one of the earliest homes built in the historic Roland Park area, which is now a part of Emerywood. The Terry House serves as one of the finest examples of the English Tudor Revival-style homes that became popular in the North Carolina region.
Before Photo and After Rendering of the Library by Michelle Workman – Michelle Workman Interiors – #jlhpshowhouse
Many of the stunning original details remain in the house including: stained-glass windows, arched doorways, inlaid flooring (also known as marquetry or parquetry, [ which HC contributor Leslie Carothers wrote about in depth, here ), and hand-crafted paneling on many of the walls plus ceilings throughout.
The spacious and impressive structure includes five bedrooms, three bathrooms, carriage house, pool, and the gardens and is located at 200 W. Farriss Avenue in High Point. The property currently belongs to the R.B Terry Foundation, which is one of the five largest foundations in the Triad area of North Carolina.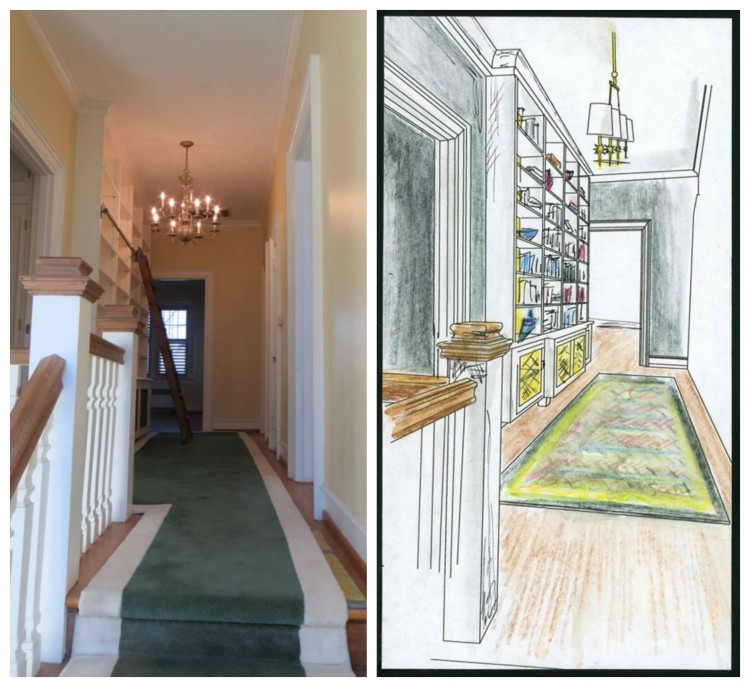 Before Photo and  & After Rendering of the Hallway & Staircase by Jennifer Hutton & Mickey Sharpe of Jennifer Hutton for the Home & Mickey Sharpe Design – #jlhpshowhouse
Transforming the Terry House into a design showhouse features a collaboration of both North Carolina designers and national designers, who are all celebrating the theme "From High Point to the World."
Each designer will draw inspiration from the history of the Terry property and the furniture-rich history of High Point. Be sure to visit the #JLHPShowhouse website to read about each of the wonderful designers here. The home's transformation will create a modern, livable space within an historic home.
Opening night will be this Friday, April 17, 2015 with a Gala Opening Preview Party, which the Hadley Court team will be attending. Along with touring the transformation of this historic High Point home, we will also be taking photographs of the details to share with you!
To get a glimpse of just what an undertaking this has been for the volunteer design team, Traditional Home featured rendered drawings of what each designer's vision would be for their assigned spaces, some more of which you see below. Next week, we'll show you the finished spaces.
Artists Retreat by Leslie Moore – L. Moore Designs – #jlhpshowhouse
Lisa Mende Design – breakfast nook – #jlhpshowhouse
Read more about Lisa Mende's amazing Kitchen Transformation at Lisa Mende Design.
Powder Room by Margaret Fisher – Margaret Fisher Interiors – #jlhpshowhouse
Daughter's Bedroom by Cathy Austin – Catherine M. Austin Interior Design – #jlhpshowhouse
These were just a few of the many beautiful renderings created to capture the designers vision of transforming these spaces from dark and dated to fresh and modern,within an historic home. The Junior League Designer Showhouse, located at 200 W. Farriss Ave is easy to get to for High Point Market attendees, located just around the block from the Bienenstock Furniture Library…
The Designer Showhouse will remain open to the public
Saturday, April 18 through Sunday, April 26 from 11am to 9pm
and will reopen
Friday, May 1 to Sunday, May 3 from 11am to 6pm
A special event will also be held at the #JLHP Design Showhouse on the evening of April 21, from 6:30 to 9 for North Carolina Wine Tasting.
Open house admission tickets will be sold for $25.00 – See ticket info here.
Special thanks to all the talented volunteer designers and the wonderful sponsors!
 The Showhouse proceeds will help to benefit the Junior League of High Point — whose mission is promoting volunteerism, developing the potential of women, and improving the community through the effective action and leadership of trained volunteers.
I'm looking forward even more to attending High point Market this Spring – and also cannot wait to tour this lovely home, and hear the designers input during the Media Preview Day at the house, 10:30 am Friday morning with national television makeover personality, House Beautiful magazine contributor, author and New York City-based interior designer – Libby Langdon, who also designed one of the rooms in this historic home.
As always, thank you for reading Hadley Court. We appreciate YOU.
~~~
Lynda Quintero-Davids
for
Leslie Hendrix Wood
Interior Designer
Leslie Hendrix Wood Interiors
Midland, Texas
Founder, Editor In Chief
Hadley Court
~~~
Gracious Living. Timeless Design. Family Traditions.
We invite you to please follow Hadley Court on
Facebook
Pinterest
Twitter
Instagram