Downton Abbey.
Therefore, today's post is for the millions of Downton Abbey fans around the world. In addition, for design and architecture enthusiasts.

Above all, come take a Downton Abbey tour with Holly Holden.
Holly Holden and the Downton Abbey Tour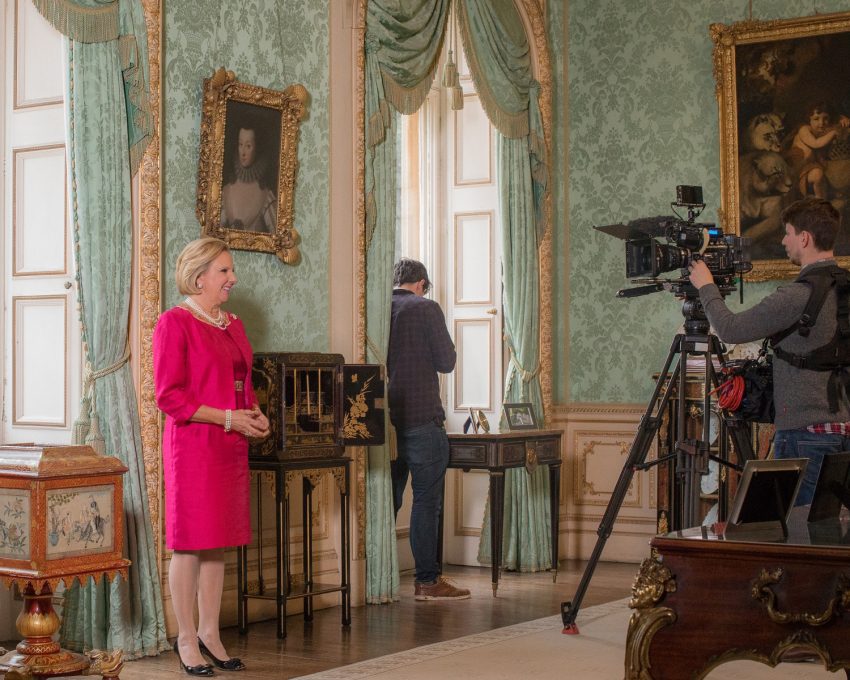 The Jacobean country house in England is the setting for the acclaimed Downton Abbey public television series. In other words, it is one of the most famous masterpiece homes in the world.
Holly Holden.
Interior Designer.
Author of The Pretty and Proper Living Room.
Above all, Holly has achieved so much more than just admiring Highclere Castle for its breathtaking decor.
For instance, she was nominated for an Emmy Award and taped You Are Cordially Invited.
In addition, Holly was featured in a popular Hadley Court blog last year, "Graceful, Genteel and Timeless: The Pretty and Proper Living Room".
After that, she was nominated as a producer in the Informational Category.
Holly Holden and Lady Fiona Carnarvon in the Downton Abbey tour
Lady Fiona of Carnarvon, current Highclere resident is the Eighth Countess of Carnarvon.
In addition, she is the best-selling author of "At Home at Highclere: Entertaining at the Real Downton Abbey."
"I had the pleasure of horseback riding with Lady Carnarvon. We explored the stunning 5,000-acre parkland designed by the renowned landscape architect, Capability Brown," Holly recounts.
"We returned to have tea in the music room".
"After that, we toured several of the rooms that Downton Abbey fans would easily recognize."
In conclusion, "we toured the morning sitting room, never seen on television before."
Holly's PBS Series, You Are Cordially Invited is about privately-owned, masterpiece and lived-in houses in England with stellar interior design and artwork.
In addition, the captivating series takes an engaging approach.
For instance, "these are lively tours with the owners of the homes."
"Together we view decorative details, art, and learn some elegant entertaining traditions," Holly said.
Above, Holly and Lady Carnarvon in front of a portrait of Lady Catherine of Downton Abbey, during the Downton Abbey tour.
Blenheim Palace
Blenheim Palace. The second-largest privately owned palace in the world.
Similarly, the Palace was built by the queen and is a stunning baroque residence.
Holly chose the Palace for the second episode of You Are Cordially Invited.
Similarly, the palace was completed in 1722 for the first Duke of Marlborough.
Holly adds, "It is a World Heritage Site, and its grandeur is magnificent!"
Above Holly stands in front of Blenheim Palace.
However, in the series, Holly tours the home with Lady Henrietta Spencer-Churchill.
Lady Henrietta is a world-renowned interior designer specializing in classic design.
In addition, below are the imposing and exquisite gates of the Palace.
"There were mementos everywhere."
"The mementos tell the grand story of all of the family inhabitants through the years."
"The rooms are inviting, yet formal."
Above all, a house is a home.
"When it tells a story through layers of collections and personal details!"
In conclusion, Holly has big plans to come.
For instance, a new episode of You Are Cordially Invited. The episode will have gorgeous scenes similar to Downton Abbey.
After that, Holly has a goal to take home the Emmy next year.
Similarly, Holly's daughter in law is NYC interior designer Karen Holden.
In addition, Holly and Karen are beginning a new adventure on YouTube, the Holly Holden Design Channel.
On the channel, she just posted a behind the scenes look at the Emmy Ceremony. In addition, behind-the-scenes footage from High Clere Castle.
Fox Hall
Fox Hall is filmed at her historic, Federal-style home, Fox Hall, in Farmington, Connecticut.
In addition, new episodes air every Thursday.
In other words, Holly and Karen share their experience and timeless advice on classic interior design, elegant entertaining and gracious living.
Photos courtesy of Holly Holden, with photo credits to: Dean Greenblatt and Deb Key.
Kim Darden Shaver
for
Leslie Hendrix Wood
Founder,
Editor In Chief
Hadley Court
Interior Designer
Leslie Hendrix Wood Interiors
Midland, Texas
Gracious Living. Timeless Design. Family Traditions.