I'm from Texas where football is like a religion! For those of us here who love the atmosphere but don't attend the matches, we throw tailgate parties or simply tailgate. We tailgate before our High School games,
I remember my first tailgate.
I went to my first college football tailgate party at the University of Texas when my Daughter was a freshman there.
I was amazed by the size of it!
Thousands of people in a sea of burnt orange. The atmosphere was full of energy with delicious smells of food in the air.
I loved walking around to see all the creative tailgate decorations and unique tailgate recipes. I was happy never to enter the gates of the stadium for the football game. The easiest way to throw a tailgate party is to follow 6 simple steps
6 STEPS TO THE ULTIMATE TAILGATE PARTY
Secure a spot with the College Athletic Department
Learn where and how you can access power for all your equipment, tv's, stereos
Choose your menu
Select decorations
Get all equipment cleaned and prepped
Don't forget rain and cold weather gear. We always included a space heater to help us stay warm.
So, what makes the ultimate tailgate party? Simple: FOOD!!
With my years of tailgate experience I've learnt the best crowd pleasing tailgate recipes.
DELICIOUS TAILGATE RECIPES
The funny thing about tailgating is that the majority of the chefs are men, and they are generally grilling some kind of meat. My husband jumped at the opportunity to spend the day with friends and family grilling up some great food. A juicy hamburger is hard to beat! Here are a couple of crowd pleasing recipes we like:
Sesame-Ginger Tri Tip Steak – quick & easy to cook for a tailgate
2-3 pound steak
4 green onions slice thin
1 cup soy sauce
1 tsp vinegar
1 fresh ginger chopped
4 cloves garlic minced
1 tsp toasted sesame seeds
Combine ingredients (except sesame seeds). Place in plastic bag with the steak & marinate for 8 hours or overnight.
When ready to cook, let the steak come to room temperature, then grill it. About 20-25 minutes for rare. Let the steak rest for 5 minutes after you pull it off the grill. Cut across grain & top with sesame seeds. There are 2 grain angles in tri tip steak. Make sure you cut across the grain on both angels.
Tom's Brown Sugar/Maple Smoked Pork Belly – takes time, but it's worth the effort
1 pork belly – you can buy one at most supermarkets or butcher shops. The pork belly should be in its raw form – uncooked, uncured, and unsliced.
1 bag dark brown sugar
1 bottle of pure maple syrup
1 cup of apple, orange or pineapple juice (orange and pineapple juice with give it a very sweet taste)
To prepare the pork belly – score the pork belly on both sides. You will need a sharp knife to score the skin/fat side. Make sure when you score this side you get into the meat as you want the marinade to absorb into the meat.
Sprinkle the meat with your favorite spices – apply red pepper flakes and Toni's Cajun Seasoning. Cover both sides with the brown sugar and place in a covered container. Generously pour on the maple syrup. Marinade for 12-24 hours, turning a couple of times.
When ready to cook allow the pork belly to come to room temperature and smoke for 4-6 hours. The lower the smoke temperature the better. Any wood can be used – apple or cherry is best, hickory and mesquite also provide a great flavor. Once the pork is fully smoked, make a foil container, put the pork belly in the foil and pour the fruit juice over it.
Completely seal the pork belly in the foil container and cook for 1 hour at 225 degrees.
When ready to serve place the pork belly fat side down over hot coals. You can char the side without hurting the meat. Slice & serve.
Some tailgaters go the potluck route while others choose catering, or even simpler, picking up fried chicken with all the fixings. There are so many delicious tailgate recipes. It's hard to decide which one to take. Try one of these tasty recipes to bring along to your next tailgate party.
Southern Living Team Color Icing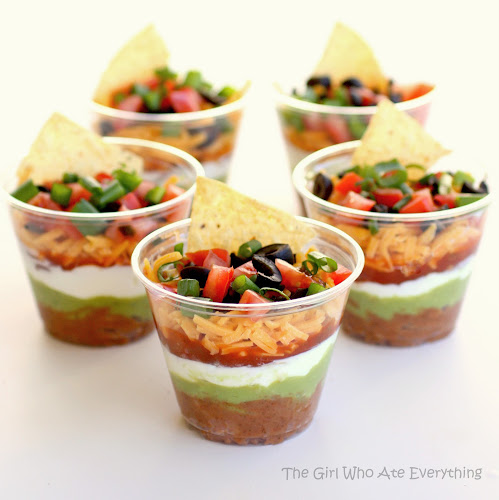 Individualized 7 Layer Dip & Chip Cups
REFRESHING TAILGATE DRINKS
Beer is probably the most popular beverage at tailgates, but it's fun to try some twists on old favorites.
The Miss Tailgate is a new version of a Bloody Mary. Tailgate Tea is hard sweet tea that people enjoy. Serving the drinks in cups with the college logo or the school colors is an easy way to tie into your theme. For wine enthusiasts, use a cupcake pan to pass out reds and whites. Remember to have plenty of ice and water on hand!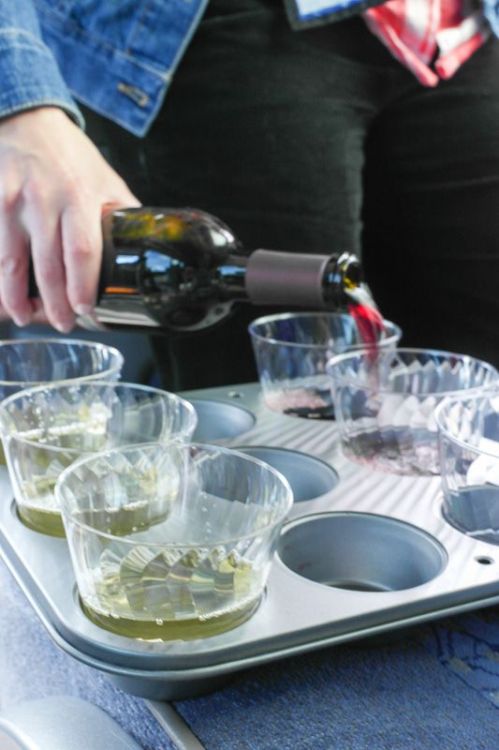 BEST TAILGATE DECORATIONS
Anything goes when it comes to tailgate decorating. You can go from simple to extravagant. Start with the school colors and the sky is the limit! A lot of colleges have tailgate themes. For instance, my good friend graduated from The University of Mississippi. They gather in The Grove on game day where students will dress to impress for the game. In their tents you'll find tables adorned with fresh flowers, chandeliers, and even fine china.
This University of Florida tailgate table is full of creative do-it-yourself decorating ideas. The pendant across the table creates a fun visual. Checkout how they made a tablecloth using burlap and astroturf.
The chalkboard invites you in to this colorful array of food and drink.
Do you have any tailgating tips or recipes to share? We'd love to read them! And for additional tailgate recipes, tips and ideas, be sure to visit the Hadley Court board on Pinterest – Celebrate: Tailgate
Photo credits: Southerb Kivingm Pinterest, the girl who are everything, Mom endeavors, freebie finding mom, Buzzfeed, hapari.com, the house was lovely.com, Erinblueburke.com
Leslie Hendrix Wood
Founder
Editor in Chief
Hadley Court
Interior Designer
Leslie Hendrix Wood Interiors
Gracious Living, Timeless Design, Family Traditions