Whether you're a die-hard fan of pro or loyal to your alma mater, fall season means football season – and with that comes the time honored tradition of tailgating.  I must confess: I've never gone tailgating, so I'm learning all about it as I'm writing my post for you, Hadley Court readers, today.
What I have learned is (according to USA Today) 'Pre-game tailgating isn't just a party. It's a complex community-building exercise that hearkens back to ancient harvest festivals. The idea of getting out of your house, feasting and drinking somewhere else, is a pretty old tradition. Tailgating people eat, drink and build up community in the process.
It's one last blowout before we all hunker down for winter." And for that community building feast, I've rounded up a 10 Tailgate Treats to Try – from finger foods you can't fumble, to grilled delights and game day desserts (see how to get your teams' colors like above team cake at SouthernLiving.com – Team Color Icing Formulas) – with of course a beverage or two to wash it all down with before you head into the stadium to cheer on your favorite team! Just click link below image to go to recipe!
Go Team!  Time to Tailgate!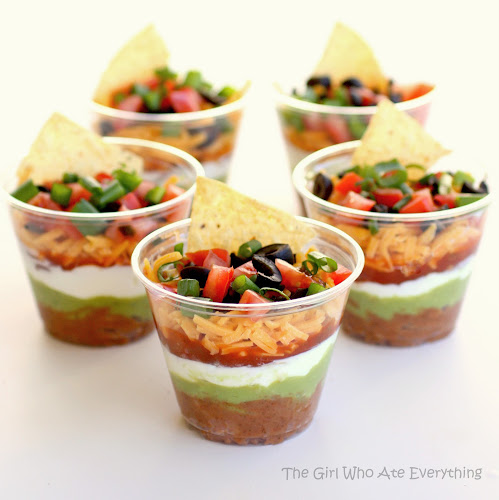 1. Individualized 7 Layer Dip & Chip Cups
3. Pizza Bites!
4. Easiest Ever Corn-Dogs at the Pioneer Woman
5. Beer Soaked and Smoked Ribs
7. Bacon & Bourbon BBQ Chicken Kebabs
9. Classic Bloody Mary – plus four other recipes for Tailgate Drinks
10.  Gridiron Punch
Seriously – A MUST read for anyone heading out to tailgate – These 41 Tailgate Tips at Buzzfeed truly are borderline GENIUS! be sure also to check out HGTV.com's "How To Tailgate in Style!"
No matter your team's color, you can 'Go Green' with this tailgating idea: Recycle coffee cans to hold needed utensils.
Problem solved: How To Pack a Cooler – also featured at Buzzfeed.com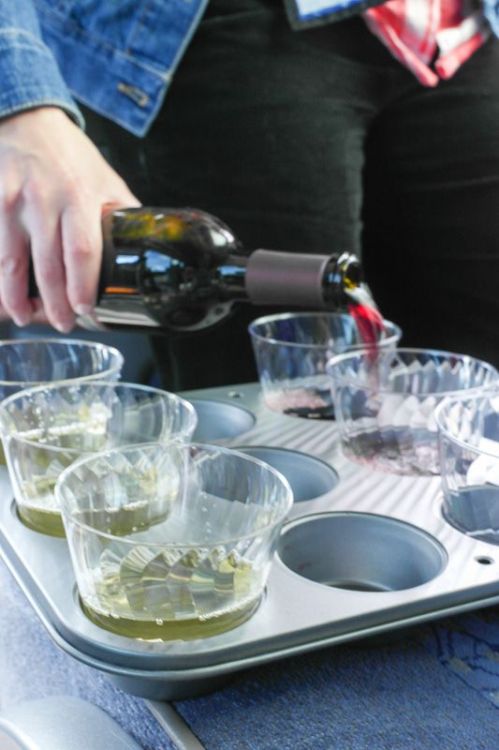 Enjoy a sophisticated tailgate with wine – using a cupcake pan to pass out reds and whites!
No need for bowls: Pack dry-good snacks (and even fruits!) in brown bags – Turn down tops to create serving bowls corralled in basket trays.
Or get crafty with your tailgate team spirit including pendents, a banquet table covered in burlap & AstroTurf, and even a decorative chalkboard! (Sorry Texas – I married a Gator – so this one's for him!)
Do you have any tailgating tips or recipes to share? We'd love to read them! And for additional tailgate recipes, tips and ideas, be sure to visit the Hadley Court board on Pinterest – Celebrate: Tailgate!
Lynda Quintero-Davids
for
Leslie Hendrix Wood
Founder
Editor In Chief
Hadley Court
Decorator
Chancellor Interiors
Midland, Texas
~~~
Gracious Living. Timeless Design. Family Traditions.
We invite you to please subscribe to Hadley Court here and to follow Hadley Court on
Pinterest, Facebook, Twitter and G+, here, here, here and here.
Please be watching for our final #TimelessDesign giveaway launching on the blog the last week of this month, September 2014, in partnership with a major High Point Market exhibitor.
Thank you for reading and subscribing to Hadley Court. We appreciate you!