Over the long July 4th weekend, I stumbled upon the Interior Design for iPAD app. I think I have finally found something I can use for clients that won't require a PhD in AUTOCAD to understand. In addition, this app saves me so much time that its shortcomings are ones I can overlook.
I have tried many of the design programs. After that, I usually end up feeling frustrated. When I started to use the Interior Design for IPAD app, I found it to be very intuitive and user-friendly.
Leslie Carothers wrote a wonderful post on the blog here, about top 2D and 3D interior design apps. For instance, some of the apps she included are wonderful apps that allow you to create detailed schematics but require a little sharpening of your skills and TIME.
Interior Design for iPad
The Interior Design for iPAD is great if you want to create a rough rendering on the fly. The app is easy, peasy and it was voted by TIME magazine as one of their top 50 *must have* IPad apps. It does cost 9.99 to download, but it is worth every penny.
I am currently working on a very large family room that gets a lot of wear and tear. Similarly, this is a room where large groups gather very often. When I say large groups, I mean hoardes of teenagers. Therefore, this space needs to be durable, functional, and fun.
You can see my design inspiration in the photo below. My client loves deep turquoise blue, so I started the design process with the fabric on the bottom and began layering from there.
As a Decorator, I always take for granted that my clients can visualize. And I am continually reminded that many people are not capable of visualizing. This is where an app like Interior Design for IPAD can be beneficial for all parties involved. I like how easy it is to make your floor plan, see the plan in 3D and do a walkthrough in the room. See the easy 1,2,3, below!
STEP 1. Layout your Floor Plan Dimensions
Layout your floor plan dimensions. These can easily be changed with a swipe of a finger. In addition, drag and drop furnishings and accessories onto the floor plan.
STEP 2 Create the 3D Model
Once you have your 2D floor plan arranged you simply hit the 3D button in the menu and voila! Your room appears on the screen in 3D. Above all, no laborious building of walls and windows. In addition, you can rotate the model 360 degrees and see the room from all angles.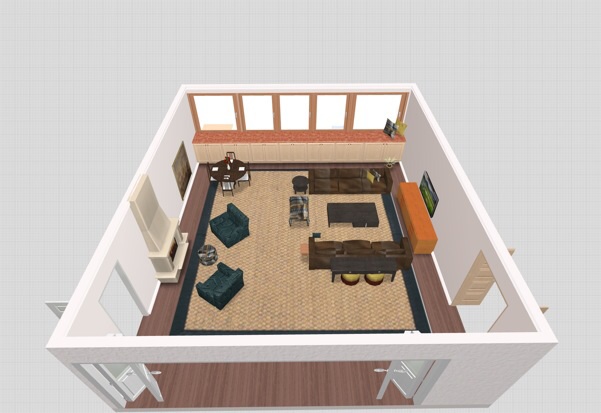 STEP 3. Create the 360 Degree Virtual Walkthrough
Hit the icon and you can do a 360-degree virtual walkthrough of your room with your client watching. In other words, Simply Amazing!
In addition, you can import photos of your own fabrics (not to scale) and apply them directly to the furniture. This is HUGE to me. For instance, I was able to add the dark turquoise to the lounge chairs, the brown leather to the sofas, and the stripe to the bench and pillows, and the green Ultrasuede to the stools behind the sofa. Above all, I can't wait to show this to my client for her reaction.
In conclusion, the Interior Design for iPAD app is not absolute design perfection. However, I think it is enough of a rough sketch to help those who aren't good at visualization. Have you tried this app yet? Do you love it like I do? Above all, please let me know in the comments and if you haven't downloaded it yet, and would like to, here's the link:
https://itunes.apple.com/us/app/interior-design-for-ipad/id541375152?mt=8
E N J O Y Y O U R W E E K E N D
Thank you for your support of my interior design blog.
I appreciate you.
Leslie Hendrix Wood
Founder
Hadley Court
Decorator
Chancellor Interiors
Midland, Texas
Gracious Living. Timeless Design. Family Traditions.
I invite you to please follow me on Twitter at: @Hadley_Court on Pinterest at: http://pinterest.com/HadleyCourt/ and on Facebook at: http://facebook.com/HadleyCourt
[ Be looking for my 2nd #TimelessDesign Giveaway to start close to the end of this month ]