Luxury bathrooms!
Who doesn't love the idea of reclining in a luxurious tub, filled with bubbles, with champagne or wine in hand, and candles lit?
Readers, we have a feeling you love luxury bathrooms as much as we do, and today, we'd like to introduce you to England's Chaddock & Co.
Started by Martin Chaddock and now ably assisted by his son, Sam, who designs products for Chaddock & Co. , their company offers the finest bespoke luxury bath fittings for discerning homeowners and estate managers worldwide.

What inspired Martin to start Chadder & Co. 30 years ago?
In his own words,
"When I first started collecting and restoring antique roll top Baths over thirty years ago I noticed that all of the baths and fittings were stamped with Made in England, and often had the company name and county where they were made.
'When the source of these original antique baths started to run out, I was inspired to manufacture my own antique style roll top baths and fittings, and I was determined to have them Made in England."

Chadder & Co. is well known now for their ability to offer any bespoke luxury finish their customers desire, including mother of pearl, silver mosaic, blue mosaic, etc. and recently, they completed a tub in black carbon fibre for a customer who preferred a more contemporary, masculine finish.

In addition to their exquisite line of soaking tubs, they offer luxury bathroom sinks, vanities, fixtures, toilets, and accessories. If you're an interior designer reader of ours, and need a resource to custom design any luxury bathroom fitting in the world your client desires, in any finish, Chaddock & Co. is a go-to resource – and they ship worldwide.
How beautiful is this Chadder & Co. double sink and pedestal?

Side view.


And the detailing on the base of this traditional English porcelain single sink [we love their words for it: cloakroom basin ] won our hearts, as well.
Are you noticing the luxury bathroom accessories, too: the toilet paper and soap holders?
You can find them on MODENUS, here, our favorite resource for the best luxury products in the world.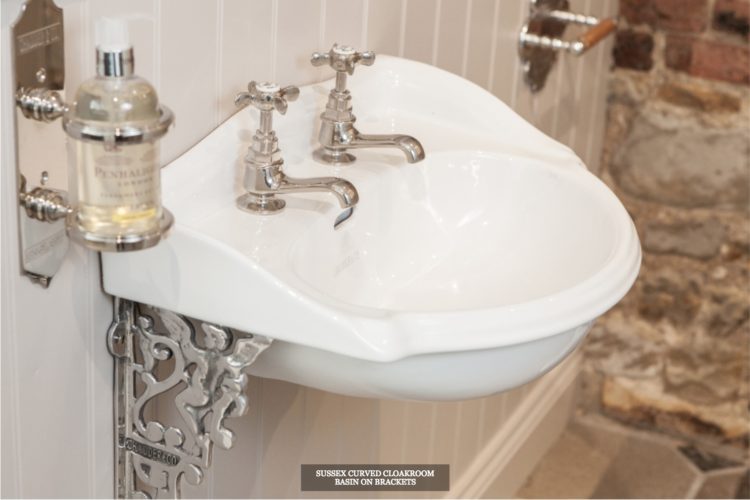 No matter what finish you might desire, Chadder & Co. , can execute on it.

And no matter what you prefer, warm, hot or cold, Chadder & Co. has a luxury bathroom fitting to suit your taste.

Where we're headquartered here in Texas, we know many of you, dear readers, might also like it in gold, hand-plated antique gold.


To visit the world of Chadder & Co. follow them on Instagram, here, and be ready to have your breath taken away!
Thank you, Chaddock & Co, for inspiring us and our readers with your vision for delivering the finest quality craftsmanship in luxury bathrooms and their fittings and we look forward to seeing what you present at Decorex in England this September.
~~~
Leslie Carothers
for
Leslie Hendrix Wood
Leslie Hendrix Wood Interiors
Interior Designer
Midland, Texas

Owner, the Hadley Court blog
~~~
~ We invite you to please click the links below to follow Hadley Court on our other social channels ~
Facebook
Pinterest
Twitter
Instagram