Thanksgiving Mantel Décor Ideas
Fall is in the air for sure, along with a few snow flurries already, too. Now is the time of year when attention will be drawn to the dramatic heat source in living rooms, great rooms, and family rooms – the fireplace. Below you'll find 15 Thanksgiving mantel décor ideas to inspire you whether you're welcoming guests this holiday or you'll be enjoying the beautiful, warm look yourself.
The fireplace will not only create warmth from its fire, but from the seasonal statement you create as its focal point. Fireplace mantel décor for fall is a wonderful way to welcome family and guests into your home, especially for Thanksgiving.
If you're looking to spruce up inside your home for the upcoming holiday season, Thanksgiving fireplace mantel ideas are an excellent place to start.
Tips to Consider for Your Fall Mantel Décor:
Space: size, scale and style of your fireplace and room plus ceiling height.
Color: Take your color cues for your surrounding area – Have the leaves browned and fallen already? Or are they still rich shades of orange and burgundy. Harvest gold is another color to consider, and can pair well with most interiors (vs. orange sometimes creating discord).
Composition: Symmetry helps bring balance to a room, however, if you already have much symmetry in your fireplace space, and asymmetrical composition (where height is to one side and trickles down to the other) can create a powerful mantel statement.
Below are a few fall mantel décor displays to help inspire you…
Go bold with gourds, leaves and berries…
Incorporate your existing wall art into your mantel scheme…
Utilize a favorite frame to create greater scale on a larger fireplace…
And if your taste and home décor style is to go a little easier on the traditional fall décor elements, you can create a quieter mantel that is still warm and inviting…
The colors in the living room itself are already creating autumn warmth – Magnolia leaves layered with leaning artwork elegantly bring the space to life.
The illusion of symmetry is created here with two similarly styled clay pots and paired too with layered art and a small pumpkin parade. Whenever I think of a home for autumn, this is my 'go-to' inspiration. I just love the warmth and coziness of this space.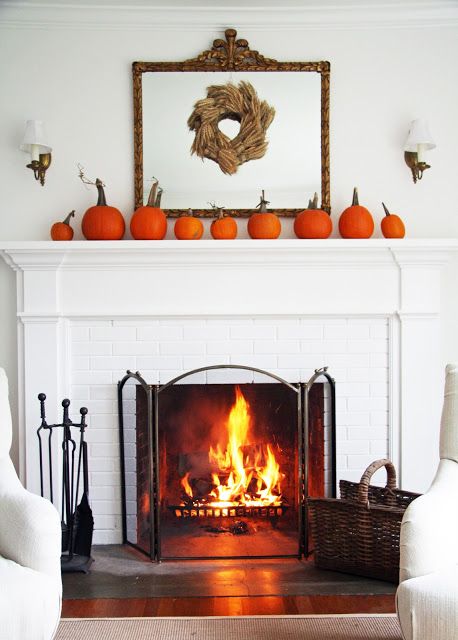 More Inspiration
The sparse but still happy mantel style is perfect for the person who knows, come Black Friday, this will transition into Christmas – A simple line up of baking pumpkins is easy to clear, and reuse these for holiday baking…
Fireplace mantel décor need not only be for interiors – now is a beautiful time of the year to also enjoy outdoor living fireside. If you have an outdoor patio fireplace, this area too can take a little autumn detail, such as simple gourds or even the stacked bundles of wood – which is not only decorative but functional too.
How to Decorate a Mantel
In a pinch, refer to this diagram, and keep these elements in mind when decorating your mantel for fall and Thanksgiving…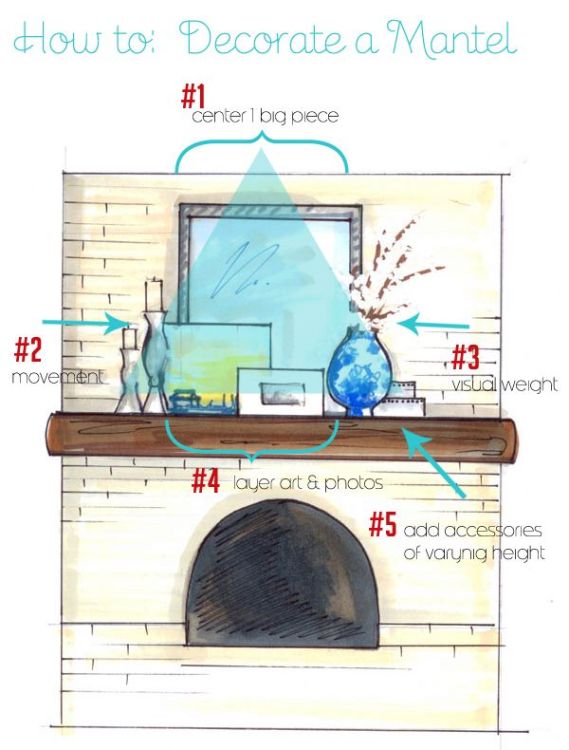 Gourds can take on an even more elegant look when painted in mixed finishes such as chalk or milk pain and metallics.
Create a small banner message – or even use branches with notes of thanks tied to it with ribbon.
Painted pumpkins can also get monogrammed with stencil or decals.
Warm & Welcoming for Guests
However you choose to decorate your mantel for fall and Thanksgiving, this is a sure way to let guests know you care and they are welcome in your home.
I hope you're as inspired as I am.
I'm moving to North Carolina in less than two weeks and I can't wait to decorate my first fireplace mantel, also just in time for Thanksgiving.
~~~
Lynda Quintero-Davids
for
Leslie Hendrix Wood
Decorator
Chancellor Interiors
Midland, Texas
Founder, Editor In Chief
Hadley Court
~~~
Gracious Living. Timeless Design. Family Traditions.
We invite you to please follow Hadley Court on
Facebook
Pinterest
Twitter
Instagram
Thank you for reading and subscribing to Hadley Court, we appreciate you.