For as long as I can remember, I have loved wreaths and have had them on my front and back doors and on the walls of my home during the fall holidays of Thanksgiving and Christmas and I can imagine that many of you have too, Hadley Court readers?
Wreaths have a long history associated with them [ and if you'd like to know more about that, please click here ] but today, I'm just going to share a few of my favorite Thanksgiving wreath ideas with you to inspire you as you begin thinking about the Thanksgiving holiday ahead and how to graciously welcome your family and friends into your home.
Thanksgiving wreaths come in all shapes and sizes, simple to elaborate. I tend to prefer the simpler wreaths, but there is a wreath for every taste and, if you're so inclined, they are also a wonderful DIY project to do with your children or grandchildren that can create lasting memories and become a treasured family tradition.
Ready?
In no particular order, I hope you're inspired by what you're about to see and please let us know which one you like best – in the comments!
A wonderful resource for wreaths is Frontgate and several of the pictures you'll see on the blog today are from them, including the images above and this one, below.
Do you remember seeing how much feathers were being used in furniture, art and lighting at High Point Market? This picture of a Niermann Weeks for Visual Comfort chandelier by friend Jeanne over at Cozy Stylish Chic from her wonderful trend recap post, here, is an example.
Wouldn't this be stunning in an entryway or in a glamorous bedroom?  Notice the circular, wreath-like shape. I love this. Do you?
Now, back to wreaths – I am easily sidetracked by how one thing influences the other!

This simple square wreath is made all the more dramatic due to the juxtaposition with the curves of the iron railing and the classical beauty and symmetry of the half circle window over the door.
Thanksgiving wreaths using monograms are also very popular right now and this one, below, was a DIY. Here's the tutorial on Pink Lou Lou's blog, who made this one,  in case you'd like to make one, too.

I love that wide, glossy satin ribbon, but I'd recommend buying ribbon with a french wire edge so you can bend and shape it to your satisfaction.

Keep in mind your local florist can also recreate a similar look for you, perhaps using real greenery. There is nothing like walking up to a front door and smelling fresh cut evergreens, like the ones used in the wreath below, made by Ann over at On Sutton Place, is there? Just thinking about this delicious smell – which is so embedded in my memory- gets me excited for Thanksgiving.
Ann is a master wreath maker, as you will see. Come back and peek at her wreath making tutorial, here.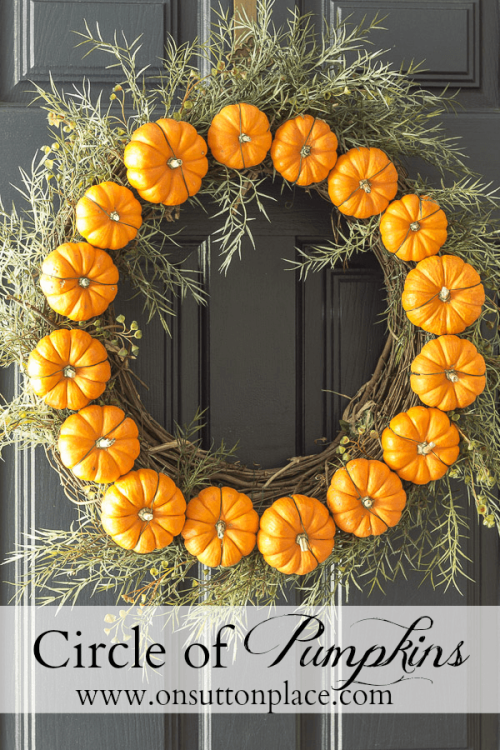 And, Hadley Court readers, if your door can't hold a wreath, I could not resist sharing this with you.
I love the juxtaposition of the warm soft brick with this magnificent door painted in brilliant orange and the way the homeowner used color, texture and variations in height to create an unforgettable Thanksgiving holiday harvest entrance to welcome her family and guests as they step over the threshold.
From all of us here at Hadley Court, we wish you a wonderful month ahead as you plan for your own family traditions this Thanksgiving season.
And know: we are thankful for you, always, for taking your time to read and subscribe to Hadley Court.
~~~
Leslie Carothers
for
Leslie Hendrix Wood
Founder, Editor in Chief
Hadley Court
Decorator
Chancellor Interiors
Midland, Texas
Gracious Living. Timeless Design. Family Traditions.
~~~
We invite you to please follow Hadley Court on our social channels by clicking on the links below.
Thank you!
Facebook
Pinterest
Twitter
Instagram