Here's the thing I can't stand about "trends" when scrolling Instagram or browsing Pinterest: everything looks the same! The rooms are always all white and there's usually a chevron print or monstera leaf somewhere. Quite frankly, it's uninspired, dull, and devoid of personality. Grandmillennial interior design is a refreshing departure from that homogeneity. The look takes the best parts of old and new styles and brings them together.
https://www.instagram.com/p/CAA0tPhJNzr/?igshid=1m29bf3tuhiku
It's exactly as the word says: grand-millennial. Think of the out-dated, possibly frumpy pieces of the past, but for the younger, millennial set. When combined, the look is a blend of traditional elements with a modern twist.
Floral prints and ruffles. Monograms and elaborate chandeliers. A room of wallpaper, chintz upholstery, and needlepoint pillows (but maybe in a modern, monochromatic color scheme). "Granny chic," traditional with a twist…
Southern Living
Grandmillennial Interior Design: The Basics
Whatever you decide screams grandmillennial to you, it's about taking these designs and updating them to be more convenient for today's modern home. Classic, not trend-based, is what this design is after. If it had a motto, it would be, "Always fresh, never stuffy."
By some accounts, the younger designers are simply taking what they've grown up with in their grandparents' homes (Sister Parish patterns, for example) and including them in their rooms. In doing so, they also update them to make things convenient (dry clean only fabrics? Not in a grandmillennial design).
If you love traditional pieces, maximalist style, and neo-victorian designs, you probably already know (and love) the grandmillennial look.
Be inspired with these three simple ways to bring grandmillennial style into your home whether you enjoy a total granny chic look or are simply trying to incorporate different styles of art into one room.
https://www.instagram.com/p/CEMqLflJlhO/?igshid=exs90a6h5aoa
1. Collections
No matter your age: think of being in your grandparents' house. I bet there were collections. Milk glass. Sea glass. A particular china pattern. Figurines. Crystal. You get the idea. I bet you have some of these pieces lurking in storage!
One way to turn up the dial on your design and add grandmillennial touches is by bringing back and displaying your collections.
Now, I'm not talking about your husband's GI Joe collection or your original Barbie dolls. Think "granny chic."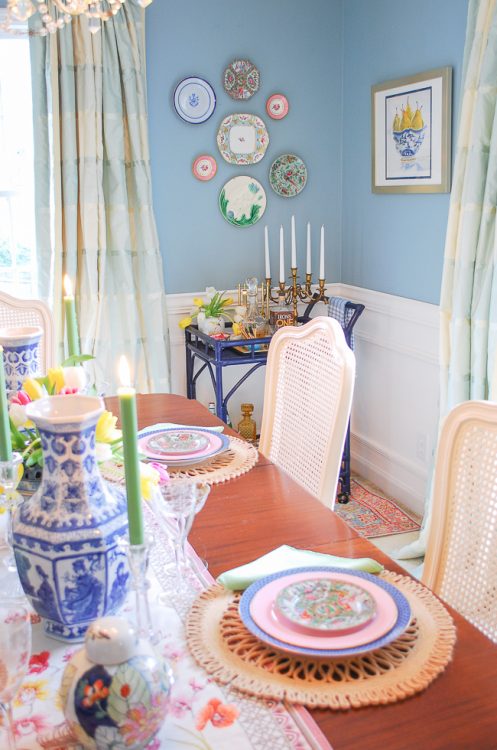 Pender & Peony
If you want to go all the way, begin looking for, say, elephant figurines (or whatever little knick-knack floats your boat). The idea here is to group similar, vintage items for a robust, maximalist display that's bursting with personality and charm.
Can't commit to that? Well then, grandmillennial may not be your style! You can ease into a full-on figurine collection and achieve a semi-grandmillennial design by adding a few more collectible, "just because they're fun" items to your streamlined, minimalist look. Think of groupings with unique textures and interesting patterns. You can even pull together items in your home that use the same color or are made of the same material.
The key to these collections (and, well, the entire grandmillennial style) is to add something unexpected. Bringing in a modern twist is what takes this look from outdated hand-me-downs to traditional and chic.
A collection of needlepoint pillows? No, thank you. A grouping of needlepoint pillows, some with snarky, modern slang? That's more like it!
You may also like: Displaying Collections: Our Top 4 Tips for Displaying Collections Like a Pro
Tory Burch
2. Patterns
What else belongs in an update of the past? Patterns, of course! Grandmillennial interior design does not shy away from patterns. A traditional look would be to wallpaper everything in sight. If that speaks to you, by all means, go for it!
Or, you can add a modern take to full-on pattern by incorporating them into the tile work on your floor or backsplash.
And please, use as many patterns as possible. Didn't think I'd say that? Well, I went there! Mixing patterns, when done tastefully, adds a sophisticated elegance to a room and is absolutely appropriate in a home with a grandmillennial style.
Try to find patterns that use the same color, a shared design element, or combine one pattern that's modern and simple with one that's more flouncy and detailed.
You may also like: How to Decorate with Wallpaper
3. Layer On The Personality
Some might say the grandmillennial look is cluttered. While it takes an artful eye and the right placement of the right things, the look when done well should not be cluttered. Layering in traditional pieces, especially well-loved ones, lets you highlight your personality.
In a minimalist room, your beloved grandmother's antique sewing box would have had no place. In a grandmillennial room full of meaningful items from your family, it's now the highlight of the room.
You may also like: Five 2020 Interior Design Trends for an Elegant Home
The key to achieving a cohesive grandmillennial look is that it's rooted in traditionalism. Yes, you can incorporate pieces from all different eras, but be intentional about what you choose.
Know the history of the items you're selecting to display in your collections. You'll not only have an appreciation for where they came from, but you'll learn about the era in which they were produced and popular.
Same with patterns. Take the time to understand who created the pattern. You'll discover you're drawn to a certain designer (like you may be drawn to a particular artist or time period) and may want to use their patterns exclusively. That will give your home an intentional, curated feel rather than it looking like you simply didn't have time to remove the previous homeowner's wallpaper.
Grandmillennial Interior Design: Conclusion
The idea behind grandmillennial design is to get a sense of who you are. What do you enjoy, what makes you happy, where have you traveled, what have you collected? Showing off your personality is most certainly what Hadley Court is all about. Comfort, ease, and tradition blend together to create an elegant, timeless home full of memories and happiness.
Surround yourself with a little grandmillenial charm. Pretty never goes out of style and here are a few classics to get you started!
Spice up your living room with this spindle chair. This traditional chair is sure to please Granny!
You can't do Grandmillenial without some blue and white! Pop this on your stove as an accessory and a hot cup of tea.
Display your collectables on this vintage occasional table for an irresistible millenial style.
Mix and match floral pillows with solids and patterns for a touch of granny chic throughout your home.
Decorate your walls with classic framed prints that you'll love forever.