My current obsession is collections. Granted, I have always collected unique pieces through the years, but I regret that my collecting didn't have more focus. I wish I had had the foresight to collect one item.
Isn't this collection of Faux tortoise shells amazing?  What a statement they make on the wall. I find this collection so much more interesting than a single painting. The collection makes my imagination run wild. The display piques my interest and makes me want to know everything about the homeowner. Talk about a conversation starter! I want to know why they chose this collection and where they obtained them. Are they well travelled? Have they lived in other countries?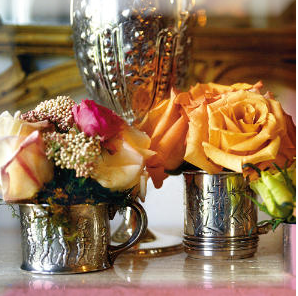 And what about this collection of silver baby cups. What a fabulous way to add interest and freshen up a room. I have a friend who collects silver baby cups and uses them for ice scoops when entertaining.
I adore this collection of paper weights. My mother, my style icon, had a large collection of paper weights. My mother also collected kaleidescopes and Roseville pottery. Having grown up with collections, you think I would have followed suit. Now, in my mid-life I am ready to start a collection. I am thinking I am going to start a collection of tortoise shell boxes. Do you have any interesting collections?
tortoise shell boxes

|

blue vases

|

clocks

|

tortoise shells

|

baby cups

|

paper weights