Countertop seating can be a great, practical seating option in your kitchen or entertainment area. It makes a casual spot to land and chat with guests in your home or family – especially as the saying goes, "Everyone ends up in the kitchen!" But how do you choose your counter stools? It's an important decision! You'll see them every day and you're going to use them almost as often.
And now with the popularity of open concept spaces, plenty of kitchens have islands designed as kitchen seating, which means you will need to find seating to fit that spot. Here are a few things to consider when choosing counter stools, like height, material, and quantity for your space.
Better Homes & Gardens
Counter Stool Height
When do you need a counter stool and when do you need a barstool? That's a great question since they aren't interchangeable! Countertops are 36-39 inches high and bar tops are 40-42 inches tall. There should be anywhere from 9-13 inches between the seat of the stool and the underside of your countertop, which means counter stools should be 24-26 inches floor to seat and bar stools 28-30 inches measured from floor to seat.
Nothing is guaranteed, so be sure to measure your own countertops before you go shopping! The good news is that there are now plenty of adjustable options for stools. This is great because if you fall in love with something marketed as a barstool you may be able to get away with it as a counter stool if they're adjustable!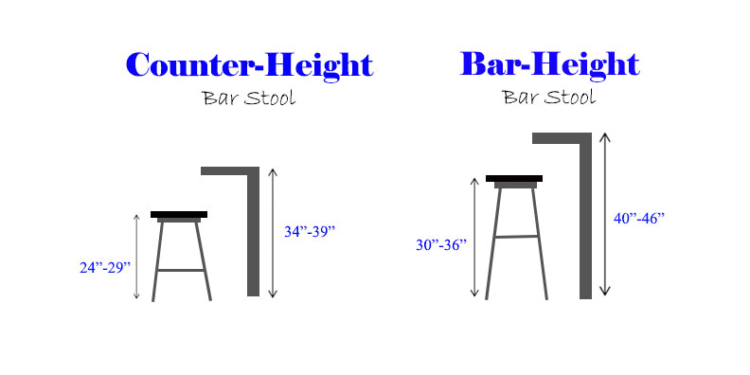 Pinterest
Style Considerations
Once you know how tall your stools should be, it's time to think about what style you'd like your stool to have. While your stools don't have to match your décor completely, they can look oddly incongruous if they aren't at least close to the style you've cultivated for your room.
Materials
Your existing décor will help you decide the materials for your stools. If your kitchen is a farmhouse style, consider a thick wood base. Sleek metals lend themselves to a more modern style. If you're going for a fresh, So-Cal look, try rattan or wicker. Acrylic also has a spot in an open concept, Cali-inspired room because they're almost invisible and lend themselves nicely to the clean look. Once you choose the material for your base, it's time to think about fabric (or not).
Homedit
Generally speaking, a stool with fabric on it will be more inviting and comfortable than one without. A padded, fabric-covered stool will be somewhere your guests and family will want to stay. This look can swing to the farmhouse, rustic style depending on the material you choose, so keep that in mind.
Shop Counter Stools Now @ Frontgate
If your stools are intended for eating or are very close to the stove or sink, it's best to pick something that is relatively maintenance-free. Select fabrics that are easy to clean or stain-repellant. Or nix the fabric all together and select a counter stool made of a solid material, like wood, leather or smooth metal.
The wicker or rattan choices may be more difficult to quickly wipe down when spills inevitably occur, so place these in an area that doesn't see a lot of traffic.
You may also enjoy: 5 Ways to Capture California Style in Your Home
Shop Counter Stools @ Wayfair
Stools With or Without Backs and Arms?
By answering a few easy questions, you can quickly decide if your stools should have backs or arms.
First of all – will people be sitting in them for a long period of time? If you're interested in providing comfort for your family and guests, a full-back stool is the way to go. Arms can also make a stool more comfortable, especially if it will be used more for casual sitting and entertaining, and less for eating.
If your stools are very utilitarian or need to be fully stored under the counter to save space, choose a model without arms or a back. This is also true if you're creating a modern, minimalist look. Less material and accoutrement creates a cleaner, sleeker look.
Should they Swivel?
Swiveling stools can be fun, but they aren't always the right match for your space. A stool that swivels is more reminiscent of a bar or casual eatery; if that's the style you're trying to convey, select swivels.
A stationary stool (one that doesn't swivel) can be a bit more formal but still fun with the right fabrication. If you have young children, I'd recommend choosing stationary stools. It will be safer for kids in the long run!
Another consideration is what's around the stool. If you have a countertop stool with arms that swivels, you must make sure the path is clear. There's nothing more frustrating than bumping the arm on the edge of the counter every time you try to move it!
You may also enjoy: How to Accessorize a Kitchen Counter
Shop Swivel Stools Now @ Amazon
Location, Location, Location
It's true about real estate and it's true about counter stools! Unless you're doing a remodel and tearing your kitchen down to the studs, you can't really pick the location of your countertop seating. Instead, you'll have to think about where the stools will be and base your stool choices on this factor.
For instance, if your stools will be in a busy area of the kitchen or in a narrow corridor, you'll want to select a stool with a low profile that easily tucks under the countertop. But if you have plenty of space or if you're looking for maximum comfort, you have the ability to choose a stool that's more substantial.
Shop Gray Rope & Fabric Stools Now @ Scout & Nimble
Another important factor of location is actually what you don't have to do, not what you need to do. You don't have to match your stools to the rest of the room! For example, if you have a breakfast nook in your kitchen, don't worry about matching your stools to the chairs at the table. Add in some lighting to make the area a complete design that stands on its own (or be simple and make no statement at all).
How Many is Too Many?
Now that you've thought about the materials of your stools and where you'll place them, you have one final question: how many? Your counter stools serve a purpose: to provide a place for people to sit and eat in your kitchen. Of course, you'll want to provide enough seating to serve this purpose, but too many stools will crowd the counter and your guests won't have enough space to sit down.
The area you need to reserve around each stool depends on the width and style. For stationary stools 16-18 inches wide, it's best to leave at least 6 inches, or a third of the width, between each stool. If your stool is 19-22 inches wide or it swivels, keep 8-11 inches, or about a half of the width, between each stool. If your stools have arms, add even more space between them (this is variable based on the arms themselves).
Counter stools are as varied as the room they're going in. Luckily, they don't have to match your room or decor perfectly, so you can have some fun picking these out – or at least, you don't have to stress about finding an exact match, especially if your rooms have already been set and you're adding stools in after the bulk of the design work has been done. Use these tips and you'll find a counter stool that works for you and your space!
You may also enjoy: Kitchen and Bath Spaces Revamped: 5 Design Trends that Make You Want to Live in Them