We are so inspired here on Hadley Court by the beautiful cerused oak wood finishes we are seeing at the National Kitchen and Bath Association show happening right now out in Las Vegas, #KBIS2016.
So, today, dear readers, we are going to show you some inspiring examples of cerused oak kitchens and baths, like the example above designed by Mary Haynes of Tory Haynes, Inc. in New Jersey.
In addition, we will share with you a bit more about the history of this finish, why designers are using it today, and what you need to be aware of when specifying the type of grain to be used.
Ready?
What is Cerused Oak?
Cerusing is a wood finishing technique that involves the application of whiting and rubbing the whiting into the grain of a wood, then hand waxing it.
Cerusing adds contrast in order to highlight the beauty of a wood's grain, typically oak.
This finish, first made with white lead (now banned in most places) and used in cosmetics during the Elizabethan era in the 1500 -1600's to whiten skin, is making a comeback in the design world today, most noticeably in kitchen and bath cabinetry.
The use of ceruse as a finish for furniture was first popularized in the Art Deco era when the iconic French designer Jean Michel-Frank employed it for some of his well known pieces, like this original shown below, which are now bringing top prices at auction houses around the world.
Since, then, the use of ceruse as a finishing technique on oak has fallen in and out of favor. But today, it is once again enjoying a renaissance, thanks to its use by top designers like Kelly Wearstler and Jefferey Alan Marks, who have both used it to great effect.
In addition, oak is a less expensive wood than some other types of typical woods used for kitchen cabinetry, like cherry or maple. And cerusing the oak in gives a stunning custom finish that can be used to create many different types of kitchen aesthetics depending on whether your taste is modern, country, traditional, farmhouse and industrial.
Cerused Oak Examples
For instance, below is a contemporary, modern kitchen designed by Mr. Marks, using a pale cerused finish.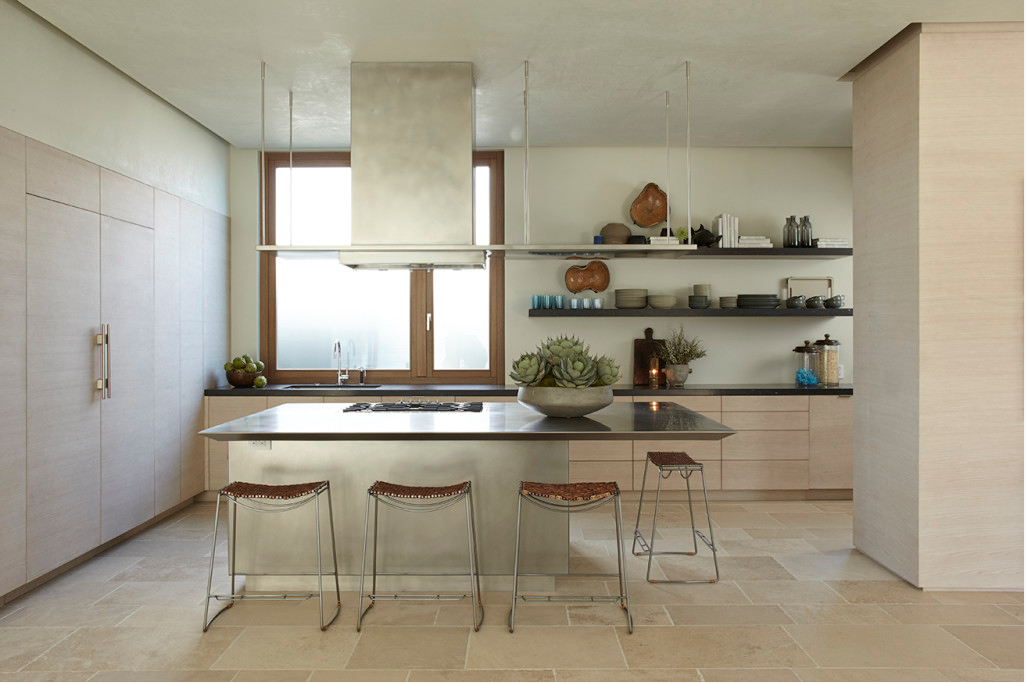 A different wood stain combined with cerusing gives this coastal kitchen in Darien, Connecticut a beachy, driftwood feeling, while still maintaining its elegance and charm.
It was designed by Shelter Interiors, LLC.
In this Fairfield Woodworks kitchen, the custom cabinets have been stained in ebony. It's pairs beautifully with the backsplash and provides a nice contrast with the countertop and oak floor.
Cerused Oak Kitchen Cabinets
A more traditional kitchen is shown below, again using cerused oak cabinetry and Le Cornue appliances. Some call it a limed oak kitchen. It was designed by NYC based Robert Schwartz of St. Charles Kitchens.
This use of mosaic wall tile, on every wall surface except the ceiling is stunning.
Here's a clean, modern kitchen, below, employing the use of a light cerused finish on rift sawn oak cabinetry.
Notice the gas stove burners have been custom colored in hunter green.
Leave it to a professional designer like Kelly Cleveland to add that luxurious, personalized touch! Fabulous!
Cerused Oak Wood Grain Types
By now, you may have noticed the grain pattern of the oak wood used in some of these kitchens is different.
Here's why.
Oak can be sawn at the mill in several different ways. This graphic below will help you understand the differences.
Using a professional designer like Leslie Hendrix Wood or your own local designer means that the board cuts they specify for your kitchen or bath will be appropriate to the overall design aesthetic you have chosen.
The diagram below explains it further. Also, the best cuts of wood for your usage and budget will be a discussion your designer will have with his or her cabinetmaker.
A key factor they will consider for you is the stability of the cut for your usage patterns. Nobody wants warped modern oak cabinets and doors.
Keep in mind: quarter sawn, rift sawn and riven are always going to be more stable than standard rotary cut veneer, the type you most commonly see in big box stores.
Note that the amount of cerusing, a lot or a little, is a design decision, and can be impacted by the cut of wood your designer thinks is best for your kitchen or bath.
A professional designer will always present you with finish samples for your sign off and approval.
How to Ceruse Wood (DIY)
Oak is considered the best wood to ceruse because it's pourous and has a heavy grain, but any hardwood will work!
Prep the Wood
First clean the wood and let it dry completely. Next, scrape the wood with a wire brush in the direction of the grain. The harder you scrape, the more distressed the wood will appear. Smooth the surface again after applying wire brush.
Apply a Finish
Apply the cerusing material, either a water diluted paint or liming wax. Apply with a rag, massaging the wax into the open pores and wood grain.
Wipe Away Cerusing Material
If using paint, wipe immediately with another rag. If using liming wax, follow the manufacturers instructions (usually wait 30 minutes and then remove with steel wool).
Apply Sealer
Apply sealer if you used paint as the cerusing material. Liming wax doesn't need a sealer, but if it's something that is used frequently, you might want to go ahead and seal.
We close this post today with another beautiful design from Mr. Marks. This bathroom was designed using a cerused finish on a beautiful golden toned oak.
What do you think? Do you like this finish? Please let us know in the comments and, as always, thank you for reading Hadley Court.
We appreciate YOU.