As stated by Interior Designer Jan Showers, "Every room needs a touch of black, just as it needs one antique piece" — and one way to achieve this concept is with a black lamp shade. Rooms using black lamp shades have been increasing in population in interior design. The color black itself not only adds drama and sophistication to a space, but applying the use of a black shade can help to anchor a room, a vignette or an entry. Four of the more popular and yet classic shapes of shade styles are bell, empire, drum and rectangle. Although black is more known for saturating light, applying a metallic finish, especially gold, to the shade interior can cast a warm glow to a space, therefore changing its mood and ambiance. Even the empire shape of an industrial black shade pedant (as seen in above source image) can transform a formal dining area to a more casual eating space. Below are four more examples of popular images of rooms with black shades being pinned most frequently and trending now…
A black drum shade with a gold interior is a subtle means of adding drama while mixing metals in a space…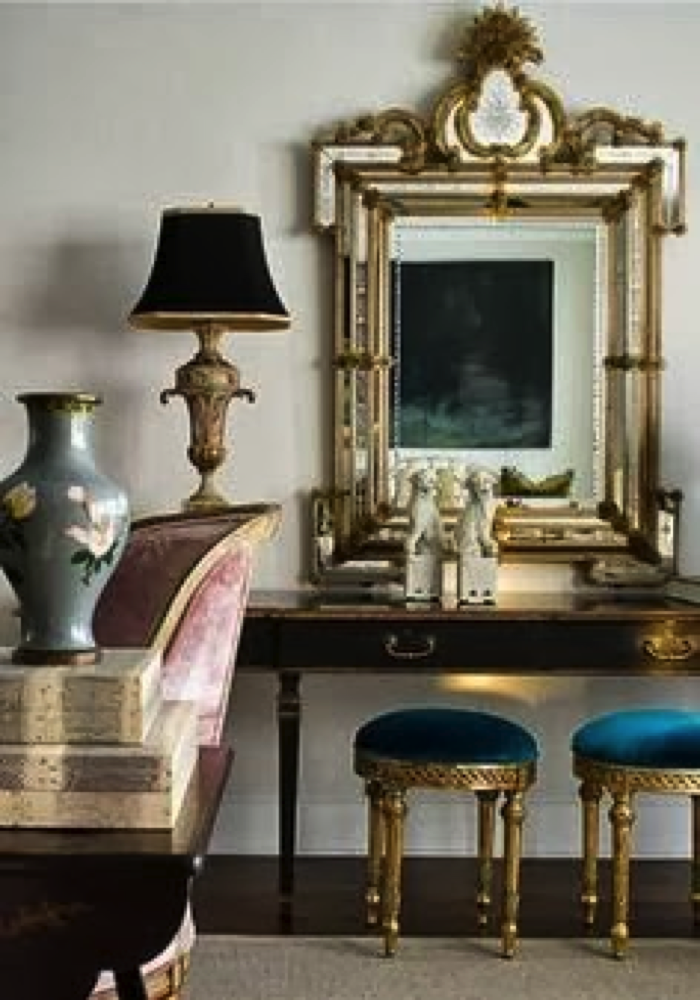 Although only one of two lamps is shown here, keeping lamps in pairs on a console table can help to bring emphasis to an important piece, such as a statement mirror. Punctuate the statement piece with a pair of black bell shades.
Adding a black empire shade to a hall table lamp is a simple means of adding a touch of sophistication to a sometimes otherwise over looked space.
source
An ornate table lamp topped with a black empire shade adds both form & function to a clean-lined transitional living space…
Staying in the black has never been so chic. Try changing the mood of your space with a black shade. For more, inspiration, information, and even sources of black shades, visit the Trending Now: Black Shades board on Pinterest.
Thank you for stopping by Hadley Court for Trend Pin Tuesday!
A big thank you to special contributor Lynda Quintero-Davids