Hi everyone, this is Jessica, Leslie's guest contributor. This week I will be sharing some recipe ideas for you and your sweetheart on Valentine's Day which is on Friday. In addition, last week I shared my 5 Recipe Apps to save you time in the kitchen with you. Similarly, many of these Apps have some wonderful suggestions for your Valentine's Day dinner. In addition, for those of you who do not subscribe to any iPad Apps I have selected a few recipes. Above all, the recipes are beautiful, delicious, romantic and easy to make for you and your sweetheart.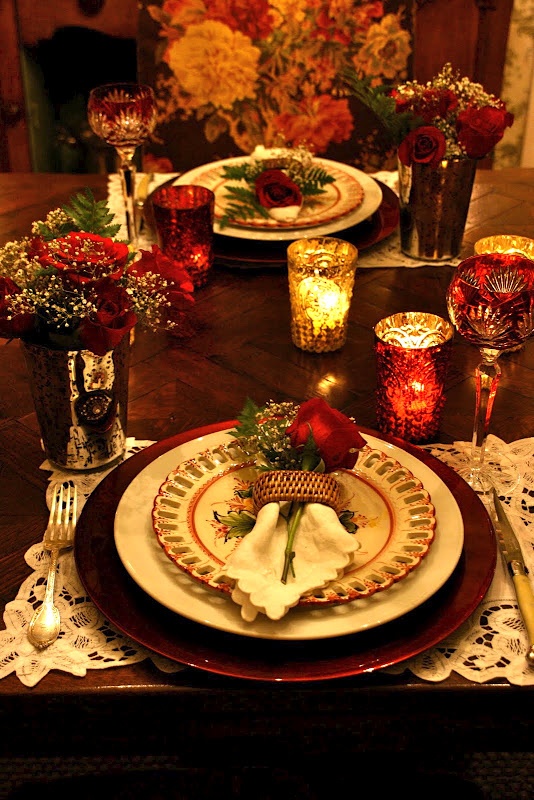 Above all, I hope you'll enjoy preparing this meal. In addition, you will notice that I have included an ingredient list for your convenience. However, in case you may have missed it, please check out my guest post on Organizing Your Kitchens For Gracious Entertaining.
Your Valentine's Day Dinner Menu, Recipes, and Shopping List
It's a known fact that the way to a man's heart is through his stomach. Amanda Hesser is an American food writer, editor, cookbook author and entrepreneur. For instance, she documents her experiences as she was courting her husband, novelist and New Yorker contributor Tad Friend. Therefore, read about her adventures in the fun and gastronomic Cooking for Mister Latte. In addition, with this in mind, let's cater to our husbands and significant others. Above all, let's create a divine, romantic meal.
Above all, are you ready to cook?
Therefore, below, you'll find recipes for your appetizer, cocktail suggestions, and your main course. For instance, your main course, Mark Bittman's Steak Diane is so delicious! In conclusion, two dessert ideas.
Appetizer
For starters, we'll have an Asparagus, Green bean and Hearts of Palm Salad adapted from Martha Stewart.
Therefore, you will need:
1/4 cup white-wine vinegar
1/4 cup vegetable oil
3 tablespoons sugar
2 teaspoons chopped fresh dill leaves
Coarse salt and freshly ground black pepper
3 medium cucumbers, peeled, seeded, and sliced crosswise
1 small onion, thinly sliced
1 1/2 pounds asparagus, trimmed and cut into 1/2-inch pieces
1/2 pound green beans, trimmed and cut into 1/2-inch pieces
1 (7- or 8-ounce) can hearts of palm, rinsed, drained, and cut into 1/2-inch pieces
2 medium vine-ripened tomatoes, seeded and cut into 1/2-inch piece
In a large bowl, whisk together vinegar, oil, sugar, and dill. After that, add cucumbers and onion, season with salt and pepper, and toss until well combined; set aside.
Fill a large pot with water and bring to a boil. Add salt and return water to a boil. Prepare an ice-water bath; set aside. Place asparagus in boiling water; cook until just tender, 2 minutes. Using a slotted spoon, transfer asparagus to ice-water bath for 1 minute, remove and pat dry; transfer to the cucumber mixture. Add beans to the boiling water, and cook until just tender, 3 minutes. Using a slotted spoon, transfer beans to the ice-water bath for 1 minute, remove and pat dry. Transfer beans to cucumber mixture along with hearts of palm, and tomatoes. Season with salt and pepper; toss until well combined. This recipe serves 6 but makes for wonderful leftovers that you can have at lunch on Saturday.
Main Course
It's also a pretty well-known fact that most men like a good steak. Therefore, I selected Mark Bittman's recipe for Steak Diane which appeared in the New York Times. In addition, it would be divine with some creamy mashed potatoes or crispy oven-roasted potatoes and carrots. Similarly, last week I recommended Bittman's How to Cook Everything App for your iPad. In addition, this App is based on the best selling cookbooks of the same name. Steak Diane is the classic main course recipe for Valentine's Day dinner for 2. Above all, the steak is made from the finest filet – rare and tender – it is usually glazed with a delicate, creamy, flavorful mushroom sauce.
Mark Bittman's Steak Diane for Two
(via the New York Times)
Yield 2 servings
Time 20 minutes
You can follow this procedure with almost any tender cut of beef. In addition, you can do this with chicken breasts, if that directly appeals to you. However, it's a perfect treatment for tenderloin medallions (filet mignon).
Ingredients
2 6-ounce beef fillets, cut from the tenderloin (filet mignon), preferably not too lean
1 tablespoon minced shallot or onion
1 tablespoon extra virgin olive oil
2 tablespoons butter
Salt and pepper
1 teaspoon Dijon mustard
1 teaspoon Worcestershire sauce, or to taste
1/2 cup heavy cream or half-and-half
Lemon juice to taste, optional
Chopped fresh chives or parsley leaves for garnish
Method
1. Flatten fillets a bit with the palm of your hand, the back of a skillet or a small mallet; they should be about 1 inch thick. Sprinkle with salt and a lot of pepper. In a small skillet, preferably one just large enough to hold fillets, combine oil and tablespoon of butter over medium-high heat. When butter foam melts, sear steaks on both sides, just until browned, no more than 2 minutes aside. Remove to platter.
2. Wipe pan clean with a towel; add remaining butter over medium heat, with shallot or onion. Cook, stirring occasionally, until tender, about 2 minutes. Stir in mustard, Worcestershire and cream. Add some salt and a fair amount of pepper. Stir once or twice, then taste and adjust seasoning.
3. Keeping the mixture at a steady simmer, return meat and accumulated juices to pan. Cook, turning two or three times until meat is done to your liking, just 1 or 2 minutes a side for medium-rare. Remove to a plate, and add lemon juice, if using, salt and pepper to the sauce as needed. Spoon sauce over the meat, garnish with chives or parsley and serve.
Variations
Cook some mushrooms — preferably wild, but shiitakes will do nicely — along with the shallots, and add a touch of garlic as well, if you like.
After Dinner Drinks and Desserts
After dinner, you might like a refreshing champagne cocktail. For instance, light and crisp, keeping it simple.
However, you may want to enjoy a delicious port with these dark and white chocolate covered strawberries below, or the truly decadent dessert that follows that. In other words, we highly recommend FONSECA's 20 yr old port with chocolate for romantic dinners. Above all, superb fruit!
In addition, often images of decadent treats are immediately conjured up in our minds for Valentine's Day. However, you'll not want to eat too much or make something so rich that you're overstuffed and uncomfortable, which is why chocolate-covered strawberries are so lovely.
However, if you really, really DO want something special… decadent…rich.. chocolate! Therefore, may I suggest Gourmet's Chocolate Glazed Chocolate Tart below?


Valentine's Day Recipes – Chocolate Glazed Chocolate Tart
ACTIVE TIME:30 MIN
START TO FINISH:2 3/4 HR (INCLUDES COOLING)
For the crust
9 (5- by 21/4-inch) chocolate graham crackers (not chocolate-covered), finely ground (1 cup)
5 tablespoons unsalted butter, melted
1/4 cup sugar
For the filling
1 1/4 cups heavy cream
9 oz bittersweet chocolate (not more than 65% cacao if marked), chopped
2 large eggs
1 teaspoon pure vanilla extract
1/4 teaspoon salt
For the glaze
1 3/4 oz bittersweet chocolate, finely chopped
2 tablespoons heavy cream
1 teaspoon light corn syrup
1 tablespoon warm water
* You will need a 9-inch round fluted tart pan (1 inch deep) with removable bottom
Make crust:
Preheat oven to 350°F with rack in middle.

Stir together all ingredients and press evenly onto bottom and 3/4 inch up side of tart pan. After that, bake until firm, about 10 minutes. Cool on a rack 15 to 20 minutes.
Make filling:
Bring cream to a boil. After that, pour over chocolate in a bowl and let stand 5 minutes. Gently stir until smooth. Whisk together eggs, vanilla, and salt in another bowl, then stir into melted chocolate.

Pour filling into cooled crust. After that, bake until filling is set about 3 inches from edge but the center is still wobbly 20 to 25 minutes. (Center will continue to set as tart cools.) Cool completely in pan on a rack, about 1 hour.
Make glaze:
Bring cream to a boil and remove from heat. After that, stir in chocolate until smooth. Stir in corn syrup, then warm water.

Pour glaze onto tart, then tilt and rotate tart so glaze coats top evenly. After that, let stand until glaze is set, about 1 hour.
Gourmet's note: Tart is best the day it is made but can be made, without glaze, 1 day ahead and chilled. After that, bring to room temperature before glazing.
Your Valentine's Day Recipes Shopping List/ List of Ingredients
2 60z fillet mignon tenderloins, not too lean
1 1/2 lb asparagus
1 shallot
3 cucumbers
2 medium vine ripened tomatoes
Fresh dill
1 1/2 lb green beans
1 onion
Chives
Lemon, optional
Mushrooms, optional
Strawberries
1 can Hearts of Palm
Olive oil
Vinegar
Worcestershire Sauce
Butter
Eggs
1 quart heavy cream
Sugar
Salt + Pepper
Vanilla
Light Corn Syrup
Graham Crackers
Melting chocolate (Semi- sweet)
Bittersweet chocolate
~~~~~~~~~
Therefore, we hope you like the meal we planned for your special Valentine's Day. After that, please let us know how it turned out for you in the comments! Thank you ~
In conclusion, for some more inspiring Valentine' Day ideas, may I invite you to please visit Hadley Court's Pinterest page: CELEBRATING LOVE ?
Above all, Happy Valentine's Day and thank you for visiting Hadley Court. If you'd like, we invite you to subscribe to https://hadleycourt.com/blog and follow HADLEY COURT on Pinterest, Instagram, Facebook and Twitter.
Thank you ~
Jessica Gordon Ryan
for
Leslie Hendrix Wood
Founder and Editor In Chief
https://hadleycourt.com
images via: Vignette Design, Martha Stewart, Tumblr, Savory Simple, Gourmet and Pinterest