Luxury master bathrooms have become true living spaces. They're places to linger and get comfortable, fully accessorized, inviting and often featuring extravagant architectural details. The master bath used to be about function, now it is all about comfort. Homeowners are looking to create an experience a place where they can relax, unwind & feel pampered. Luxury master bathroom features include natural marble & stone, double showers with glass walls, freestanding soaking tubs, luxe lighting, mirrors and high-tech gadgets.
Marble & Natural Stone
Nothing says luxury like marble, it adds elegance to any bathroom interior. Marble has become a staple in modern bathroom design for vanity countertops, floor tiles, showers and bathroom walls. Interior designers find ways to use marble accents in stylish ways by using it create patterns inset in the floor, mixing black & white marble, and designing mosaics for shower walls and backsplashes. Adding gold accents with hardware and light fixtures always elevates the luxurious interior.
Master Bath Shower Ideas
Another desired feature of master bathrooms are oversized walk-in showers with enough space for 2. Modern bathroom design offers different types of showers with different features for every lifestyle. There are steam showers, massaging showers, multi-jet double showers, cascading showers, and showers with seats for more comfort and often surrounded by glass walls for a dramatic impact.
Glam Master Bathroom
Make your bathroom even more lavish by including a fireplace. Fireplaces are a very popular design aesthetic and add to the overall style of luxurious master bathrooms. This contemporary bathroom is a show-stopper with floor to ceiling mirrored panels! Pour a glass of wine and relax to the soft glow of the fireplace.
Spa Style Bathrooms
With that fireplace, flatscreen TV, chaise lounge and breathtaking view, I'd want to linger for hours, wouldn't you? These highly desired features work together to create an at home spa atmosphere. Free-standing soaking tubs, jacuzzi tubs and hydrotherapy tubs are all the rage in today's bathrooms.
Exquisite lighting with the vintage romantic chandelier, floral art, soothing colors and a tropical view come together in the bathroom above, from Kahn Design Group, to create an oasis of calm and joy.
Luxury is Smart
Imagine wrapping yourself in a warm towel after your shower or stepping out onto a warm floor. Built in warming drawers, heated towel racks, and heated tile floors transform your bathroom into an ultra luxe space. These high tech products are just a few of the many that are available for bathrooms today. Your master bathroom can become fully integrated with charging stations, built in blue tooth speakers, tv screens, smart mirrors, smart toilets and touchless faucets. Bathroom lighting is another area where technology offers ever increasing options.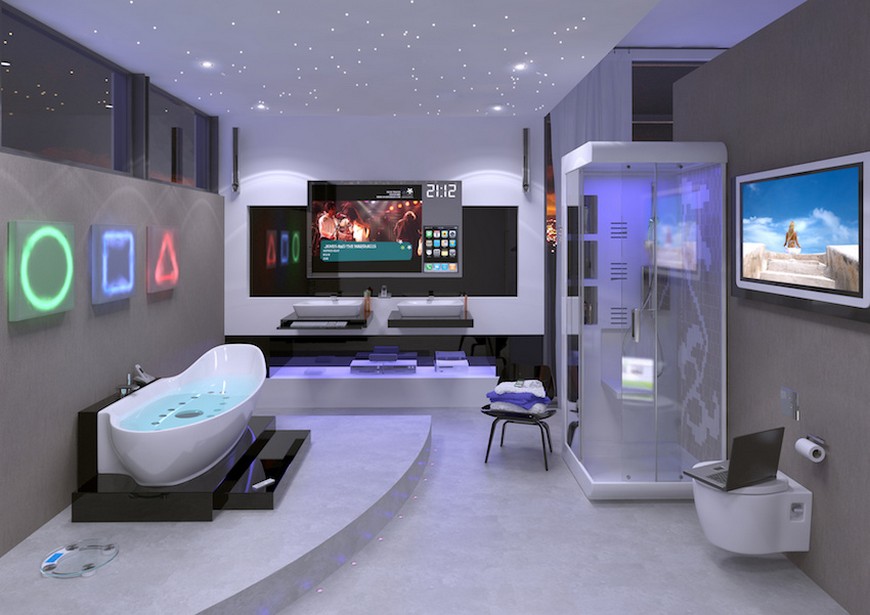 Dreamy White Bathrooms
This luxurious white bathroom looks bright and airy and its ageless enough to evolve with your style. The focal point of the bathroom is the tub underneath the window and highlighted by the sconces on each side of the window. The marble floor has a lot of texture from the small (2″ x 3″) tiles and it's layered with a comfy white rug.
Master Bathroom Design
This spa style bathroom features His & Her everything except for the tub! The vanity areas are separated by the double shower and the tub each with it's own modern bench for dressing. A freestanding tub in the middle of the bathroom adds a lot of drama and the gray finish is exquisite.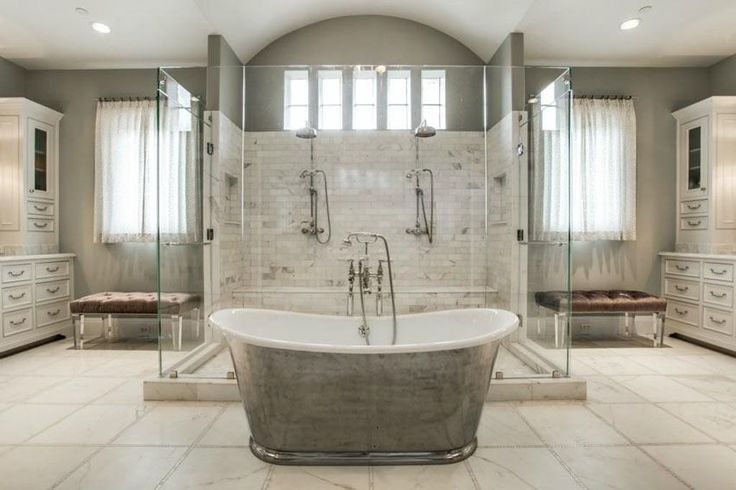 What about you? Would you like to create that vacation getaway experience in your luxury master bathroom? What feature shown in our bathroom tour on Hadley Court today do you like best and would like to incorporate into your own bathroom?