Arranging sleeping pillows and decorative pillows is one of the items my interior design clients frequently ask me about.  There are endless combinations of shapes, color, patterns and textures for any bed pillow arrangement you want to create.  Styling your bed with pillows is easy with these top tips for arranging pillows on your bed for function and decor!
How to Arrange Pillows on a Bed
How do you choose the layout for the pillows for decorating a bed?
I've found this bed pillow arrangement chart, by Marissa Waddell, very helpful.  It illustrates the many different ways you can arrange pillows on your bed for function and decor.  I hope you will find it useful!
First, the basics:
Sleeping pillows are readily available in 3 standard sizes and there are pillow manufacturers who will make custom sizes for you if that's required.
Standard Size Pillows are:    20″ tall x 26″ wide (A twin mattress is 39″ wide x 75″ long; two of these fit almost too tightly together side by side – another combination is more desirable)
Queen Size Pillows are:         20″ tall x 30″ wide (A queen size mattress is 60″ wide x 80″ long; 2 queen size pillows fit the mattress exactly.)
King Size Pillows are:            20″ tall x 36″ wide (A king size mattress is 78″ wide x 80″ long; two king size pillows side by side will leave a space of 4″ between them)
Here is another pillow chart that shows standard pillow sizes, (notice how they are all the same height, only the width differs) as well as some standard sizes for decorative pillows.
Coordinating Pillows With Your Headboard, Mattress, and Room Decor
It's important to measure the height of your mattress and box spring to determine how high your pillows will lay against the headboard.
For instance, here's a headboard, mattress and box spring combination where the pillow arrangement the homeowner is trying out doesn't work.  As you can see, the pillows cover up the headboard fabric.
 If you're headboard is very high, like the one below, you have a lot of flexibility regarding the number of sleeping pillows and decorative pillows that can be added to your bed.
In addition, add some bold, funky colors and patterns in your pillow arrangements and spice up your bedding!
You'll want to consider the depth of the pillows and how far down on the bed they will come, once they are stacked against each other.  This will help you choose the coverlet, duvet cover, bedspread and any additional blankets that will be used on top of your bed.
When you're thinking about how to arrange pillows on your bed – you'll want to pick up on the style and decor of your entire room, not just the bedding.  This canopy bedding looks soft and feminine and fits right into the "pretty in pink" setting!
Phoebe Howard
Best Pillow Arrangement Ideas
This beautiful bedding ensemble from Dallas designer, Avrea Wagner, uses  [ 3 ] 26″ x 26″ Euro Sham pillows, instead of 3 standard or 2 king pillows and pillowcases, and a decorative bolster to tie it together.
Notice how the double row of nailhead detailing sits elegantly above the top edge of the Euro shams so it ties into the linear shape of the tape on the front of the Euro Shams. This pillow arrangement  has been carefully and expertly planned so all the elements come together. Therefore, the result creates a serene and balanced composition.
This simple pillow arrangement reduces the amount of time spent making your bed every day and it's charming!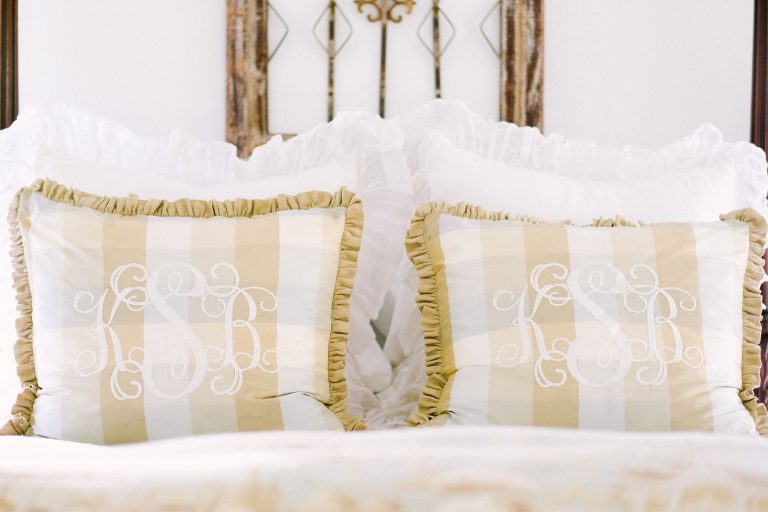 King Bed Pillow Arrangement
Since you have more space on a King size bed, you can really load it up with lots of beautiful pillows!  Here is what I 'd recommend for the fullest pillow arrangement on a King size bed.  Start with three Euros, then tow 18″ x 18″ pillows, followed by two 16″ x 16″ pillows, and three 12″ x 15″ pillows.  If  you prefer a simpler, lighter style, then use 3 Euros with one rectangle or decorative pillow in front.
Stonegable
My last project was a modern home with transitional decor.  For the King size bed in the Master Bedroom, I had 2 large bolsters made – one that ran the length of the bed and the other one just a tad bit shorter.  It was just the look I wanted!
etsy
Queen Bed Pillow Arrangement
Just because there is  less space on a queen size bed, doesn't mean you can't have lots of pillows in your arrangement!   Start with 2 Euros and cascade your pillows down from there.  You can use bolsters for Queen bed arrangements too.  I always put my sleeping pillows behind the Euros to keep them hidden, but easy to grab when I need them!
For a smaller arrangement, leave off the accent pillow or arrange your pillows using 2 Euros or 2 queen pillows and 1 accent. The best pillow arrangements combine and contrast colors and patterns for that one of a kind look.
HGTV.com
Practical Considerations for Pillow Decor Ideas
You may be wondering what to do with all your pillows when you're sleeping!
I set mine on the bench at the foot of my bed.   You can hide them in your closets or cabinets.  It's also okay to leave them out. However, do set them on a chair or settee so you don't trip on them in the middle of the night!
Another important consideration is the placement and depth of the nightstand.  This will determine how many pillows you can include and reach everything without having to get out of bed!
This pillow arrangement combines 3 Euro pillows, 2 decorative and one boudoir in playful patterns and a pop of color.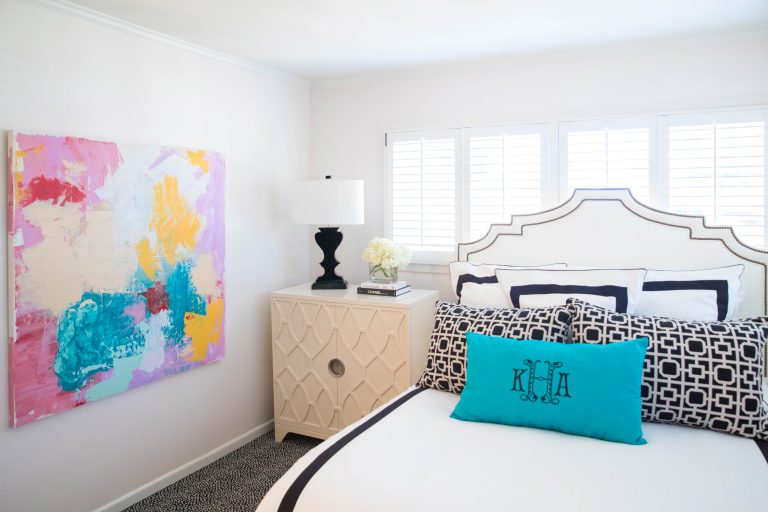 This bed is overflowing with pillows – the more pillows you have the fuller your bed will look.
Here's a close-up of that classic pillow!
Pillows are like art for your bed. Read about how pillows make a room dance in my article: Art of the Pillow!

How do you arrange the pillows on your bed? What is your favorite pillow decor layout?
Photo credits:  Leslie Wood Interiors, Phoebe Howard