If graphic patterns and bold hues aren't for you, then open a new door and enjoy  the soft,new feminine modern of pretty pastels. Pastels are a beautiful means to capture a room's natural light, plus they also work with most skin tones.
Pastels compliment metals, like gilded gold accents or highly polished steel. The use of pastels might be inspired by your travel to different cities, such as these  antique Victorian doors, above, which were inspired by a couples' love of Paris, featured here at Luxe interior + design. However, pastels can also be quite sophisticated when paired with clean lines for timeless design, such as applied by iconic designer Barbara Barry.
Interior Designer – Barbara Barry
Interior Design by Barbara Barry
Interior Design by Barbara Barry
Barbara Barry Collection for Baker, featuring here the Arc Bench

Pastels have been featured recently on the red carpet, too, in shades of champagne gold, lucite green, powder blue, aquamarine, and blush over the past three seasons – and they are an up and coming color palette of choice featured at this year's Spring Market – especially in blush (pink).
Considering pink walls? Try these featured at interiorsbycolor.com via bhg.
Venetian VM42 by Ralph Lauren Paint
Mauve Glow WV32016 by Valspar
Demure Pink 210C-2 by Behr
Pink Mimosa 32YR 78/106 by Glidden
Demure D38-3 by Olympic
Here are a few rooms to inspire you, if you're considering refreshing your home with pastels…

Blush can work when mixing a his and hers space, such as this bathroom design from the 2014 Atlanta Symphony Showhouse – Bath design by Matthew Quinn, Mary Kathryn Timoney, Laurie Lehrich, Kelly Carlisle, and Debbie Blumencrantz – Interior design by Clay Snider – See more of this showhouse show stopper at Traditional Home.
Adore the black scalloped drapery banding on these blush panels – Interior Design by Sharon McCormick.
"Color makes you happier," says interior designer Barry Dixon about this Capitol Hill row house he designed.
Pink Peonies by Rach Parcel…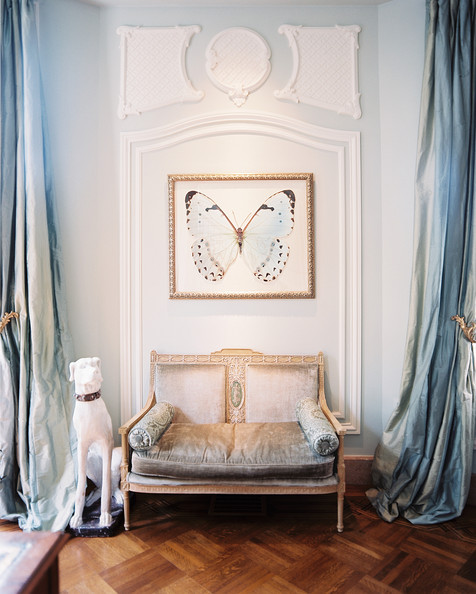 Buttery yellow pastel window treatments puddle on the floor, and flank a pair of french doors, by designer Rose Uniacke – featured at Lonny Magazine.

Even though this space designed by Historical Concepts and Steven Gambrel for the Cottage Living Idea House (featured at House of Turquoise blog) was done in 2012, it's still relevant design inspiration for how we live today.
Spring 2015 Pantone Colors: Lucite Green and Aquamarine Blue – from the Pantone Spring Color Report.
Pastel Decorating Tips to Try:
1. If you want to experiment with pastels with virtually no commitment, place a vase full of pale-pink peonies on your coffee table, or a bunch of pale yellow tulips in a pitcher on the kitchen island.
2. A low-risk means of embracing pastels is by incorporating pastel textiles into your neutral space. Change white bed linens for pale-blue sheets or add a lavender coverlet for Spring / Summer. 
This will add a hint of soft color without disrupting a neutral calm. Try blush pink pillows on a gray down sofa, or billowing silk pastel panels to frame the light of a window.  Even an assortment of pastel linen napkins on the table can be refreshing the next time you're entertaining. In a grey or white bathroom, mix jadite green towels with a robin's-egg-blue rug.
3. Update an all-white wall room (for example a guest room) for a wash of pale green or powdery blue to give the illusion of more space, while still feeling restful and tranquil.
4. Remember, nothing quite grounds a room like adding a dash of black, which can also work when paired with pastels – plus it can remove the 'too sweet' feeling an all pastel space can bring, such as is frequently seen in a nursery. A touch of black is great for shared masculine & feminine spaces.
5. Test the pastel waters outside, painting your porch wicker chairs, a barcart, or even your front door in a sherbet shade or watercolor hue – and if you're really daring (plus live in West Palm Beach!), paint your house exterior pale pink with white trim…
Designer Robin Weiss unleashed her love of her favorite color on her own West Palm Beach home – from the inside out! See more featured at Traditional Home.
I hope you are inspired to try decorating with pastels in your own home now. too. If you still need a little nudge of inspiration, view these Before & After photos of a living room makeover with water-color hues at Traditional Home – making this home go from Drab to Fab!
You may also enjoy this previous Hadley Court post – New York Spring / Summer Fashion Week Trends Translated Into Timeless Interiors !

For Spring and Summer 2015, live in pretty pastels!  Outfit – Tibi Ready To Wear Spring / Summer 2015  and room by Tobi Fairley.
As always, thank you for reading Hadley Court. We appreciate YOU.
~~~
Lynda Quintero-Davids
for
Leslie Hendrix Wood
Interior Designer
Leslie Hendrix Wood Interiors
Midland, Texas
Founder, Editor In Chief
Hadley Court
~~~
Gracious Living. Timeless Design. Family Traditions.
We invite you to please follow Hadley Court on