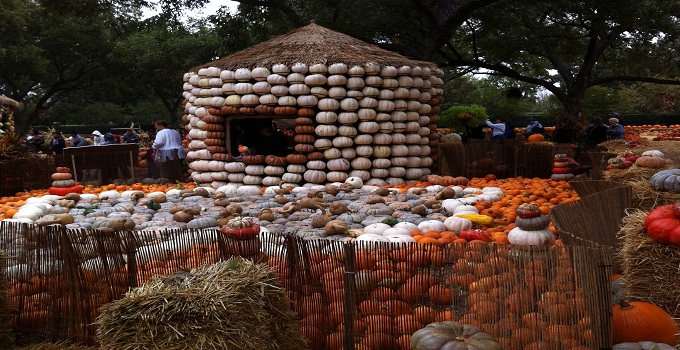 You know there is always beauty in one's own yard if you just look a little. The reason I say this is living in west Texas the changing of the seasons mostly just shifts from Winter to Summer and back forgetting the cool and comfortable spells known to others as Spring and Fall.  Consequently, I long for the blazing glory of orange and red leaves dancing on the branches before they glide down to the brown grass below and ultimately crunch beneath my feet. But it is just not meant to be, no matter how much I will it so. Yet this past weekend I had a taste of my dream and man did it taste divine.
While in Dallas we decided to buy tickets to the Dallas Arboretum to see the Chihuly Exhibition, but was blown away with the Pumpkin Village which is a yearly event. That is right, I said Pumpkin Village. Thousands of pumpkins and gourds of all shapes and varieties are formed into houses, displays, and beautiful intricate designs. Kids and adults alike stood amazed by both the beauty and magic of it all. The sheer man hours needed to produce such a magnificent showcase boggles the mind though the final product is so worth it.  If you live anywhere close I would encourage you to go. Autumn in the Park runs through September 22nd-November 21st and in a great venue for pictures with the family and kids or an afternoon picnic.
While Autumn on the East Coast may be a sight to behold, the snippet I saw right here in Texas satiated my longing heart with memories of colors, laughter, and of course the crunch of those Fall leaves.