Do you wonder why America's largest home is in rural North Carolina?
I knew I had to see this place!
I gathered my friends for a girls trip to nearby, Asheville.
Join me and take a step back in time to America's Gilded Age. Most importantly, feel the awe I felt, as I drove up to the Biltmore Estate.
I was fascinated by Biltmore's:
(including 43 beautiful bathrooms)
(and let's not forget the vast number of intricate Gargoyles)
(Christmas is celebrated on a grand scale from early November through January)
(including 80 miles of estate horseback riding!)

Biltmore Beginnings
The late 19th century brought reconstruction and an economic boom.
Industrialization led to Captains of Industry like Rockefeller, Carnegie & Vanderbilt.
Cornelius Vanderbilt earned his fortune in shipping and railroads. The Vanderbilts were one of the wealthiest families in America. His sons and grandsons built 10 grand mansions on New York's 5th Avenue, and country homes in Newport, Rhode Island, and Asheville.
America's elite lived like royalty with servants, European goods, designer clothes, jewelry, & art. They hosted and attended magnificent social events that would last for days.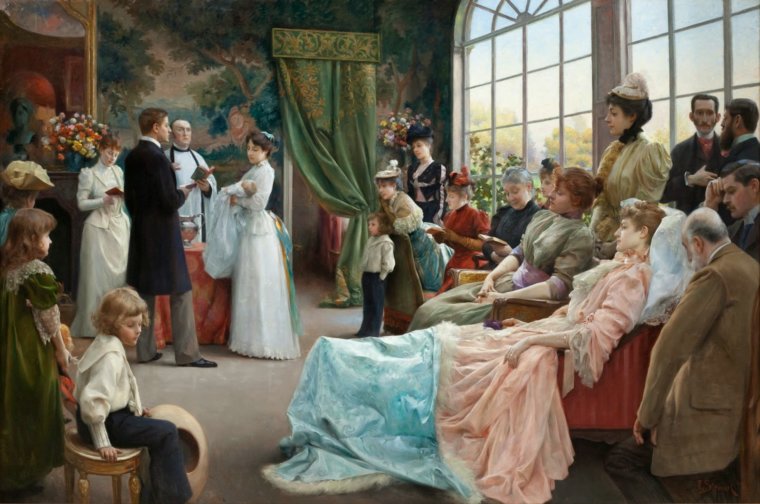 In 1888, on a trip to Asheville with his Mother, George Washington Vanderbilt stumbled into the perfect place for his country home. As a result, he began purchasing parcels of land in Asheville and eventually amassed 125,000 acres.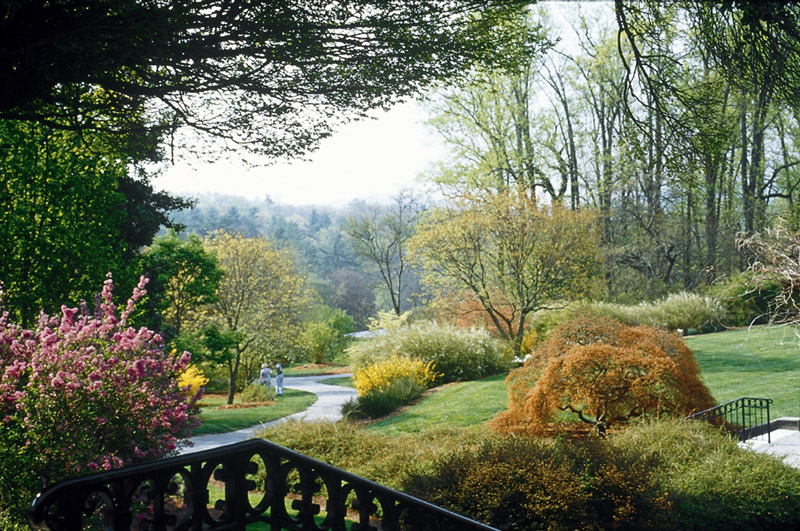 He hired two of the most distinguished designers of the 19th century to create this house; the architect Richard Morris Hunt and the landscape architect Frederick Law Olmsted. The estate has four acres of floor space, 250 rooms including 33 guest rooms, 43 bathrooms, 65 fireplaces, three kitchens, a bowling alley, and an indoor swimming pool.
For 6 years, an army of artisans labored to create a country estate that would rival the great manors of Europe. The estate would embody the finest in architecture, landscape planning, and interior design.
Construction began in 1889 and ran well into 1896.
First, they had to build a woodworking factory, brick kiln & a 3-mile railroad spur to support the massive building project.
Marvel at the Gargoyles
One thing stood out to me was the vast number of gargoyles on the mansion.
Apparently, there were so many to be carved that the superintendent gave artistic license to the stonemasons to carve whatever they wanted. As a result, they carved the likeness of their family members, co-workers, and animals.
George Vanderbilt & Richard Hunt traveled to Europe in search of ideas for the design of Biltmore Mansion.
French mansions were the inspiration for the exterior of the home and English country homes were used for the interior. George frequently traveled to and from Europe to buy furnishings, linens, tapestries, & carpets for the mansion.
Very few American made items were used inside!


Biltmore Gardens
There are both formal & informal gardens on the estate.
The most famous formal garden is known as the walled garden, envisioned by Mr. Olmstead to be like an English kitchen garden. A traditional English garden is meant to be a space where fruits, vegetables, and flowers were to be grown for the Biltmore house.
Mr. Vanderbilt didn't share that vision, therefore his walled garden became a strictly ornamental one.


Biltmore Special Events
Candelight Christmas Evenings celebrates Christmas on a grand scale from early November through January. They have live nightly performances of Christmas music.
It's an enchanting time to visit!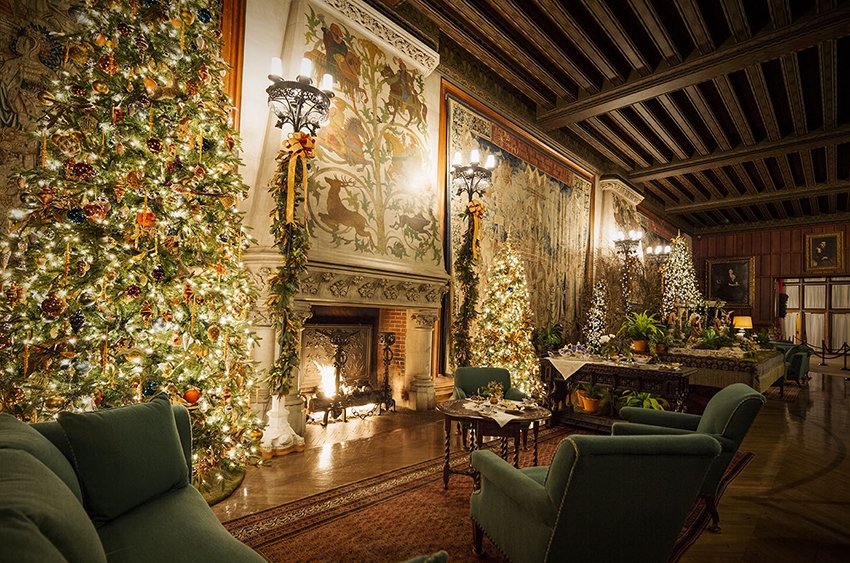 Spring's arrival brings Biltmore Blooms from early April through May.
It's a splendid time to visit and immerse yourself in the beautiful color and aroma of the flowers.
Thousands of tulips fill the walled garden in a tribute to the Vanderbilt's Dutch heritage. Stroll through the rose garden with 250 varieties of roses.


Biltmore Estate Activities
Live like a Vanderbilt and stay in one of their 3 overnight properties.
Spend your day exploring the estate forest and French Broad River on the 22 miles of hiking trails, or the many miles of biking trails.
Saddle up your own horse or take a guided trail ride along the 80 miles of estate horseback riding trails. Try any number of other outdoor activities like fly fishing, river floats, sporting clays, and others!
Visit Antler Hill Village where life in the 1890's is recreated.
Tour the winery, walk the vineyards, sip the wine! Go for a scenic drive along the highest tops of the Appalachian mountains on the Blue Ridge Parkway.
Stop in downtown Asheville's vibrant arts scene filled with galleries and museums.
Treat yourself and visit the majesty of The Biltmore Estate. It truly is the stuff that fairy tails are made of!
Photo credits: Biltmore Estate, travel & Leisure, Carolina Living, World Lifestyle