Planning an outdoor living space is much like planning an interior space – breaking down areas into zones for dining, lounging and even storage.  If you want to renew your outdoor living space OR  design a new one, here are a few things to consider before you get started!
– How will the space be used?
– Cooking, dining, relaxing, entertaining, or all of the above?
– What type of climate do you live in?
– What kind of furniture will you need?
The answer to these questions are key to finding design ideas for outdoor living spaces that are right for you!
This post contains affiliate links.  Read my disclosure policy here.
Ready to take a tour?  Let's start with…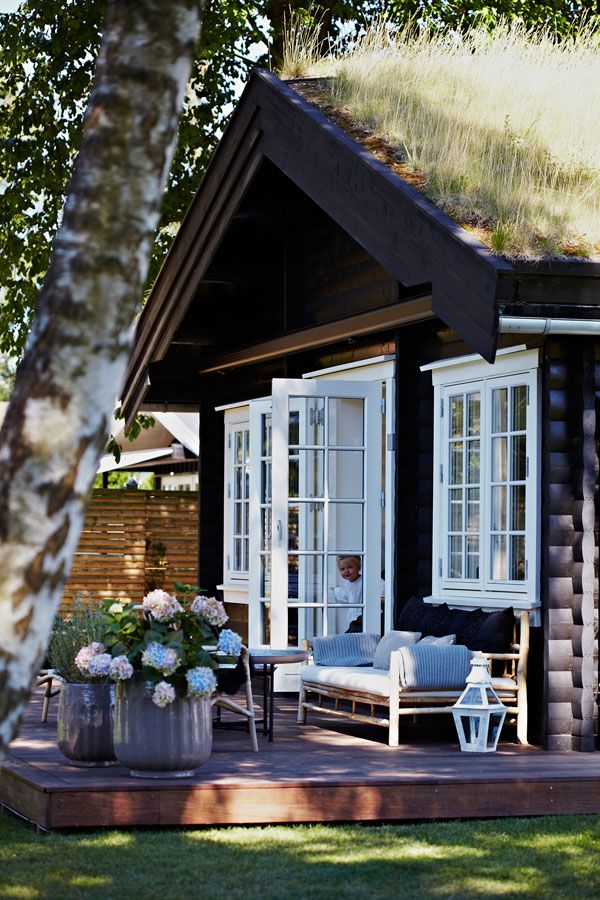 Entertaining in Outdoor Living Spaces
When the weather is nice there is nothing better than hosting a party on the patio!  Adding an outdoor kitchen will make entertaining a breeze.  You won't have to leave your guests outside while your hustle in and out for food and drinks!
Set up an outdoor luncheon in a shady backyard gazebo.  You can create this tablescape here:  Tablecloth, Placesetting, Glasses, Flatware, Napkins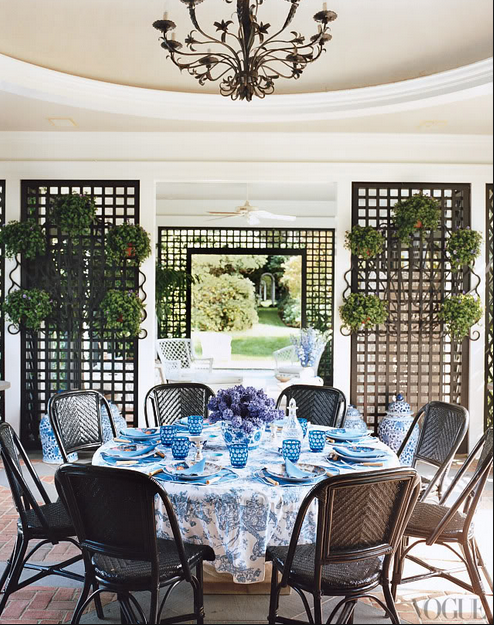 Serve this refreshing and light white peach, basil and blueberry mojito on those hot days.  The recipe can be found on pineappleandcoconut.com.
Set up a bar cart with a delicious dessert buffet of fruits, key-lime pie or even a gelato bar…and of course, a bar cart can be the place to mix and serve Summer cocktails!
Great for outdoor entertaining:  a Chinoiserie Bar Cart from Horchow.com
Consider Your Climate for Outdoor Living Spaces
Where you live and the kind of weather you have will likely have the biggest impact on the design of your outdoor living space.
Do you live in a brisk, but sometimes windy, coastal climate where furniture has to be heavy to avoid being easily blown over?
Or, a very hot and dry climate zone where fabrics and woods can dry out and crack fast?
Is mold an issue in humid, and rainy climates?
How will you store and protect your outdoor furniture from the weather?
Covered patios are almost a necessity during the dog days of summer! But if you don't have one, there are ways of creating shade that work just as well.
Pergolas, umbrellas, canopies, sunshades, and outdoor window treatments will all help you escape the sun's rays and bright light.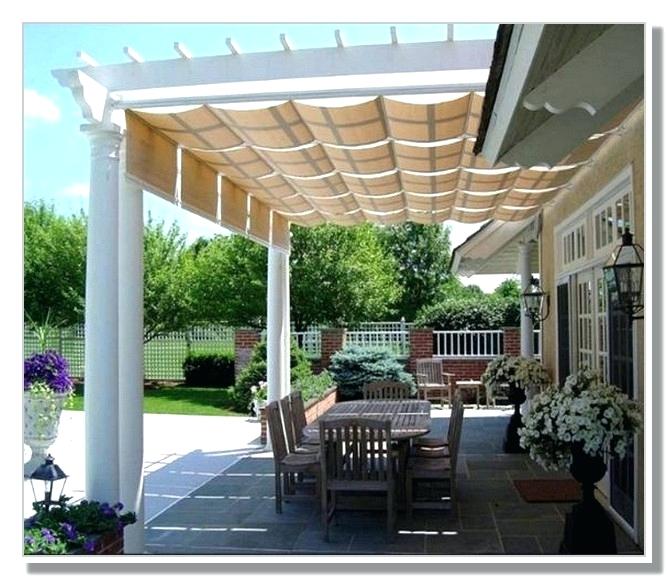 Pergola Sunshade: Made for the Sun and Shade
The curtains in this elaborate outdoor space are used to diffuse sunlight and for privacy.
If you'll be lounging poolside in the tropics…make sure your fabric choices can stand up to mold and wet bathing suits.  The iron chaises are heavy enough to avoid being torn up or moved by strong winds and rain.
We all have to choose the fabrics for our outdoor furniture carefully.  If you're like me and live in a hot, arid climate then the fabric for your outdoor furniture has got to be sturdy and heat tolerant.
A gorgeous line of weather-resistant outdoor fabrics to look into is Joe Ruggiero's Collections for Sunbrella.  Other reliable outdoor fabric brands include Karvet, Robert Allen, Holly Hunt, and Waverly.  Because these fabrics are so durable & stain resistant they are popular on indoor furniture too where spills wipe right up!
Decorating Ideas for Outdoor Spaces
Think about using fabrics and finishes that will blend with the decor inside.  For a covered porch that is protected from the weather try, an indoor furniture piece, but painted in an outdoor paint!
A chest of drawers can easily hold outdoor cookware, silverware, & tabletop dishes.  Or take a nap on beautiful linens!
Consider creating an outdoor focal point in a narrow space like the collection of blue and white porcelain.
Did you see this Hadley Court post on Decorating for Spring with Blue and White Porcelain?  If you'd like to read it click here.
The navy and white form a classic combination and the navy curtains tie it all in as well as block the sun when necessary!
Relax and enjoy the beautiful outdoors with a good book, wicker & wovens.
Garden stools need not only be used in the garden – they can become interesting side tables as well.
Incorporate custom table coverings for special occasions or to continue design details flowing from inside to outside.
Outdoor rugs are available in a lot of cool patterns and colors.  They're so durable and easy to care for – just hose them off to get them clean!
Layer plants in containers and set them around your outdoor space.  They can double as a natural spaced divider if they are large enough or clustered together.
Floors for outdoor patios
Outdoor flooring options range from simple concrete to intricate tile, stone and wood decking.  Make sure it's no-slip if you have a swimming pool or jacuzzi!
Wooden or composite decking is appealing for many reasons.  It has a rustic, natural look.  Decks are raised above the ground so they work well for unlevel backyards or hills.  And it's less slippery than tile or concrete when wet.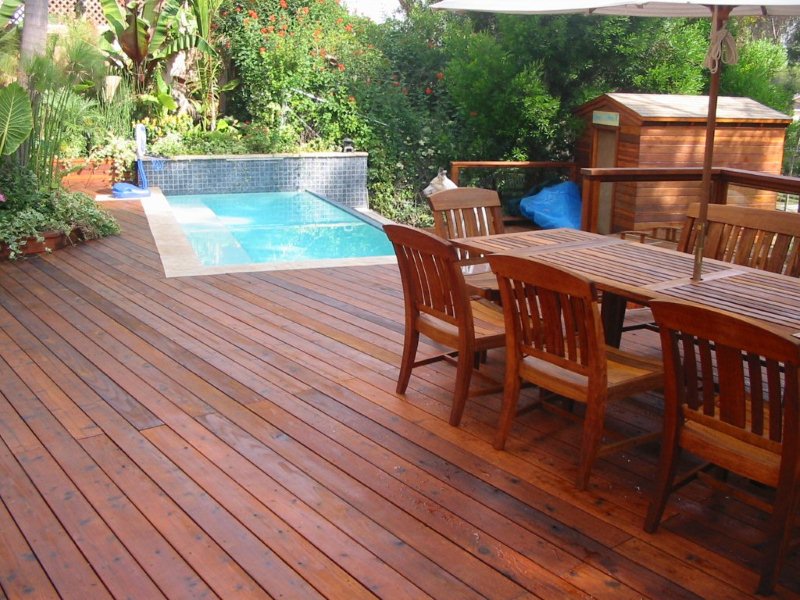 Yes! Smile!  It's time to head outdoors this Spring!  And by all means, create a haven to relax and enjoy the beautiful outdoors this Spring and Summer season!
Photos credits:  Veranda, northerncalstyle.com, Casalecanda.com, sawyerberson.com-house & garden, pelicanhill.com, houzz.com, moorebeautiful.com, Sunbrella, Ruthie Sommers, bright+boldbeautiful.com, the pink pagoda, vogue.com. Atlantahomesmag.com, dicasedecorraceo,.com, Thisisbritain, integratedbodyworksinfo, hethrone.com