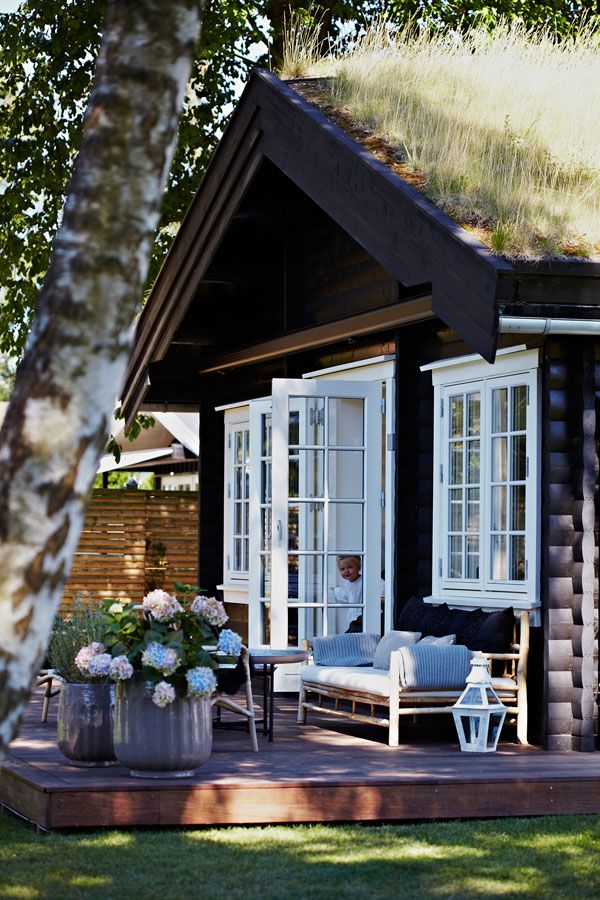 If you are looking to renew your outdoor living space, a few elements to consider are:
 – How will the space be used? Cooking? Dining? Relaxing? Entertaining? or all of these?
– Will this be an adult space? Or will it be shared with children of all ages?

– What type of climate do you live in? Do you live in a brisk, but sometimes windy,coastal climate where furniture has to be heavier to avoid being easily blown over? A very hot and very dry southwest climate zone -where fabrics and woods can dry out and crack fast? Or do you reside in a humid and rainy area – where mold can sometimes be an issue?
– Besides climate, will your outdoor living space be poolside? lakeside? ocean-side? cliff-side or come with a majestic desert view? Will you look for furniture that swivels to take advantage of both conversation and the views? Will you want fabrics and finishes to blend with the decor inside, the colors you see from your view..or both?
For your convenience, this post contains affiliate links. Read my disclosure policy here.
Ready to take a tour? Let's start with..
 The beautiful "Estate of Grace" – the Southhampton outdoor living are of Tory Burch, featured at Vogue.com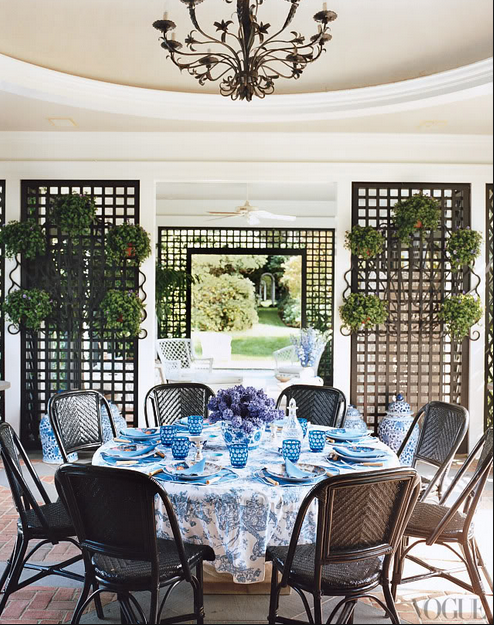 Create this TableScape
Tablecloth|PlaceSetting|Glasses|Vase for Flowers|Flatware|Napkins
Creating shade and beautiful  light shadows with a slatted roof-top is a popular outdoor treatment here in the Southwest, where I live.

If you'll be lounging poolside in the tropics…make sure your fabric choices can stand up to mold..and wet bathing suits.
 Painted wood floors or intricate outdoor tile-work can create pattern under foot…but make sure that the tile is no-slip, if water is involved..and your guests include elderly parents or visitors.
Taking all these ideas into consideration can help in any updates or outdoor living space renewal. For example: In the Southwest, you'll want to consider how to incorporate man-made shade (such as a slatted overhead covering or a retractable canvas roof), shown below. If you live in a climate where hurricanes are an issue,you'll want to consider where you'll store your outdoor furniture – will it be inside your garage or will it have tie-downs or be stackable ?
  Retractable-Roof Pergolas: Made for the Sun and Shade

 If you have a covered patio, protected from some of the weather's elements, try an indoor furniture piece, but painted in an outdoor paint. A chest of drawers can easily hold outdoor cookware, serveware, tabletop dishes & linens. A metal cart becomes a delicious dessert buffet of fruits, key-lime pie or even a gelato bar… and of course, a bar cart can be the place to mix & serve refreshing Spring / Summer cocktails such as sangria or mojitos.
 Great for outdoor entertaining: a Chinoiserie Bar Cart from Horchow.com

 A refreshing & light beverage to try: A white peach, basil and blueberry mojito as seen on pineappleandcoconut.com
 Planning an outdoor living space is much like planning an interior space – breaking down areas into zones for dining, lounging and even storage (especially for yard games, pool toys, or even extra pillows & throws to cozy up with for a breezy and cool coastal evening). Diffusing the suns rays and bright light can be done with umbrellas, pergolas, canopies and outdoor window treatments – and your outdoor textile choices will need to be more resistant to exterior elements (such as sun, rain, and dust), but still be comfortable to the touch. One such fabric that fits the bill – and comes in a plethora of color from sophisticated neutrals and navy to vibrant & fun colors + patterns is Sunbrella.

A gorgeous line to look into is  Joe Ruggiero's Collections for Sunbrella. Other outdoor fabric brands also include Kravet, Robert Allen, Holly Hunt, and Waverly just to name a few. For additional outdoor fabric brands and information, visit Pool & Patio – Outdoor Fabric Brands. These fabrics are also a great choice if you have a solarium (sunroom) as well and many family friendly homes now incorporate them into everyday living rooms, family rooms and kitchen areas, too. Spills wipe right up! 
Yes! Smile! It's time to head outdoors this Spring!

Consider pattern under foot for your outdoor living space like this gorgeous outdoor rug by Martyn Lawrence-Bullard at The Rug Company…


image via Azure Allure in Vernada – slide #12

Consider creating an outdoor focal point in a long narrow space…as above with the collection of blue and white porcelains. Did you see this Hadley Court post on Decorating for Spring with Blue and White Porcelain? If you'd like to, click here.
Relax and enjoy the beautiful outdoors with a good book, wicker & wovens…

Take a nap on these beautiful linens..Incorporate a flow from the inside – out…
Joe Ruggerio for Sunbrella fabrics – the perfect choice for outdoor living.

Refresh an indoor / outdoor solarium space for entertaining or hosting graduation or wedding parties this spring with crisp blue & white like this Chinoiserie Chic space designed by Ruthie Sommers…

Covered patios and porches can become extended indoor-like living spaces…
Garden stools need not only be used in the garden – they can become interesting side tables as well as used in Bill and Giuliana Rancic's LA home, featured in Traditional Home…

 Using soft furnishings, aka window treatments, outside, can help defuse light + give privacy… or they can simply help accentuate exterior architectural details…
 image via

Place an exterior dining area adjacent to the kitchen for easy serving…
Incorporate custom table coverings for special occasions or to keep the design details flowing from inside to outside…
 image via
Layer in container gardens to your outdoor space. When clustered, or when using oversized pots, they can also act as natural space dividers…
And by all means, create a haven to relax and enjoy the beautiful outdoors this Spring and Summer season…

Do you have any other Spring Outdoor Living ideas or tips to share? Please leave them in the comments so all Hadley Court readers can enjoy them! 
You may also enjoy reading a previous Hadley Court post on Creating Beautiful Outdoor Kitchens. 
~~~~~~~~~
for
Leslie Hendrix Wood
Founder, Editor In Chief
Hadley Court 
~~~~~~~~~
Gracious Living. Timeless Design. Family Traditions.
~~~~~~~
 Please leave a note in the comments for us and let us know which one of these outdoor living spaces appeals to you the most and, as always thank you for reading and subscribing to  Hadley Court.

If you would like, we invite you to also follow Hadley Court on Facebook here, Twitter, here, Pinterest here, and on Google's G+, here.
 Note: Openingimage via