I am currently working on a design and renovation project of a 30 year old home. The stunning sink above is in the guest bathroom. My clients are not particularly crazy about the Chinese motif but have decided to keep the sink and fixtures. Yippee! I adore the sink and we plan to use a touch of Chinoisserie in the bedroom design as well.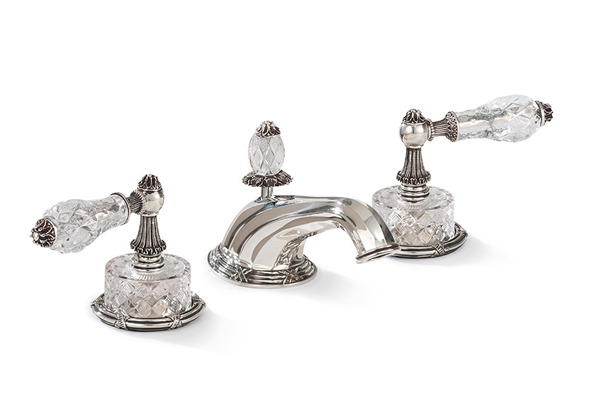 My client has selected the faucet above in gold plate as well as the sink for her master bath. Can you say STUNNING!
I have always admired all of Sherle Wagner's products, but I appreciate them even more now that I know a little more of the story behind the founder and his family.
Sherle Wagner (1917-1997) launched his design company in New York City in 1945. Sherle and his wife, Rose, began with a small shop specializing in closet fittings for the upper echelons in New York. The business prospered based on the simple notion that true luxury requires deriving enjoyment from everyday experiences. Little by little, the company developed products toward completing the ultimate luxury bathroom. The company incorporated beauty into mundane household products like towel bars, sinks and basins by using precious metals and polished stones.
Today, Wagner's son-in-law Vincent Geoffrey serves as the company's chairman and Grandson Evan Geoffrey is President of Sherle Wagner International, encrusted with the role of carrying on the founder's vision of exquisite design.