Today I am in Atlanta attending the Design Bloggers Conference, where Timothy Corrigan, who recently restored the Chateau du Grand-Luce in France, is one of our guest speakers. It is his beautiful kitchen featured above in Architectural Digest with its parquet wood floor pattern that inspired me to write today's post to share with you, readers, about classic, traditional patterns in fine wood parquet flooring. If you'd like to read more about what Timothy went through to restore his chateau, please click here.
The term parquet refers to wood flooring that is angular and geometric, as opposed to the term marquetry, which refers to wood floors that contain curved pieces. An excellent and complete history of wood parquet floors can be found, here.
The most famous example of a parquet floor is in Versailles' Hall of Mirrors. Here is the famous "parquet de Versailles" wood floor pattern.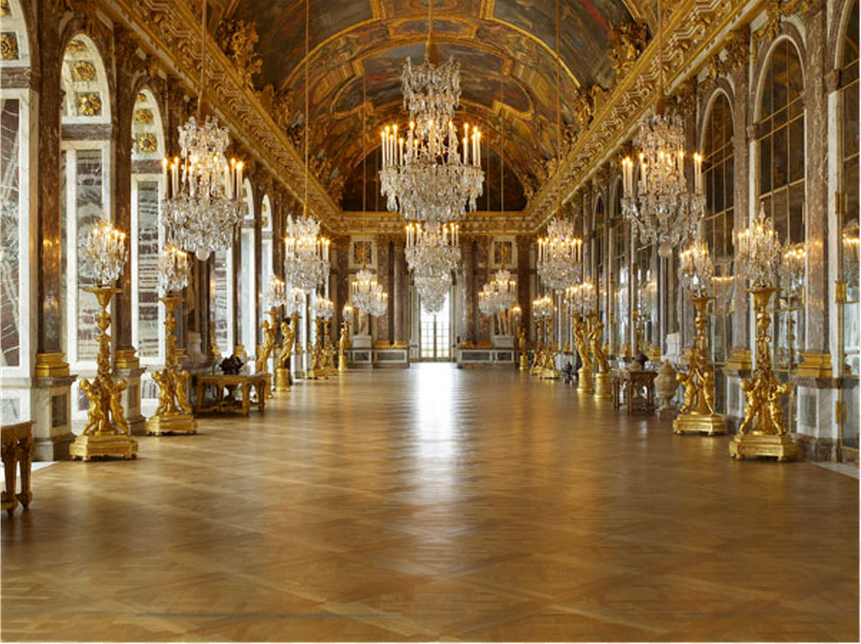 There are many other types of patterns for the panels that make up a luxury wood parquet floor – each based on specific historical precedents. Three of the most popular are Chantilly, d'Aremberg, and Monticello.

The D' Aremberg pattern gets its name from the D'Arenberg castle located in Belgium and is named after the family that reigned in the Western European country from the 17th century until the First World War.
Here's an example of the d'Aremberg panel pattern, created for a library in Paris by Atelier des Grange:

The Monticello pattern (Monticello is Italian for "little mountain") is a classic French pattern from the Baroque period. It was made popular in the United States by Thomas Jefferson who, when visiting France in 1760 was inspired by this parquet pattern design. Later on he built his Virginian mansion and named it after this wood parquet pattern that he used for the flooring in his home, as shown below.

Here's a close up of the Monticello parquet floors pattern as originally drawn by Thomas Jefferson himself, circa 1803, for Monticello. The original of this drawing is in the Coolidge Collection of Thomas Jefferson Manuscripts at the Massachusetts Historical Society.


The third classic parquet pattern, is the well loved parquet de Chantilly pattern – as shown below in oak:

and here's a closeup of the traditional parquet de Chantilly pattern in walnut.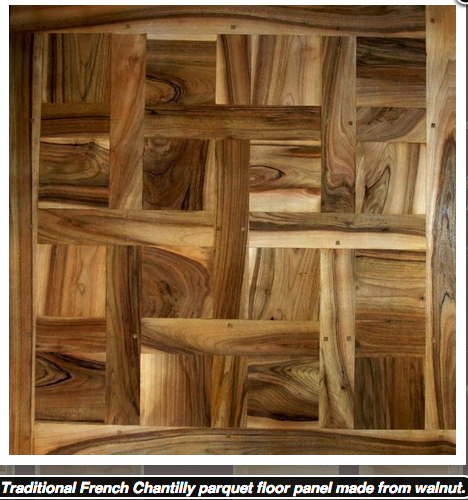 And, although there are still many more patterns of parquet panels to consider:
There are three contemporary patterns of parquet floors that are very popular now. One is herringbone, another is chevron, and another is the hexagon, all 3 of which are both less expensive to install than classical, traditional parquet patterns and work well in both modern and traditional homes.
A diagram of the many variations available within the herringbone pattern.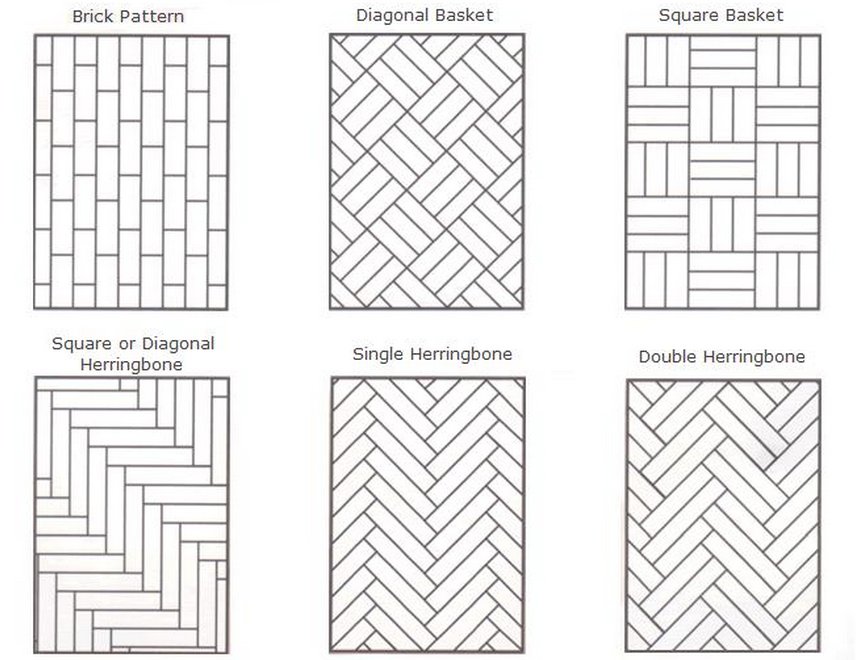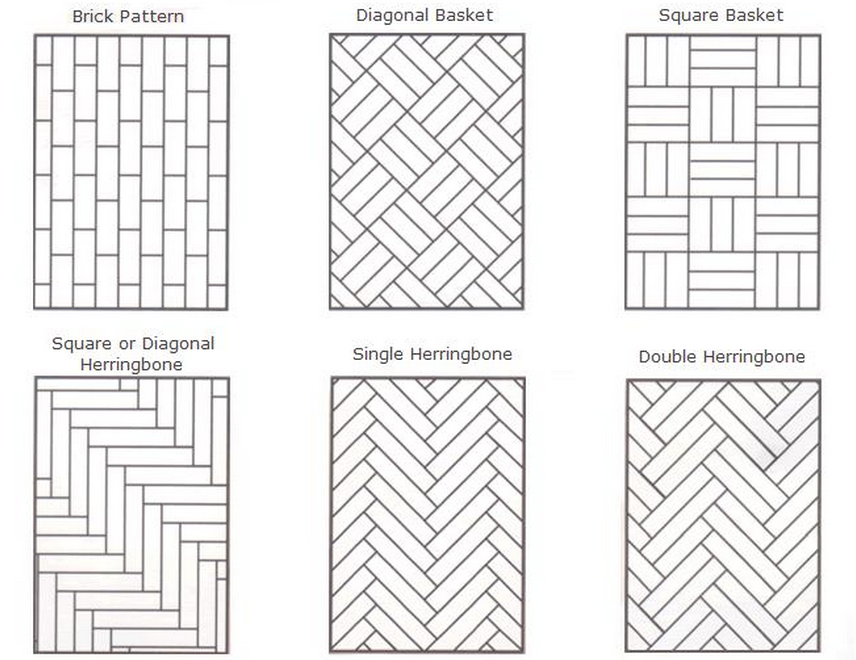 A beautiful example of the herringbone wood parquet floor pattern as executed by Atelier des Grange in Paris.

A designer friend of mine from Dallas here at the conference with me, Denise McGaha, uses the herringbone parquet pattern in her own design work frequently. The picture below shows an installation she's working on now. Denise has been a wonderful help to me in answering design related questions, offline, and has just launched a beautiful new website of her own. Please see it here , and she's also just returned from a trip to Italy with Toma Clark Haines of The Antiques Diva, who is also speaking here at the Design Bloggers Conference.

And now, here is the chevron parquet pattern. Notice the strong stripe effect, again executed by Atelier des Grange in Paris.
Lastly, hexagons are gaining in popularity as a wood flooring pattern today, as are other geometrics as featured on Remodelista, here.
Lastly, I share with you this beautiful example of free form parquet flooring in this old English floor, photographed by Greg Hume.
I hope you've enjoyed learning about parquet flooring today.  Would you like to see before and afters of the rooms of Timothy Corrigan's gorgeous chateau as we are seeing here at the Design Bloggers Conference today? Click here to see a Before and After slideshow tour produced by Architectural Digest.
And don't despair if the before of your own wood floor restoration looks like this…

Because one day, it will look like this..
What is more gracious, smells better and is more beautiful with sunlight dancing across it than a tung oil or beeswax polished wood parquet floor like the one above? Have you purchased Timothy's book yet about his restoration process? If you'd like to, please click here.
Readers, I hope you've found this post helpful and thank you for reading Hadley Court. On this day last year, Hadley Court won the Design Bloggers Conference Hall of Fame award for Best New Design Blog 2013 and I will never forget that moment. Today's winners will be announced at lunchtime, and whoever they are, I hope you, readers, will subscribe to their blogs and join me in congratulating them when they're announced.
~~~~~~~~~~
Thank you for reading Hadley Court, I never take it for granted, and I invite you, if you would like to, to please subscribe to Hadley Court, here, and to follow Hadley Court on Pinterest, G+, Facebook and Twitter, by clicking here, here, here and here.
Have a blessed day ~
Leslie Hendrix Wood
Decorator
Chancellor Interiors
Midland, Texas
Founder,
~~~~~~~~~
Image credits not already cited and/or linked to in the post:
http://en.chateauversailles.fr/discover-estate/the-palace/the-palace/the-hall-of-mirrors || http://explorer.monticello.org || http://www.antiquefloors.co.uk/antique_gallery04.htm || http://www.pittorifamosi.it/fai_da_te/tipi-di-parquet-manutenzione-installazione-e-costi.php || http://atdg.com || http://element7.co.ik || www.frenchversaillesparquet.com