If you have a busy household, a mudroom can do wonders for your space. These small yet highly functional areas can give you extra storage and a place where everyone can hang their coats and umbrellas or store their muddy shoes.
While traditionally a "mudroom" may be to take off your muddy shoes, they're also a great place to hang wet towels at a beach house, put up your skis at a mountain home, or drop your bags and shoes in a city home. Really, the mudroom is a hub where you can stop and "drop" your belongings before entering the home.
When it comes to designing a mudroom in your home, it doesn't have to be solely utilitarian. Read on to discover a few mudroom ideas and how you can make this a luxury space.
Mudroom Storage Ideas
Storage is one of the most important functions of any mudroom. To make yours luxurious, add a stylish bench with a hinge-top lid where you can hide things like purses, shopping bags or shoes.
Install some sturdy shelving on the wall for some additional storage. Stylish shelving provides a great place to put items like lunchboxes or even the daily mail. Add a few baskets and place them on the shelves for hidden storage.
Don't forget to decorate the actual bench, too! Two small pillows can add some personality to your space.
Luxury Mudroom Design and Layout
The design of your mudroom largely depends on the size of the area you have to work with. For most homes, the mudroom is located right at the front or back entrance of the home. Consider where the mudroom is to help you determine exactly how it should look.
Mudrooms near the front door will need to be a bit more organized than those found at the back of the home. So use a lot of baskets to stow away shoes, bags and toys.
When designing your mudroom, try to use as much vertical space as possible. The storage can begin under a bench area and extend all the way toward the ceiling with hooks near the top.
Don't want to go the custom route? You can also purchase pre-made mudroom organizers that will fit neatly into a nook for a tidy, cozy touch. They also go by the name "hall tree" and come in wood and metal options like this one from Wayfair available here.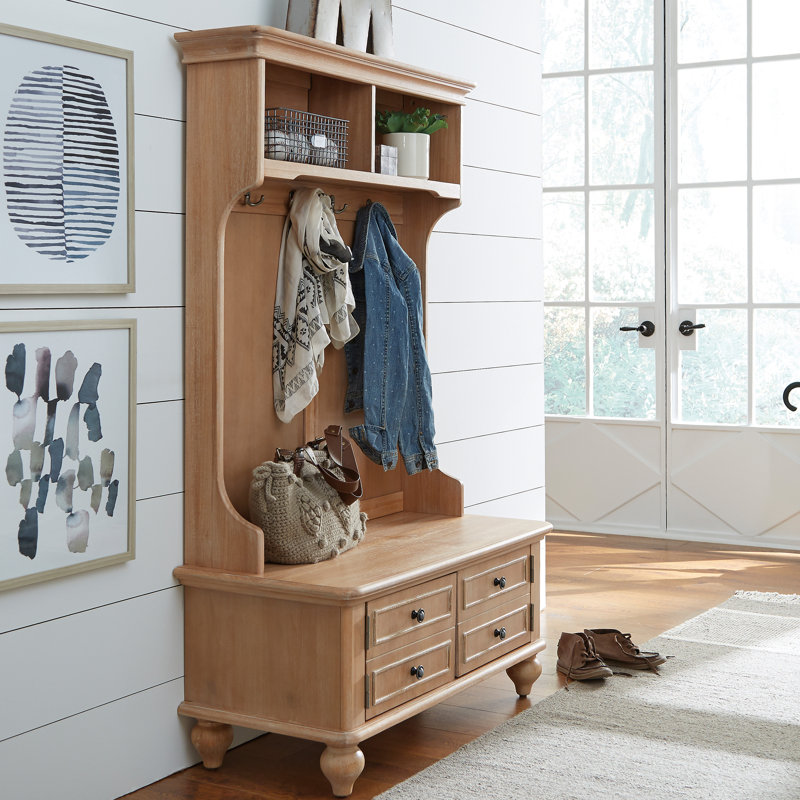 Entryway Mudrooms
In many cases, your mudroom will likely be located right at the front entrance. In order to make it look luxurious, you'll want to add a few special features. Install a pair of wall sconces near the ceiling that will cast a warm glow downward. This adds an inviting touch to your entryway, and it makes it easier to see whenever you come home at night.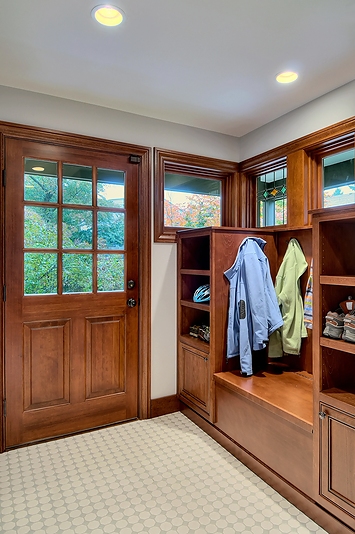 Add a charming umbrella holder that's both functional and decorative. Be sure to include a protective mat or floor covering at the front of the home as well. Using a welcome mat or small, water-resistant area rug ensures that everyone wipes their feet. This gives the mudroom an inviting element for guests, too.
You May Also Like: Decorate Your Front Porch For Fall
Small Mudroom Ideas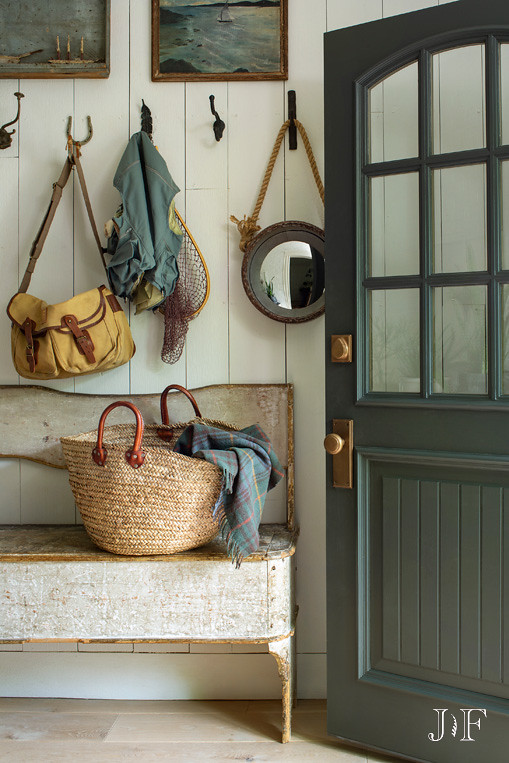 If you live in a small townhome, condominium, or apartment, it doesn't mean that you need to rule out a mudroom completely. You'll just need to get a bit more creative and come up with ways to create storage in any unused areas that you have.
Consider placing a hall tree in a hallway or foyer so you have a nice place to hang seasonal shoes and clothing. Utilize wall space and install key hooks, mail holders, and cork boards for memos and lists.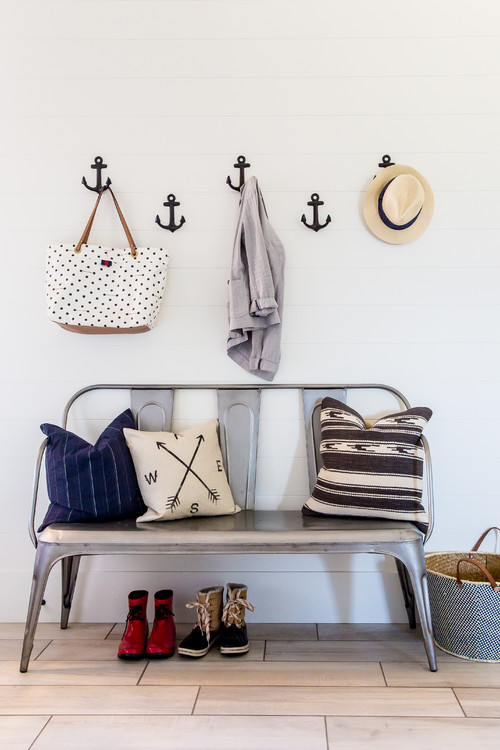 Instead of using a tension rod like you'd find in a normal closet, install a row of unique hooks. The hooks can be made of anything you wish, and you'll find them in a huge assortment of fun designs. Mix and match hooks for an eclectic look or hang several of the same styles in a row for a cohesive aesthetic. Hooks are a must-have for mudrooms since they give you a quick spot to hang jackets, sweaters, and coats.
Just because you have a small space doesn't mean a luxury mudroom isn't possible. Get creative and look for storage benches you can place in an entryway. As long as the pieces you choose are functional, you can get as creative as you like to create a touch of luxury in the space.
Luxury Mudroom Cabinets and Lockers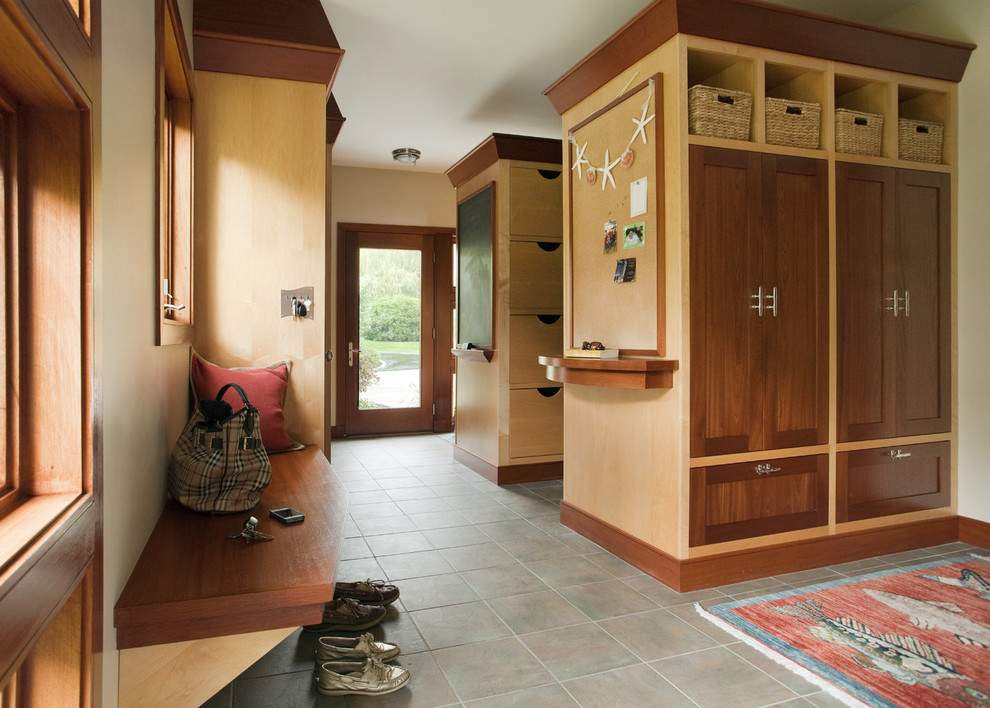 A wall of cabinets or mudroom lockers is a great option, particularly for households with children. You can assign each child their own cabinet and make sure they keep their school items and other essentials hidden inside. This luxury mudroom has it all – I especially like the bulletin board and chalkboards. They will help busy households keep up with schedules!
For a luxury look, replace the standard knobs with faceted glass or get luxury custom cabinets designed.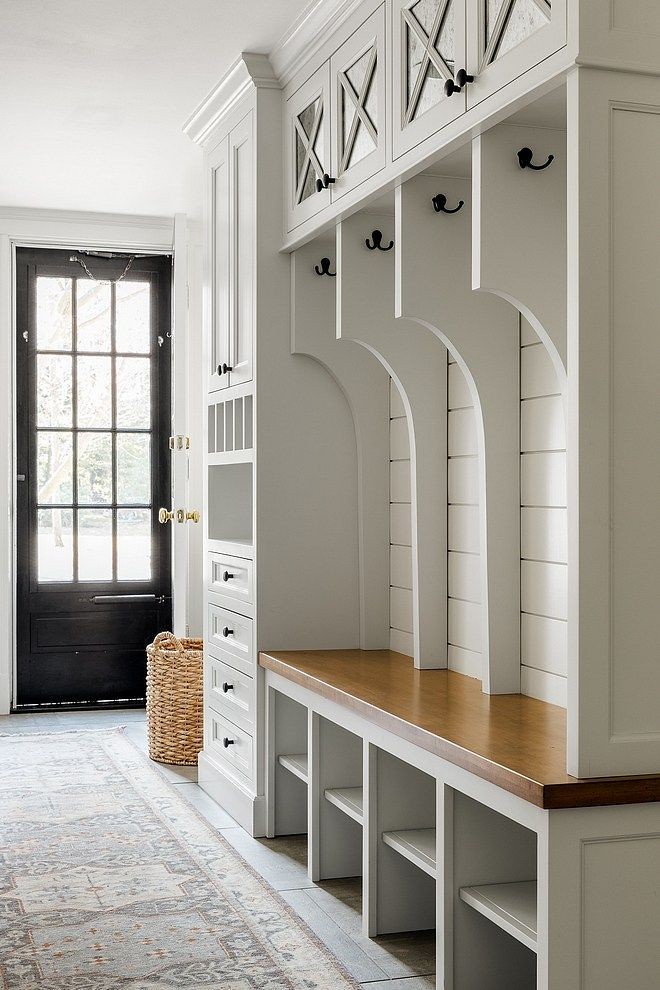 Look for cabinets or lockers that have additional shelving directly underneath them. Add some stylish baskets made of woven wicker or metal to create a place to keep smaller loose items organized. The baskets can be labeled for each family member, or you can use a label to indicate the contents of the basket.
With a bit of imagination and some creative planning, you can create a luxurious mudroom that will not only enhance the look of your home, but it will also give you functional organization for years to come.
Which of these mudrooms ideas is your favorite? Let us know in the comments below!

Photos by: Timberidge Custom Homes, Julie Mannell, Tula Cappelli, WD Flooring, Sharatt Design & Co., RW Anderson Homes, All About Home Design, Wayfair, All About Flooring, Bartolomei & Co. Interior Design, Suzy Collins